Finally, the wait is over and Android L is here which bought many new changes with it. The head of Android, Sundar Pichai exclaimed that Android L is the biggest upgrade to Android till date. They proclaimed that the new Android upgrade, Android L will have a new radical design along with 5000 new APIs. All these will be made available soon for the developer previews and it will surely go beyond the form factor associated with mobile. The devices featuring OS Android L will be able to communicate properly as well as the experience will be seamless. Android L will give a very tough competition to iOS 8. Do you think Android L is better than iOS 8?
Android and iOS are both two major influential mobile technologies and every year both fins up with new enhancements leaving behind the loopholes for any complaints about their superiority as well as inferiority with each other. Within a span of a year, the new flagship's has something catchy and interesting which add up to its previous flagship and thus both Android and iOS are competing shoulder to shoulder with each other.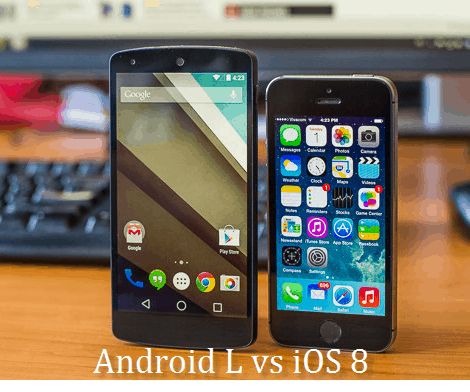 Design
As compared to iOS, Android basically focused on their designing part this time rather than on their material. Android gave wide variety of variations to its colours as well as visual enhancements which increased its brighter hues along with some versatile shadows which will eventually give a new experience to its users. This time there will be not much enhancement in iOS because they already done their experiments in the previous upgrades.
How would be Battery Life?
There is a slight issue regarding the battery of Android L and the project Volta is being working really hard in solving those rising issues. They are trying to increase the time of power saver by 90 minutes while the phone will be less on charge. The power is the main region where there is no main factor of differences between the two.
The notifications are getting a huge renovation in Android L even in the iOS as well. Both the mobile operating systems have the same calls as well as similar options which gives an amazing user experience to its users. In Android L, the banner associated with the notifications features allotted buttons which helps users in accessing their phones easily.
How faster is it?
Android L is faster as compared to the iOS 8 as well as features better looks and is more efficient. The new Android upgrade has got various new features and Google has really put forward their amazing hard work as well as effort to make it the fastest of all. Even there are various hidden features which are rumoured to be arriving with the update of Android L.
The Android L update will come up with an introduction of not just the visuals but even under-the-hood features which are even improving the operating system in various ways. Some of the changes are touched in the keynote and now Google is even spending little more time in various changes which they think that are most important for this updating.
Conclusion –
Overall, we can see that Android L and iOS 8 as both are having advanced features which help in interacting with the external devices along with the chrome books. So what you think is Android L is better than iOS 8 or not? Do you think the new Android L update will be able to attract users or not? What you think about our judgement as well because we simply think that Android L is better but it is important for us to know that what our readers think about the same.
Author Bio – This post is contributed by Yogita Aggarwal who blogs at www.dreamtechie.com. She is an avid passionate blogger from Delhi, India. To know more about her visit – About.me/yogitaaggarwal