Acer recently released its first fully featured tablet – Iconia A1-830. Equipped with 1.60 GHz Intel Atom processor for smooth performance, 7.9 inch brilliant display for improved viewing experience and durable metal back cover Iconia A1-830 is ideal for work as well as leisure. One can use the all new Iconia A1-830 in office, gaming, browsing and entertainment. Acer is one of the leading brands in displays, servers, projects and related services and are in business since 1976 and know has made it into smartphone domain.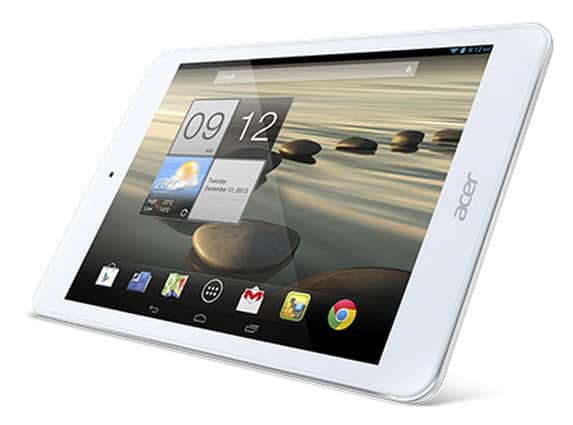 What Iconia A1-830 offers?
Performance
Acer Iconia A1-830 is a well-equipped tablet with Intel Atom dual core processor, 1GB standard memory and flash memory capacity upto 16GB. Ensuring high quality performance, Iconia A1-830 promises a smooth processing experience for all kinds of users.
UI and Operating System
Android operating system for Iconia A1-830 tablet along with multi touch support add to the performance. The Active Matrix TFT Color LCD screen with 1024 x 768 is built for superior viewing experience.
External Interface
The tablet supports standard IEEE 802.11b/g/n wireless LAN and Bluetooth for sharing and tethering with other devices. One can build one's own cloud for creating reliable and secure self-built clouds.
Looks and Design
The tablet comes with aluminum rear cover for firm grip and a metal frame for strength. It is 0.3 inch in height, 5.4 inch in width and weighs around 13.40 oz. Moreover, it's a tablet that fits in a purse.
Take a look at the specs for detailed information:
1.6 GHz Intel Atom Dual Core Processor.
7.9 inch Active Matrix TFT Color LCD multitouch display.
Expandable Memory upto 16 GB.
Micro SD and Micro SDHC support.
Lithium Ion (Li-Ion) 4000 m Ah battery.
Verdict
Acer Iconia A1-830 is designed for work and entertainment. Beginning with durable design to high performance processing the tablet is useful for reading, browsing, viewing videos and gaming applications.  Overall, it is an all in one type tablet with a reasonable price tag.
Post brought to you by Acer