Ultrabooks, we guess you have been hearing a lot about these in the recent days. With plenty of ultrabooks on the market right now, its hard to fix your eyes on a single product but one ultrabook which has truly managed to impress my geeky heart with its looks and features is Acer's Aspire S5 ultrabook. It has got some great tricks up its sleeve which make the sleek ultrabook stand out but not everyone out there is as geeky as us which is where comes the need for some interesting, attractive advertisements and campaigns to make a product a household name in the masses.
Acer with its new tagline "explore beyond limits" have launched a new campaign featuring Kiefer Sutherland, better known as agent Jack Bauer from TV series 24. The campaign is really attractive to say the least with all the ingredients in it, humor, some action, the sleek Aspire S5 and even cupcakes. In the ad, we see Kiefer "exploring his hidden passion" to create his own brand of cupcakes called 'dynamite cupcakes' and the Aspire S5 comes to great help. With the aid of his S5 laptop he searches for the perfect recipe, photographs some explosive inspiration and designs a logo for his cup cake brand.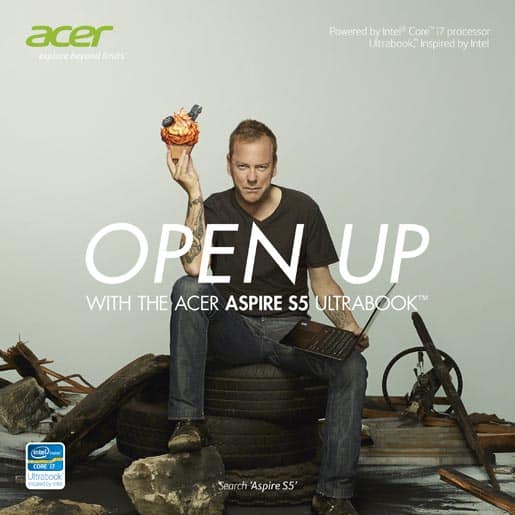 We recently heard that Acer was planning to double the marketing bidget to revitalise its image as the premium products maker. Well the budget seems to have been well used with this campaign as it is very addictive as i have already watched the videos several times. Martin Schellekens, global marketing director at Acer, said: "At Acer we're interested in what people do with the technology we develop" which goes rightly along with this campaign. the ad titled "Dynamite Cupcake", surely explosive.
Check out the awesome ad below and do tell us what you think of it.
The ad campaign was created by Mother and directed by Ivan Zacharias, with producer Nick Landon and production company Stink. Acer's Aspire S5 Ultrabook, dubbed the "world's thinnest ultrabook", is a super slim 11mm and weighs in at a featherweight of 1.2kg and is packed full of amazing features like Instant Connect, allowing users to get online in just 2.5 seconds and its unique motorised Magic Flip panel, keeping unsightly ports which pops out to reveal Thunderbolt, USB 3.0 and HDMI (high-definition multimedia interface) and keeps them hidden until you need them. The Aspire S5 has some key ingredients that make it a great Ultrabook: a thin shape, an impressive port selection and blazing performance.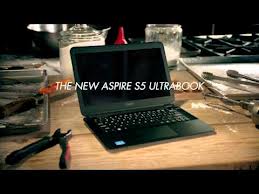 This post is brought to you by Acer all opinions are mine.