According to the publisher of the Forbes magazine, Malcolm Forbes: "Never hire someone who knows less than you do about what he's hired to do." This is completely true as hiring the best tech talent from the market is a challenging task for most of the entrepreneurs and start-up geeks.
But this whole process of finding and hiring the best developers from the market is very time-consuming and tedious. In order to make this task easier for you, let's take a look at the top nine factors that you should consider when hiring developers for your business.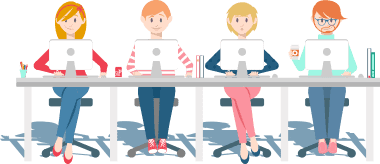 1. Consider To Hiring Developer Who Are A "Good Fit" For Your Project
Before beginning, it is crucial for you to consider the software you are planning to build as a building and the potential developer, you are going to hire as the contractor hired to build that building. You won't simply select any potential developer, but you have to scrutinize several profiles and consider picking the one that suits your specific business needs.
Hire a developer online that has an extensive experience of working on projects similar to yours. Evaluate the reviews given by their past clients. Also, check whether they clearly understand your vision. Ultimately, your sole motive should be hiring a software developer you feel at ease collaborating and corresponding with.
2. Address Common Concerns Like Language Barriers & Time Zone Difference Efficiently
You should always hire a developer who is willing to have an open channel of communication with you as and when you require. They should be able to interact with you properly and chalk out the entire plan for executing your project effectively.
In addition, it is also crucial for you to address the difference in the time zone in case if it's the case with your developer. Decide the time and mode of communication in advance so that there will be no issues that you will have to face in the future while interacting with your development partner.
3. Respect The Different Styles & Ways Of Coding Of Potential Programmers
Being a non-programmer, one of the most significant things you should consider when hiring a developer is that they could have different styles and ways of coding in accordance with their respective expertise and preferences. Their approach towards coming to a conclusion can be different.
But you should look for a developer who is capable to write a code that can be easily accessed and understood by the other programmers. It should not be complex and you should have the flexibility to work on it and scale it the way you want.
For example, the companies like Netflix have the culture to hire employees who are capable to take decisions independently and share their opinions openly with their peers. The kind of work culture you want to follow depends upon the goals and objectives of your business.
4. Be Specific About The Functionality That You Need From Your End Product
You should be more concerned about how your app will interact with the end users. Be very clear about the functionality you want from your application. Also, evaluate how the potential programmer is planning to come up with optimal solutions that meet your needs and your budget.
However, it is good for you to have the basic knowledge of software development and familiarity with the process of how to create an app. It will help you in picking the best candidate.
But you have to remember one thing that developers write more than just code, they are valuable contributors who share their own creative ideas and concepts to build your digital product efficiently.
5. Have A Thorough Understanding Of The Tools You Require For Development
It is essential for you to software architectural planning even if you belong to a non-developer domain. You should have the knowledge of all the tools and technologies you require to build your digital product such as the programming language, databases, frameworks, etc.
In order to get a better idea of which tools are suitable for your project to browse various articles and blogs about software development and understand the basics so that it will be easier for you to hire the right programmer to code for you and build a high-end solution.
6. Always Consider Scalability
You can't restrict yourself in terms of creating a software for enhancing the power of your business. Always consider scalability and keep in mind that your software should be having the potential to evolve with your brand.
It makes it essential for you to hire the programmer who is willing to support you in terms of scalability of your digital product and is ready to provide you with all the support and maintenance services once your solution is launched.

7. Pay Attention To Prototyping & Rigorous Testing
Do not ever rush to take a decision when hiring a developer for your business. But be calm and give preference to the developers who give importance to prototyping and testing as these both are two crucial parts of the software development process.
The development partner, you are hiring should not be in a hurry to get your product to the market. But they should be capable to polish your end product and handle all the issues efficiently before the launch so that you can be sure of getting a rewarding output.
8. Hire The Programmers Who Are Well-Versed With The Constantly Changing Technology World
The technology world is constantly changing and new tools and techniques keep coming every day. This fact makes it essential for you to pick the developers who participate actively in keeping themselves updated with the freshest dose of technology.
They should have a niche expertise and should be a part of various online forums and communities that are meant to associate tech enthusiasts and let them express and share their innovative ideas and concepts.
9. Try To Link Your Development & Design Teams
In case you are building a piece of software such as a website or an app that has a user interface along with it, then it becomes mandatory for you to focus on the fact that any design work will highly be effected with the development work.
Try to link your development and design teams together so that they can easily communicate to check whether all the components are working well. A feedback loop between these two teams can be extremely helpful for doing any kind of modifications in order to improvise the end product.
When hiring a developer, you should pay attention to the above-mentioned details and focus on hiring the one who is a perfect fit for fulfilling all your specific project and business requirements.
Make the decision based on what is better for your company and make sure to offer both a friendly atmosphere and lucrative compensation packages so that to retain your developer in the long-run.