In the generation of technology, where children are taught through online coachings or for beginners in various fields of editing, graphic designing, gaming using the screen recorded videos have become really popular. However, every expert should choose his tools wisely, same goes for screen recording tool.
To save your time and efforts, we tried a couple of software and tested them according to the different types of needs requirements for basic screen video recording to heavy gaming recordings. Here are the 8 enlisted screen recording video softwares for Windows. If you're looking to edit the videos after capturing the screen, here are some best free video editing software
Please Notes: The enlisted Softwares were tried on Dell Inspiron functioning on Windows 10 and they worked exceptionally well. And all the screenshots taken below are taken while testing these softwares.
1.OBS Studio:
This app is one of the best dacast alternative and performs high-quality video recording with support for multi-platform streaming. It also enables you with a professional level of editing tools and controls. Open Broadcaster Software Studio is available for Windows, Mac OS and Linux as well. It features a promising performance for capturing real-time video/audio mixing. You can create scenes from multiple sources including images, text, webcams etc.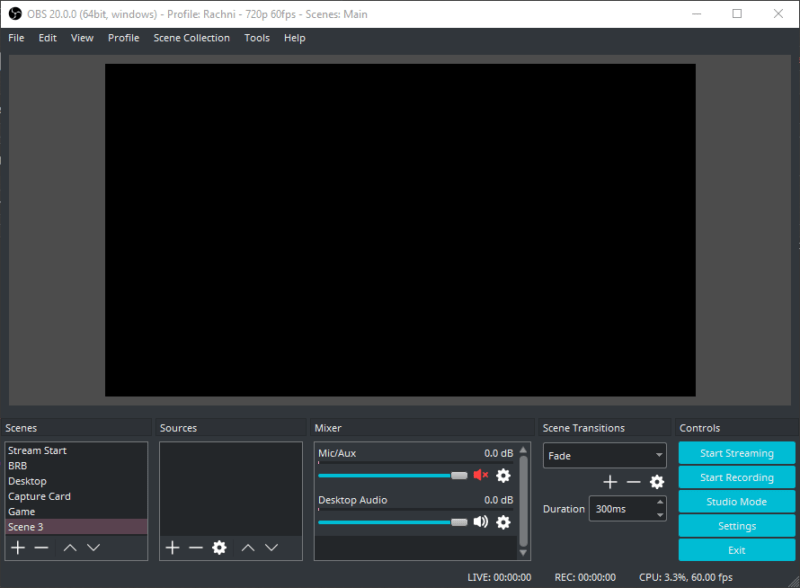 Benefits:
OBS provides you with the freedom to create a video with no limitations on the time of video recording or streaming. This feature is a bit rare in open source software which is free. Users can opt for different resolutions like HD, Full HD, etc and it supports video formats like Flv, mp4, Mkv, etc for streaming on well-known websites like Dailymotion, YouTube, Twitch, Facebook Live and many others. Moreover, this software features a full-screen mode for recording your videos which work tremendously well! It is capable of giving the output up to 60 Frames per Second. Overall, it will satisfy almost all your needs.
Image Courtesy: Video Help
Drawback:
There's no doubt that this software is one of the best software! However, it might take some time to customize this software according to your preferences and comforts.
Download: Open Broadcaster Software Studio for free
2. Camtasia:
Before we move forwards, this software is not free of cost, but you might want to use it for trial before making any decisions. Camtasia is developed by Techsmith.com. As I stumbled across the software I noticed, apart from the basic screen video recording the software has a lot to give. It offers you with a lot of editing tools as well, which will give a boost to your videos if you lack video editing skills.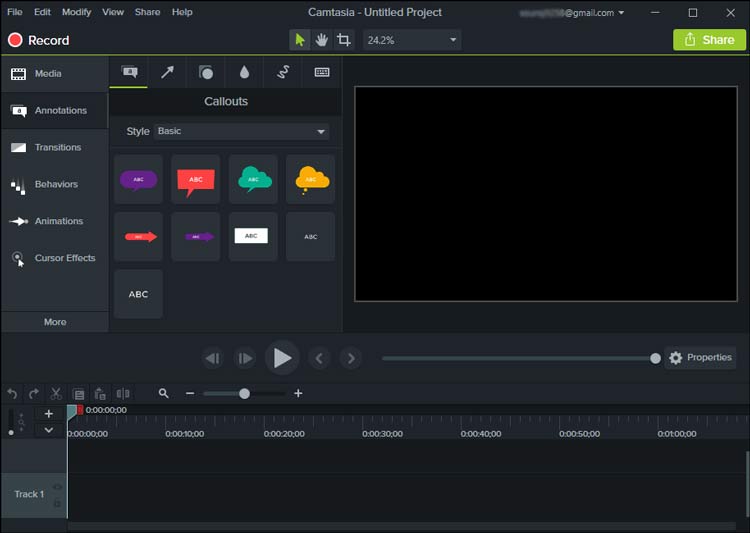 Benefits:
It looks a bit similar to Abode Premiere Pro with an eye-catching user interface. Finding your tools won't be difficult. You can use this software to create some amazing bunch of videos be it educational videos, marketing videos etc. Camtasia offers you with some cool set of animations and transitions making your work simpler. We tried some animations which looked pretty amazing and will surely take your simple videos up a notch. You can also drag and drop all the elements you want in the preview section and edit them accordingly. It supports 4K videos also. The software offers you to share your video on various platforms like YouTube and Vimeo. You can directly save your video files in your local drive or your google drives directly using this software. Interestingly, the software we used was a free trial version which still allowed us to record videos with no limitations on time.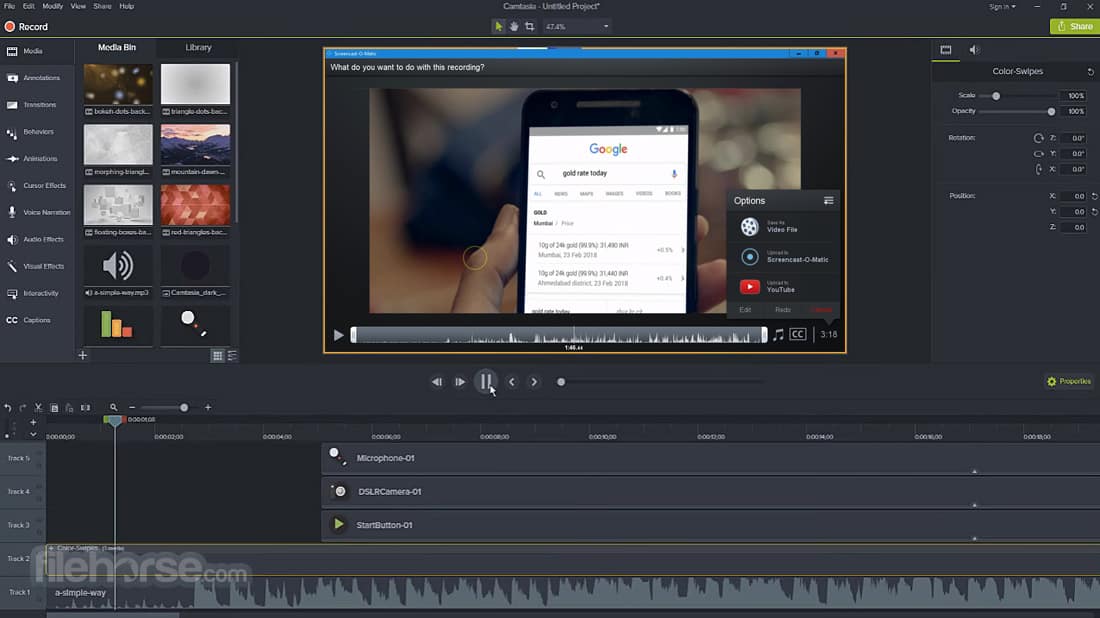 Drawbacks:
As mentioned previously, Camtasia has a lot offer; however, it comes with an expensive price. You can upgrade your software 'just' for $99.50 and buy the single-user license for Mac and Windows as a set for $249. This software is worth spending for if you can use all the tools effectively and already have a good experience with your video making skills. You can watch out for other options which are available down here. Also, if you're PC does not have a powerful configuration then it will lag a bit for fetching and loading your files. You can use its free trial version for a month and decide your needs and requirements for a screen recording video software.
Download: Camtasia for free trial, full version for $249
3. Movavi Screen Capture Studio 9:
What I liked about Movavi is its user interface which blends perfectly with the look of Windows 10 system as if it were a default software. This software provides you with a 7- day trial version and is on a 40% discount offer presently if you want to buy it. The software promotes an easy screen recording option and some basic editing options as well.
Benefits:
You can choose the size of the on-screen video recording by choosing the frame size. This feature also offers you to adjust the system's volume and your voice recording volume simultaneously. This adds up to your advantage to make voice-over video tutorials as users can record their background voice narration and then engage in on-screen video recording. You can record videos with no restrictions to the time limit. As far as the editing tools are concerned, the effects offered by this software reminded me of Windows Movie Maker which is used by newbies to bring out the best editing skills. However, this software some nice bunch of filters which will help you to colour correct your videos. So, we can say it offers a bit more than Windows Moviemaker. Also, these visual effect tools and transitions will be more than enough for video tutorials.
Drawbacks:
Well, the first drawback would be the '7-day trial version' which is not very satisfying. In addition to it, if you export your videos using the trial version of this software then you will be welcomed with a huge watermark stamped across the video as soon as you open your saved video file. The voice narrations attempted to save saves only half of it. Users will not be pleased using the trial version for this matter, so you can just stumble across and purchase the software if you are satisfied.
Download: Movavi Screen Capture Studio 9 free trial, full version for $25
4. TinyTake:
TinyTake is simple software in terms of user interface and usage. In the beginning, the application pops up at the right side of your homepage and asks you to register and log in. As you start recording video on-screen, TinyTake welcomes you with a window similar to that of MS-Paint. It offers many tools to capture your video on-screen, from webcams, capture screenshot, etc.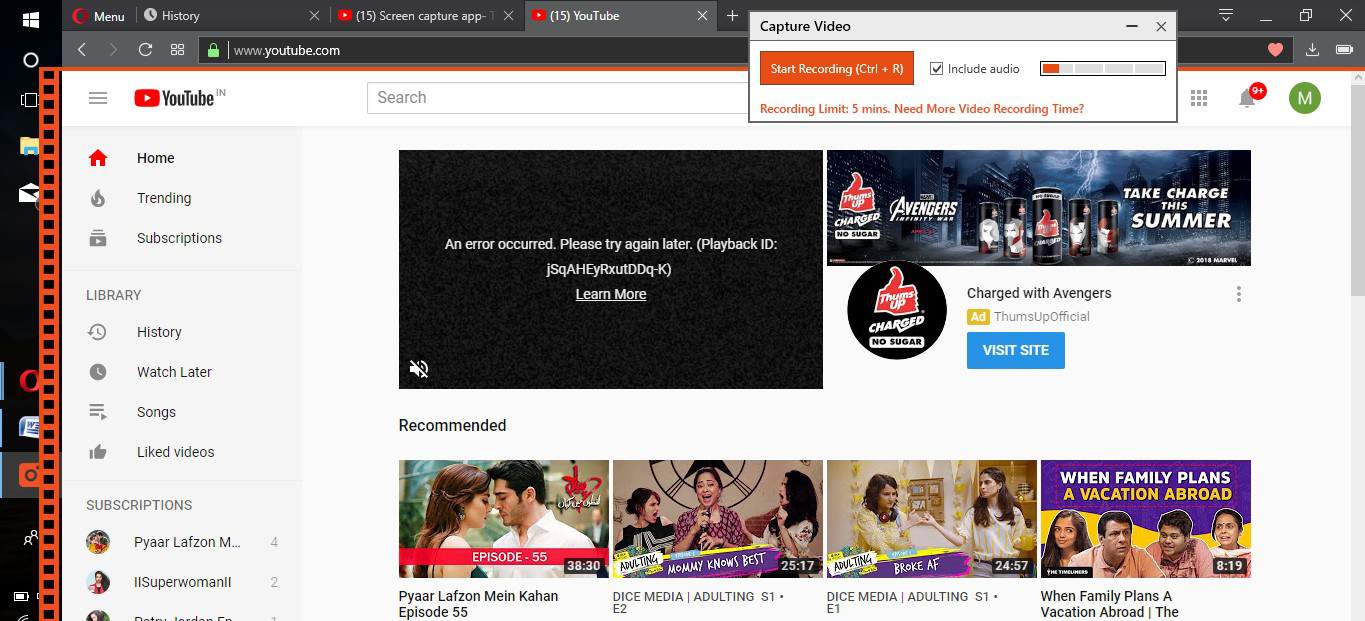 Benefits:
It takes a very minute portion of your storage, unlike other software. It hardly takes up 4 KB size on your disk. You can make use of the shortcut keys to directly start recording the on-screen video. This allows you to save your time of click-open your application and waiting till it starts. You can save the screenshots and videos in separate folders. Moreover, the videos saved in TinyTake column can be shared on the TinyTake blog. Interestingly, it also provides you with the list of the videos you have uploaded on YouTube by logging-in your YouTube Account. Honestly! It has become my personal favourite in less than 5 mins. It provides you with a minimal amount of editing tools for highlighting, annotations, and others which is good to go for short term use or for plain screen video recordings. Adding to it, it provides you with 2GB cloud storage however you can increase the cloud storage by gaining more number of referrals.
Drawbacks:
TinyTake captures good quality external voice recording (that is with a mouthpiece or with speakers which enable voice recording), however, it does not record the system's audio. So, if you are thinking to record any music video using this screen video recording application then you are sure to get disappointed. Although, it is free software it restricts you from recording on-screen or webcam video for more than 5 minutes. You can increase this time limit and cloud space up to 2 hrs and 1TB respectively by referring this application to your friends and acquaintances. However, referring this application to 75 people might be difficult so you can opt to buy this software for 1 week or for a year according to your budget.
Download: Tiny Take for free, premium version for $59.95
5. Icecream Screen Recorder:
Application by 'Icecream apps' can be used for free. The applications can also be upgraded by purchasing them. The Icecream screen recorder has a simple UI which welcomes you with the most important aspects. This screen recorder is pretty easy to use; however, you might not find a lot of editing tools for your video. It has some similar functions like TinyTake.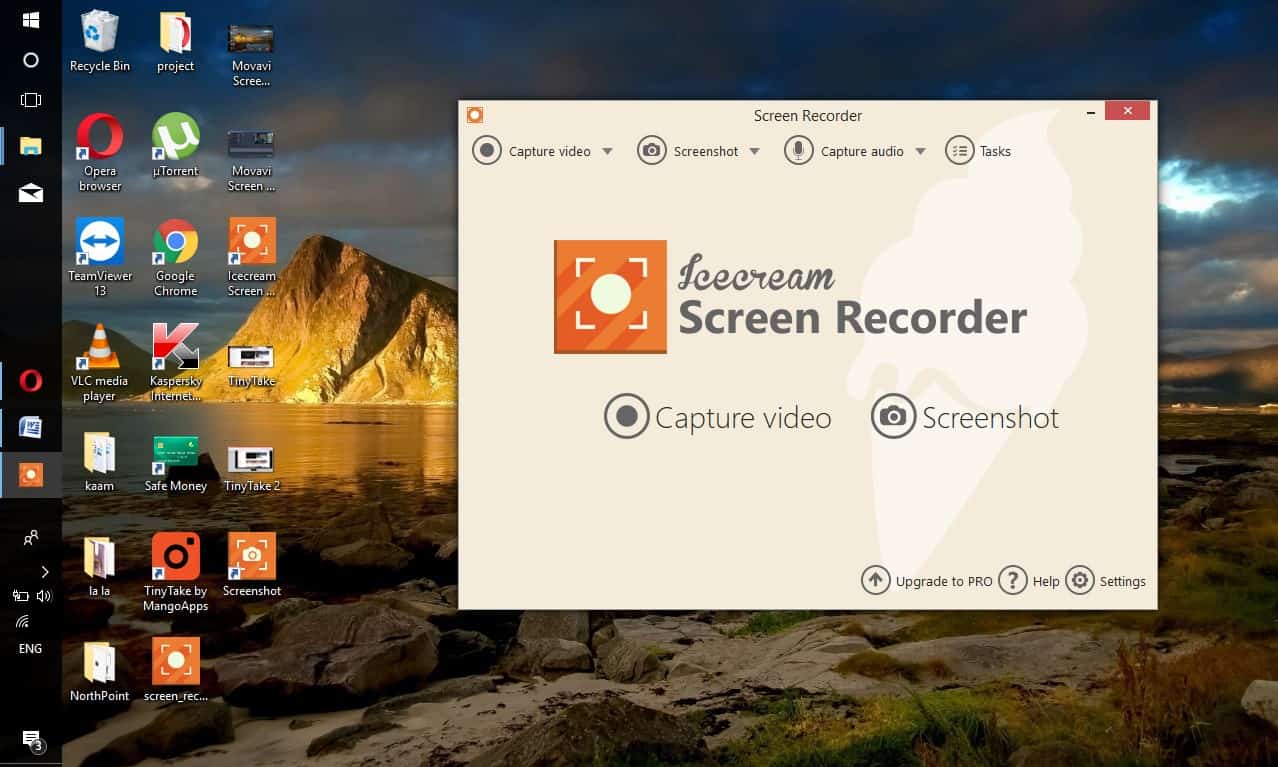 Benefits:
Just like the other screen recorders, you can choose the custom screen are which you want to record and click the record button which will start the recording. This application has an interesting feature which a bit unlikely in other software. When we select a custom area for screen recording, there is a taskbar which constantly notifies you with the volume options, webcam options, etc which floats somewhere outside the selected screen. But for the same, when you select the whole screen that window remains open inside the selected screen because of lack of screen space, which has to be minimised individually to avoid blockage on your screen. However, Icecream screen recorder has an automatic setting where the taskbar hides whenever there is no adequate space for it. Moreover, it notifies you with the shortcut keys you can use to stop or pause the recording, or to switch on your webcam, etc which is quite useful. Also, unlike TinyTake you can record the audio from an external device or from your system's audio perfectly. It offers you the option to highlight the mouse movements, animate the mouse clicks and to record the movements of the mouse. This software is ideal for creating tutorial videos for that matter. Moreover, users can set the shortcut keys as per their convenience. You can add your webcam video also during screen recording.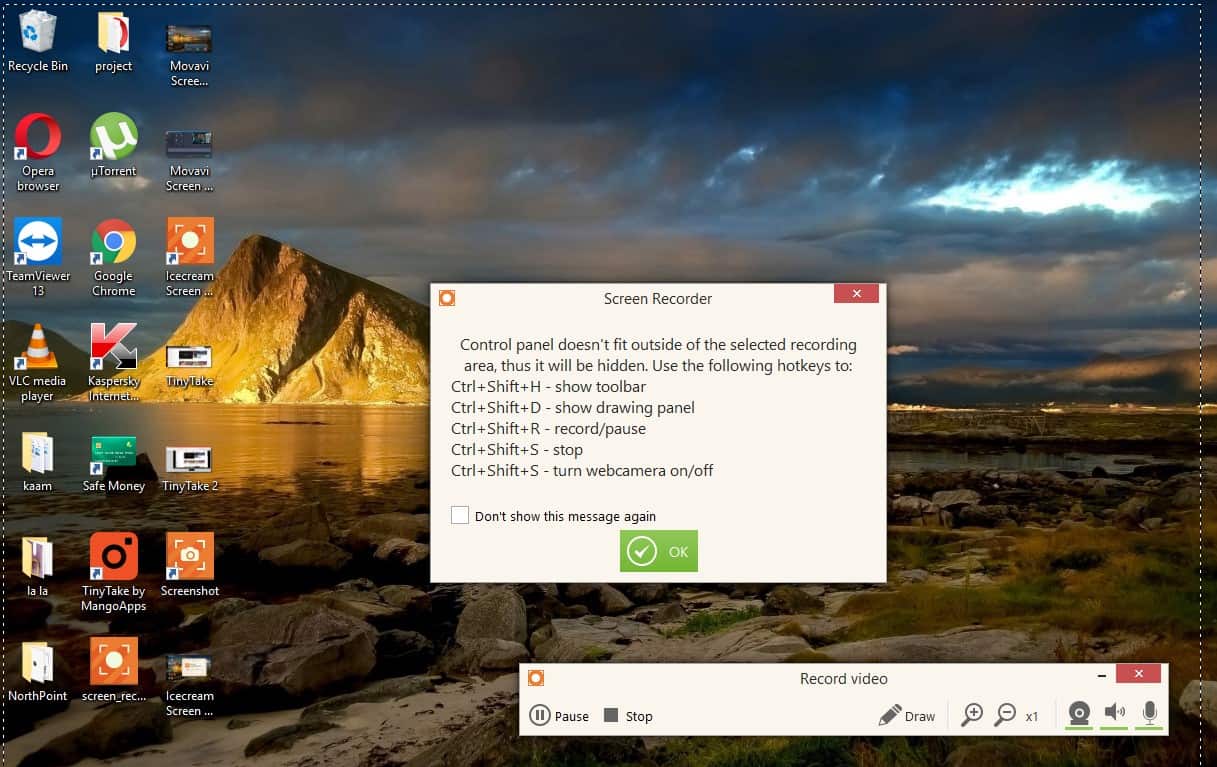 Drawbacks:
The main drawback is, the free version supports screen recording or webcam recording only for 5 mins. However, you can buy the software for $29.95 which is a one-time fee and gives a lifetime license to 2 computers. The upgraded version also unlocks limitless screen recording. For now, the free version only allows video output formats in WEBM, the upgraded version allows video formats in AVI, MP4, MOV, WEBM. The output video codec is limited VP8 whereas the upgraded version supports H264, MPEG4 as well. This software is pretty budget-friendly, compared to any other above-mentioned screen recorders. So, I don't think it has a lot of mainstream drawbacks, except for the lack of editing tools. You can download some editing software from Top 9 Most Popular Video Editing Softwares – https://techgyo.com/top-9-most-popular-video-editing-softwares-of-2018/
Download: Icecream Screen Recorder for free
6. DVD VideoSoft's Free Screen Video Recorder:
DVD Video soft is known to make many useful types of software one of which is the Free Screen Video Recorder. If you are looking for software exclusive of screen recording and taking screenshots without bothering much about the editing tools then this software is for you. It features the basic tools required for you to record your desired on-screen video. There is not to its UI, the software consists of a taskbar with all the recording options which takes a very small part of your screen.
Benefits:
The Free screen Video Recorder promises itself as being completely ad-free, spyware and malware-free. Users will be able to take screenshots in various file formats. Moreover, there is no time restriction on recording the on-screen video. It features options to set the resolution of the video from 240p to 1080p. It supports output for H.264 video codec as well. More importantly, it works with the much-required speed. Saving the outputs takes no time.
Drawbacks:
This software does not feature any option for webcam recording. Although a free version is available you might not be quite happy with the results. As soon as you open the output video, the video will pop up with a big watermark of this software on your face. So, it is more or less like a free trial version you which might not help you much even with a good quality screen video recording.
7. Active Presenter:
The active presenter has a well-organized UI and provides you with many tools. You easily create your content for tutorials, demonstration videos and training videos etc. It is pretty easy to use.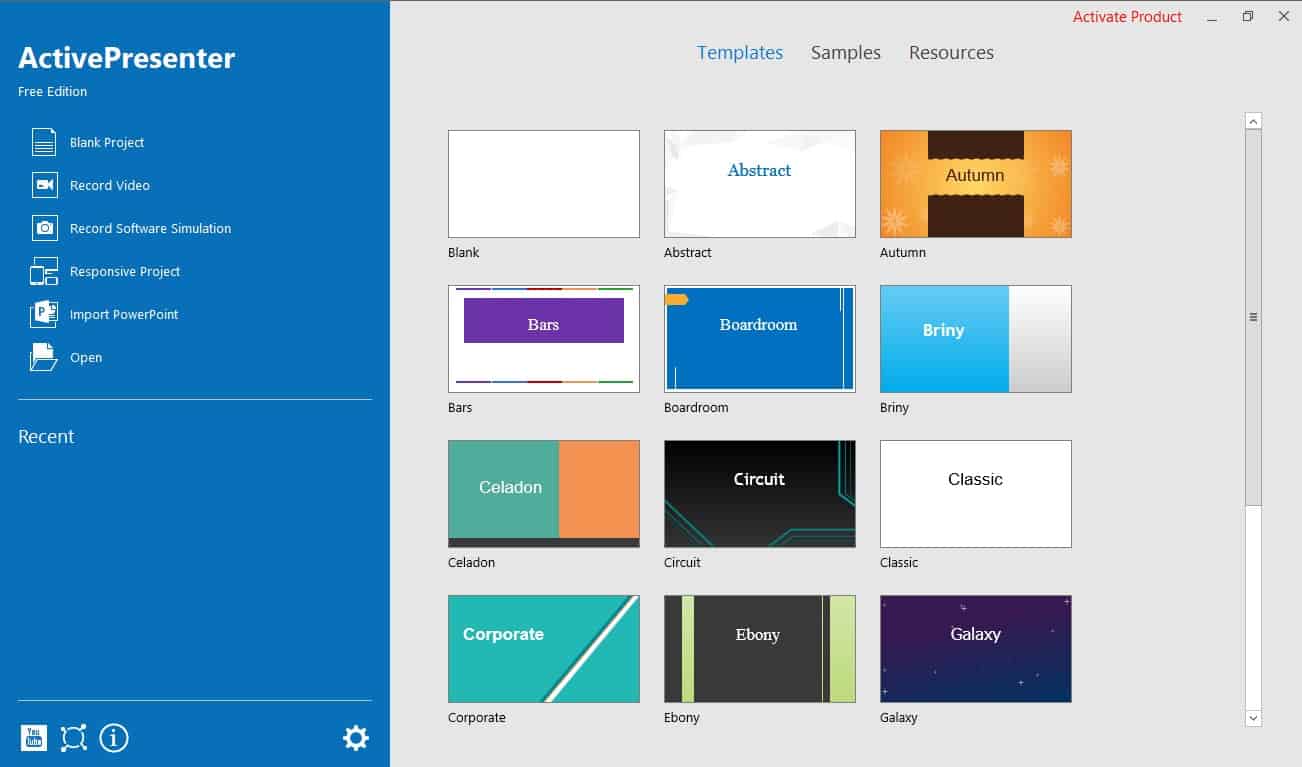 Benefits:
It does not limit you to record your videos. Also, the quality of video recording is pretty amazing. If you look into the software it is more or less like MS-PowerPoint. You can add style of the slide on your video, insert text, import your PowerPoint presentations etc. Active Presenter also features various other tools for editing like multi-format export, audio/video overlay, object highlight and smart capture. Creating reaction videos is utterly easy with this software. You can take screenshots and easily convert them into slides.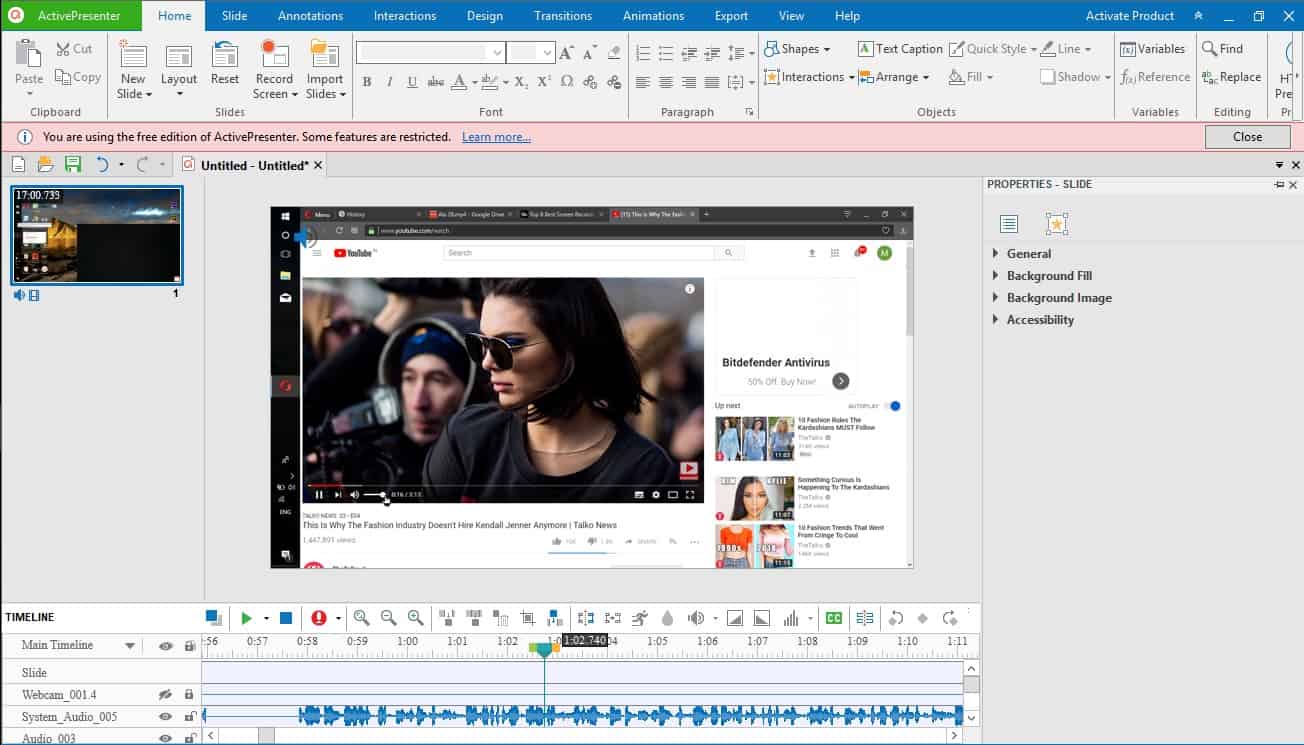 Drawbacks:
This software is not suitable for screen recording heavy games. Moreover, the software takes some time to process the video. The editing tools and controls can be a bit confusing for those looking out for basic screen recording programs. The free version cuts down using a lot of tools and leaves you lesser editing options.
Download: Active Presenter for free, for $149
8. Screencast-O-Matic:
People looking out for online screen video recorders can rely on this software. All you have to do is to download the launcher 'WebLaunchRecorder' from its official website and you are good to go. This software features all the basic requirements just like the other software. You can even upgrade your tools for a lesser rate comparatively. This launcher provides you with some basic features for recording.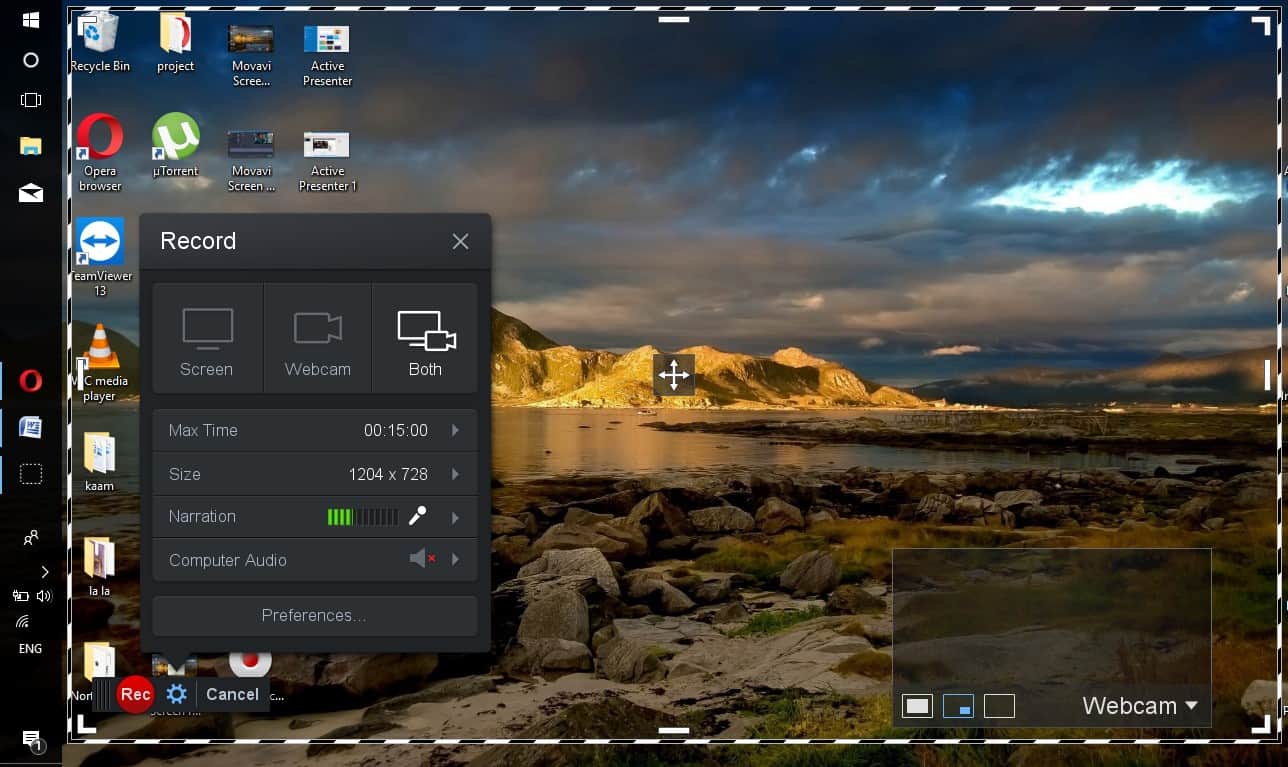 Benefits:
Screencast-O-Matic works efficiently for recording your on-screen activities. It is an open H264 video codec provider. You can record your on-screen activities till 15 minutes which is a plus point compared to the other free software. Moreover, you can record your voice as well along with the screen video recording. You can highlight the movements of the cursor with a yellow outline and animate the clicks, completely hide the cursor or remove the highlight of the cursor. Moreover, the output of the videos can be obtained in MP4, AVI, FLV formats in the free version itself. You can run both the screen video recorder and webcam together. Running both webcam and screen video recorder was not seen in all these software except few. You can publish the videos on the site of screencast-o-Matic as well from your account. Users can also choose the resolution of the video.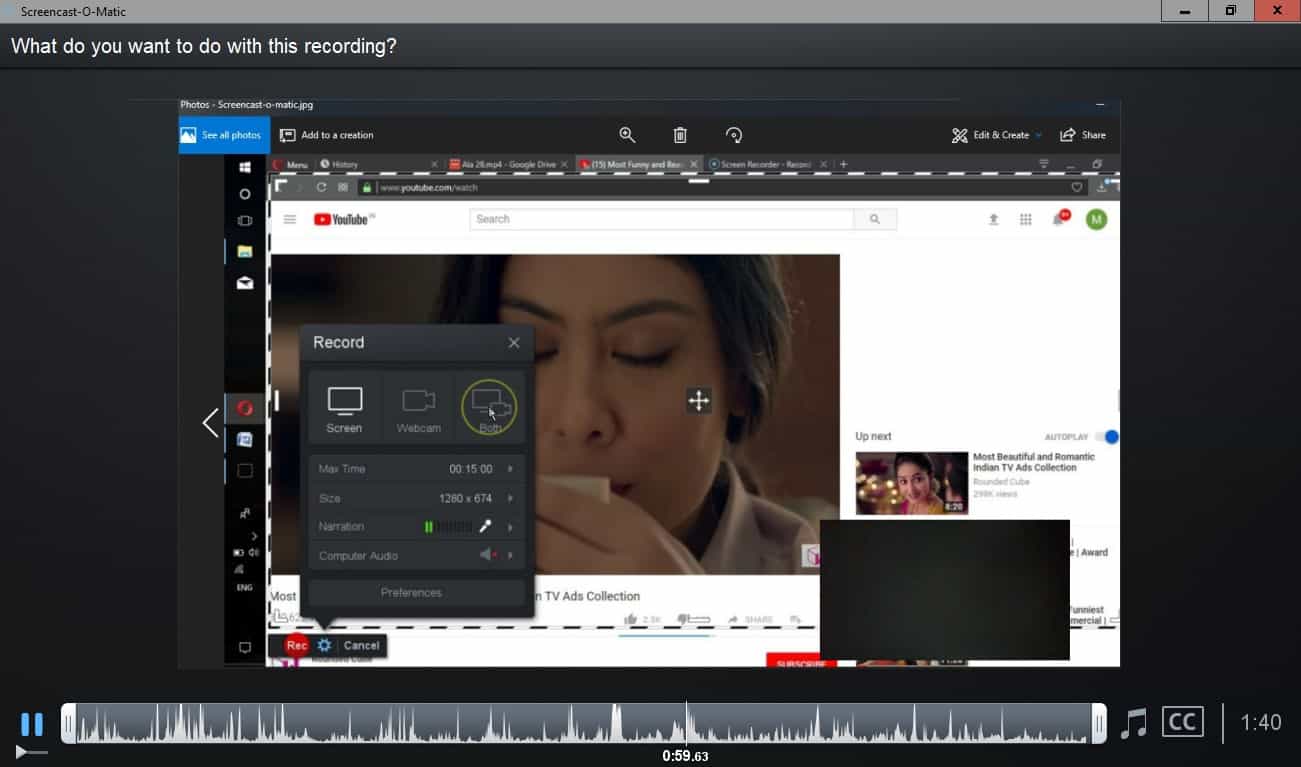 Drawbacks:
Being an online screen recorder, we cannot expect more than the regular screen recording feature. This online screen recorder supports microphones, but to unlock the system audio you will have to purchase the pro pack. The exported videos are processed with a watermark on the bottom right of the video. The watermark is small-sized and doesn't look bad overall until you don't want people to know about it. You can either blur the watermark using any editing software or if you really don't want the watermark you can buy the software $1 per month basis, which is pretty cheap comparatively. The pro version also unveils some of the other features like adding captions, taking screenshots, video editor, drawing and zooming options, publishing your content directly to your Google Drive, Vimeo Pro, Dropbox, increase the time duration of the video recordings, import music and many more. $1 doesn't seem a problem for these additional features you get!
Download: Screencast-O-Matic for free, for $1/ month
Conclusion:
Before buying any of these softwares please cross-check your computer's configuration to void any regrets. Most of these softwares support almost all above versions of Windows XP. These softwares might lag in the early Windows versions (below Windows 7). Let us know in the comments which software you use for recording your on-screen activities.