Looking for Garageband for pc? Are there any GarageBand alternatives for Windows? We are here to provide you with some of the best alternatives to GarageBand for PC. Would you believe if I say that even you could create music quite similar to the one produced by some spectacular American musicians and singers, Steve Lacy, Rihanna, and T Pain to name a few of those?
Well, GarageBand allows you to create your own music and podcasts. Developed by Apple, this music and podcast create allows its users to create multiple tracks with surplus pre-made features,a few of which are as follows:
MIDI keyboards
Pre-made Loops
Instrumental effects
Voice recordings.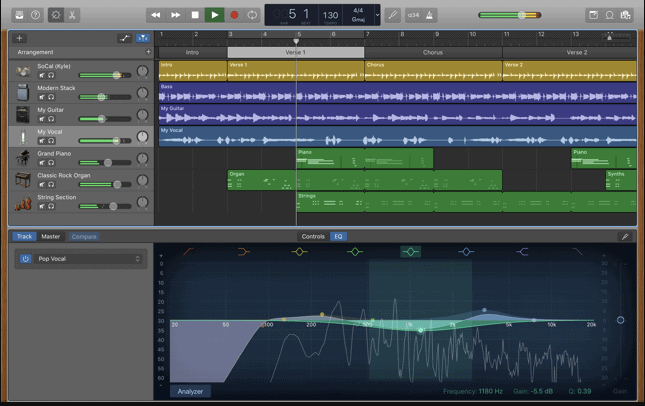 It's a beginner-friendly, powerful audio recording and editing software for MAC users. It's easy to use, however, you might find yourself in dire straits during the initial stages of using this software in case you lack perfect guidance.
Let's enlist a few reasons why GB could be the perfect software for your music production requirements:
Recordings can be done using your PC's microphone.
Allows you to create your own Ringtones.
Allows you to plugin your electric Guitar/bass, keyboard etc.
Enables sharing on iTunes.
Auto alignment of rhythms.
Sound quality is equivalent to that of a CD.
Burn songs onto CDs
Built-in metronome
Provides an automated mixer
Loop tracks
In nutshell, it's an all in one composing team where instead of 10 people playing different instruments to create music, all we need is this software to create great music.
But what if despite being a music enthusiast and GB enticing you to experiment with your music skills, you really can't explore this software because you're working on WINDOWS.
Hang on music lovers!
Here are the best Garageband for PC alternatives.
If you are having question like is there a garageband for pc which works on windows, then the answer will be no. But we do have some similar garageband apks which are best garageband alternatives for windows. Put your minds at ease, because I'll be sharing with you some of the best GarageBand alternatives for Windows.
This article covers 7 best DAWs (DIGITAL AUDIO WORKSTATIONS) for WINDOWS along with the pros and cons associated with each of them. The reviews and ratings of these have also been enunciated so as to give a clear idea as to which one is best for you.
Let's get started and take a look at alternatives for garageband windows apks.
The software is all about creating music from song writing,remixing,live performance to recording . It's famous among the live performers, thanks to its powerful features which include real time editing, live non-linear and flexible performance options.
Pros of using ABLETON LIVE:
Advanced editing options which allow you to chop the sample by beat divisions.
The Color Customization from tracks,color clips, and pads to simplify the live performances, is just amazing.
Audio routing enables recording directly from PUSH without any interference to the flow.
Visual Feedback provides the entire information( including newer one) from beginning to the very end of a recording, provides a stronger recording
Revamped layout allows you to program and play more progressive beats.
Popular live effects-grain delay, beat repeat,saturator,erosion,chorus and vinyl distortion.
Cons of ABLETON LIVE:
Unavailability of track comping
No notation view
Pitch can't be fixed
Requires a large amount of prep work to be done if you're performing live with this software.
Ableton has become the best bet for musicians and artists across the globe and the frequency at which its popularity rose in recent years led to the launching of Ableton Live 10 with great anticipation. This is indeed a great option to redefine your music.
Rating: 9/10
The diverse library of Loops in GB allows the user to probe the field of digital music production. Likewise, the Mixcraft software allows you to choose and combine various loops using simple drag and drop features. This makes it one of the best competitors to GB.
Pros of using Mixcraft 8 HOME:
Allows layering of multiple loops.
Provides a comparably brad loop selection in an indistinct environment, allowing the user to get up to speed quickly
Allows Live recording
Multiple plugins, sound effects and musical instrument effects to boost up your music are available..
User friendly; even a novice can get used to it.
Allows video editing
Cons of using Mixcraft 8 HOME:
The home edition is limited to 16 tracks
Reduced set of instruments and samples
Less robust record,rip and burn features.
Mixcraft is indeed a great substitute to GarageBand for PC and can definitely enhance your music.
Rating: 9/10
LMMS is one of the great alternative for GarageBand apk which can be used on Linux. It's a free, open-source, cross-platform music production suite. A powerful tool which is flexible enough to allow you experiment with your music in a number of ways.
Pros of using LMMS:
Available for LINUX too
Free of cost
Allows you to sequence and compose music, mix and automate songs.
Simple interface
Piano Roll editor allows you to fine tune the chords, melodies and patterns.
Customizable Interface allowing you to import,edit and sequence both audio and MIDI.
Built-in audio samples, virtual instruments, and effects
Cons of using LMMS:
No VST support for mac OS
Limited mixer setup
No audio recording
Undoubtedly this software is too good to be free and can definitely be an option for the music lovers who're having a tight budget.
Rating: 9.5/10
This software is for those who are more interested in playing with music for sort of fun and are not too serious about full-on music production.
Unlike other software's which we have read about in this article till now, this one is available on the Windows App store and can be easily downloaded from there. It is also available for Android and IOS.
Pros of using Music Maker JAM:
Reasonable price, easy to use/learn/customize
Perfect option for beginners
Drag and Drop Functionality
Compatible with MIDI keyboards and drum pads
Includes Lots of Sounds/Loops – Drums/Bass/Leads/Melodies/Etc
Allows export to WAV/MP3
Expandable Sounds/Effects/Loops packs
Records vocal tracks over quickly built loops.
Cons of using Music Maker JAM:
Limited features as compared to other DAWs(Digital Audio workstations)
Only the PREMIUM edition contains ALL functionality (other editions limited)
This is a good alternative compared to GarageBand for PC as it works on Android as well as IOS.
Rating : 9.7/10
The software is designed for the experts and professionals who want to create some really good music using DAW. A certain level of knowledge is required when you are using this complex software.
Pros of using REAPER:
Reasonable Price-Unlike its competitors like Ableton and Cubase which are having a cost of hundreds of dollars, this software is available with a license worth just $60 for personal use.
Impressive library for VST effects
Customizable UI skins for DAW
Lightweight and stable
Low CPU usage
Editing audio can be done on track
Can dit during recording
Easy to Read GUI
Cons of using REAPER:
Boring layout
Difficult to us for beginners
Weaker plugins and effects as compared to other DAWs
Clumsy MIDI editor,MIDI latency is an issue
Closed source
This is a professional LEVEL tool which can help you create some real good work.
Rating: 9/10
This is the most widely used DAW which is undoubtedly an excellent alternative to GarageBand for PC. It's having a broad Functionality, with quite straightforward workflow. The fun associated with using this software is indeed its USP.
Pros of using FL STUDIO:
Light memory footprint
Attractive interface which is based on vector, and supports 4K, multi-color and multi-touch configurations.
Excellent Loop tools
Pattern based MIDI COMPOSITION TOOLS
Easy to manipulate visual automation clips
Free updates for lifetime
Cons of using FL STUDIO:
Inflexible audio recording
Built-in sound library could use some updating
Notation editor is lacking music. It raises your creativity to the next level.
This software is best suited to create some exceptional electronic dance music.
Rating: 8.5/10
This software has acquired considerable buzz among the professionals owing to its track recording,creating and mixing applications. It offers exceptional results of professional level which can attract all the music lovers from the very starting of your track.
Pros of using Cubase:
Offers digital audio editing tools,music sequencer and MIDI.
Allows you to work on different genres of music
Robust plugin bundle.
Powerful mixer
Cons of using Cubase:
High price
Dongle based hardware copy protection is old-fashioned.
Rating: 9/10
These are a few alternatives to GarageBand for PC which could allow the budding musicians to create their own music on Windows.