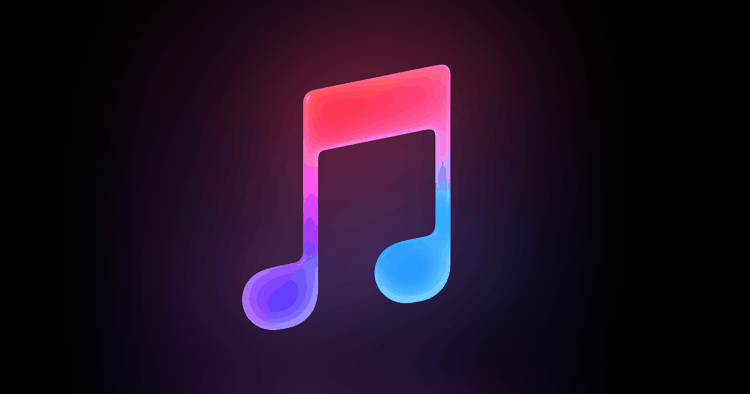 Two pre-installed Best Music Player for Windows 10 are Media player and Groove Music application. But with the kind of requirements and choices, you might not be very satisfied with these windows 10 music player. Also, these software's support a very limited number of audio formats. These might be satisfactory for us, but not for our power users who like take over controls on their software.
Their cravings for such best music player for windows 10 are taken care of here! After all tech geeks are our favourite! And we love to produce content for them! This doesn't mean that customization of tools and advanced tools are needed by everyone. Some users like to keep it simple. All they want is a feather-like windows 10 music player which can play a various number of audio formats smoothly.
Accordingly, we have enlisted best music player for windows 10 which will help our user to choose the best. Hold on tight to this list of Best Windows 10 music player:
1. Dopamine:
Dopamine in best music player for windows 10, if we look in terms of biological present in our brain which sends signals to our nerve cells. Let's see if it can activate your nerve cells with its features! Personally I am in love with this software to the core. The blue and light coloured combinations of this best music player for windows 10, sets a favourable environment for you to play all your favourites. Its design will surely impress you. All the tools are perfectly placed without having to put extra efforts. Usage of best music player for windows 10 is very easy.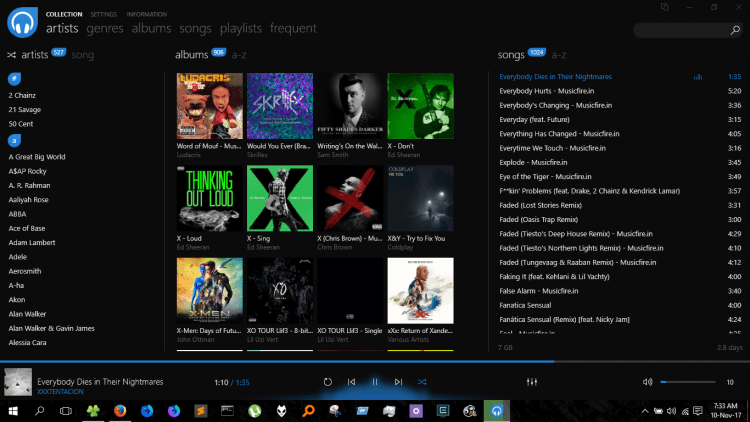 This best music player for windows 10 works for almost all the formats including WAV, MP3, OGG Vorbis, FLAC, WMA, APE, and M4A/AAC. It enables you to access the settings of this player to change its appearance applying different colours and set it according to your preferences. You can set the notification system of this system with or without the start/stop, volume, etc controls. Dopamine well equipped with tools to control audio latency, background adjustment tools and many more. This best music player for windows 10 enhances the Last. FM integration and assists you with lyrics download tool enabling you to download lyrics from sites like MetroLyrics, LyricWiki, etc which can be accessed from the settings menu.
Compatibility: Windows 10, 8. And 7
2. Foobar2000:
Foobar2000 has gained a lot of popularity in the books of best music player for windows 10. I think the first impression is created by its interface itself. As soon as you run this software you will notice a very clean and tidy design. This player is more sophisticated than Dopamine. Power users hear up, it contains a lot of customization tools. So, don't get fooled by the simplicity of this software. Foobar has its own ReplayGain Tool, DSP Manager, FTP and media library viewer tool etc.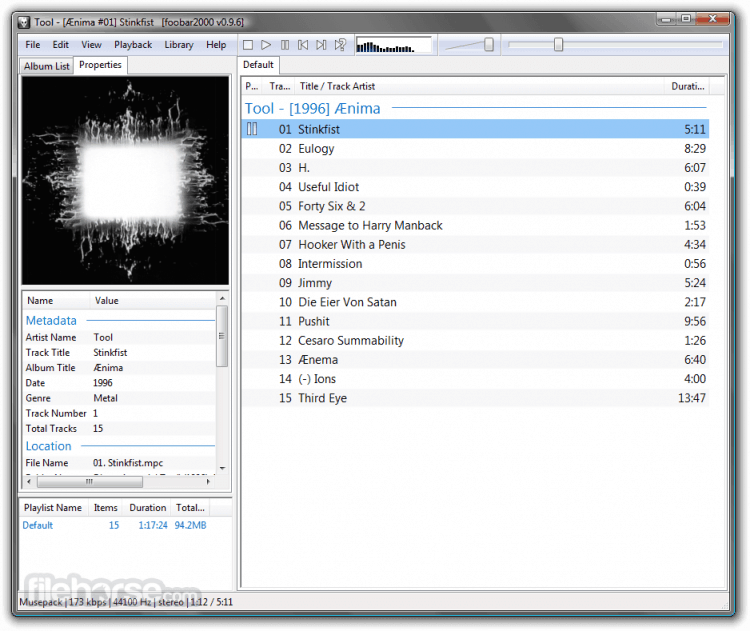 Foobar2000 best music player for windows 10 is now available for Mac users as well! It is a freeware music player for the Windows users. It can support a wide range of audio formats like FLAC, MP4, Opus,AAC, Opus, WMA, Vorbis, MP3, Opus, etc. Users are also offered with facilities for advanced searching options with tools like automatic library monitoring system which keeps track of the files which have been added/removed.
Compatibility: Windows 10, iOS, Android
3.Music Bee:
Music is not just defined as audio files but also other audio media aspects like radio, podcast, etc. Music Bee will not limit your love for enjoying music to the audio files. Users are offered with a wide array of engagement with radio shows, podcasts, and locally stored songs.  This best music player for windows 10 provides you with a variety of options like managing your audio library; files can be organized automatically, detailed playback controls, etc.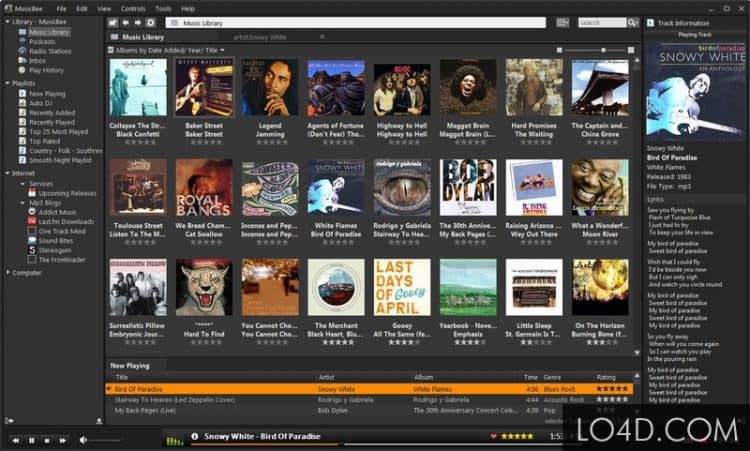 Apart from the audio formats like MP3, Musepack, Opus, FLAC, WavPack M4A, it can also support audio files like ASIO and WASAPI. Uniqueness of this software is the Tag update feature, this feature has the ability to recognize the tracks with missing tags automatically and update them. That is not all, it can support the plugins of WinAmp and syncs the songs and playlists with your Android handsets too.
Compatibility: Windows 10, 8 and 7
4. AIMP:
If you are a user who likes to make the windows 10 music player work on your beat the AIMP is for you. You can wiggle around this software with options for sound mixing and with the sound engine where users can access the 18-band equalizer and various sound effects. Sound effects like Enhancer, Reverb, Flanger etc are available.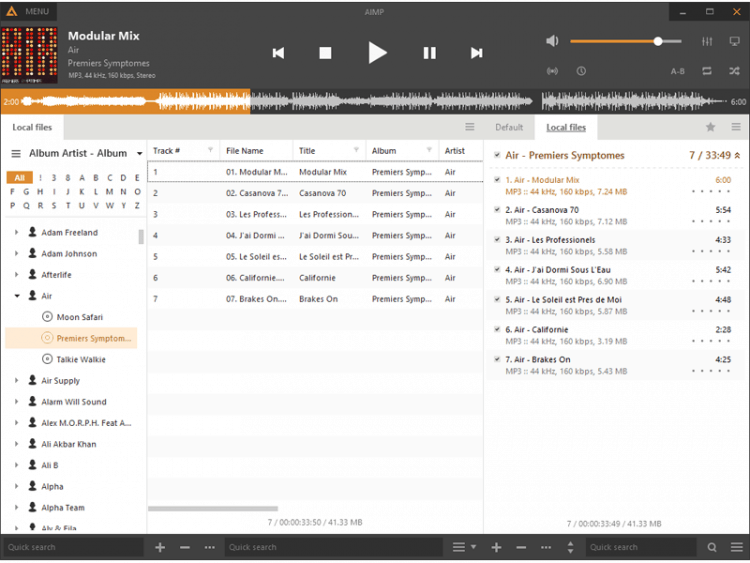 It features Audio CD Grabber which enables you to make a copy-paste the audio files from a CD. You can play a large number of audio formats. Apart from the codecs CDA, DTS, FLAC, AAC and AC3 it supports output for formats like ASIO, WASAPI and DirectSound. You will notice a tool for system shutdown feature, it allows you to set a timer to shut down your PC after playing a particular song. Another feature has an advanced tag editor that supports APE, WMA, ID3v1 and ID3v2.
Compatibility: Windows 10, 8.1, 8, 7 and Vista
5. Media Monkey:
Media monkey gives you a very detail of their audios the software's on the main page itself. For people who don't think columns and rows filled with tools and details are clutter should surely look forward to this windows 10 music player. This best music player for windows 10 features automatic organization algorithm which arranges all your audios order-wise into folders according to the artists, albums, series, numbers, etc. In addition to it possesses a CD burner encourages the users to transfer the audio files into this software. This is not it! It consists of a Podcatcher facility which makes you eligible to download podcasts.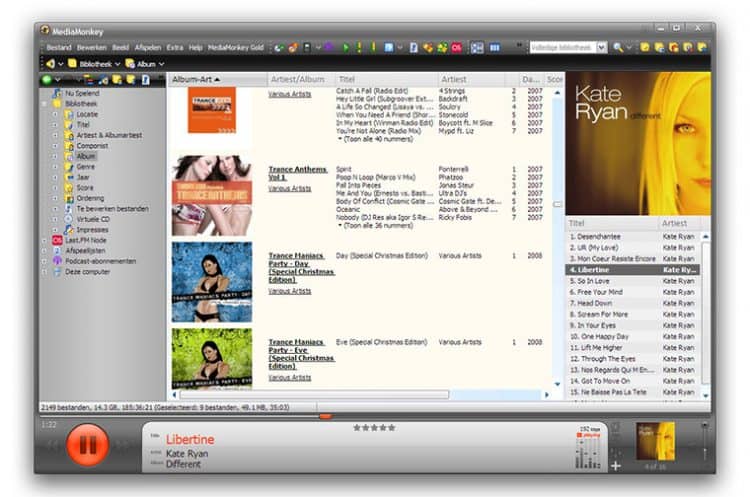 You don't have to be worried about which audio format you are downloading as it supports a variety of audio formats like MP3, WMA, FLAC, OGG, etc. Moreover, you can even style an analytical data of your music collection and synchronise it with your Android and iOS handset. Media Monkey windows 10 music player enables you to share your media files to televisions and other devices via DLNA and UPnP. It also consists of a jukebox mode which plays a particular genre of songs to keep your emotions inflow.
Compatibility: Windows 10, 8, 7 and Android
6. Winyl:
If you only need the best music player for windows 10 which gives you the best performance being light on your system, supporting a various number of audio formats, good interface, clean design then Winyl is for you. You might not believe that this windows 10 music player can handle more than 1,00,000 songs for all types of mood. It has a separate radio section which enables you to listen to your favourite radio channels and sync in with your favourite shows and music. The software also features a 'Smartlist' which enlists a songlist of 50 most played songs, 7 Random albums, etc.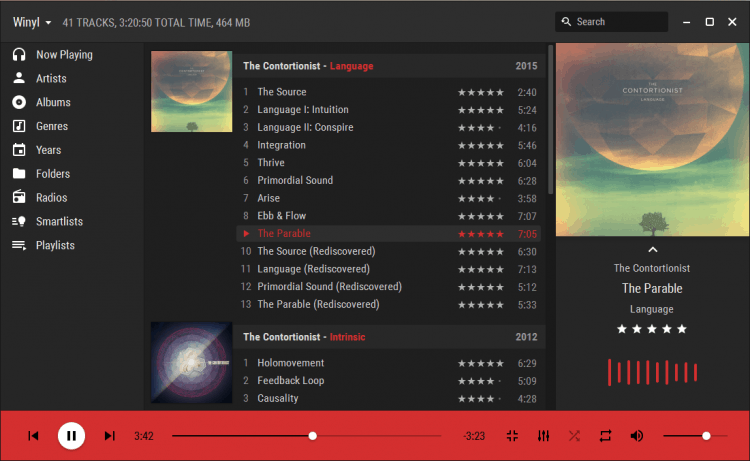 It can support variety of formats like: WMA, MP3, MPC, FLAC, M4A, OGG, APE, etc. This best music player for windows 10 also supports outputs in the formats like ASIO and WASAPI. You will not be disappointed with the annoying pause between the songs before playing the other song. It provides you with back-to-back playback with no pauses in between. So don't worry! You can let all your emotions flow.
Compatibility: Windows 10, 8, 7 and Vista
7. Clementine:
Clementine is the best music player for windows 10 and very popular player because of its simplicity and its versatile nature. It interface is very simple which looks pretty ages as compared to the other players mentioned here. However, it is instilled with a lot of features and tools connecting it to the online world. You get the options to sync into you kind of music with SomaFM, Spotify, Grooveshark, etc. You also access audio files through cloud (Google Drive, OneDrive, Dropbox,).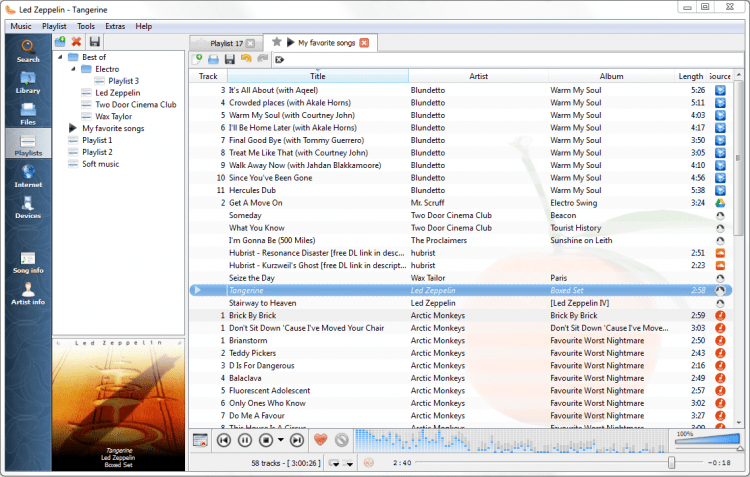 Moreover it supports audio formats like MP3, FLAC, AAC etc. It can convert audios into outputs like OGG Vorbis, FLAC, OGG Speex and MP3 etc. It can also be controlled separately with the help of the Android using the companion app. It consists a proficient good library manager which can fill up missing details of the songs like album cover, artist etc by automatically downloading them from internet.
Compatibility: Windows, Linux and Mac OS