Startup cost is the biggest barrier for a budding entrepreneur. Luckily, by establishing business online, entrepreneurs are reducing their startup cost. To start your online business, you just need a computer and an Internet connection.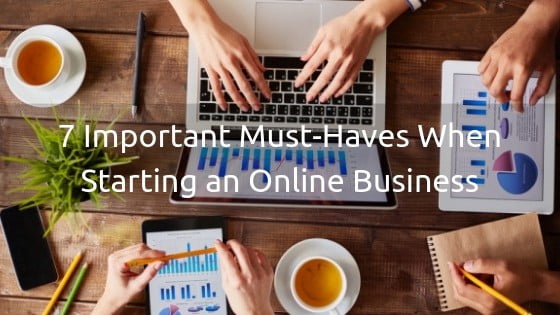 A lot of entrepreneurs are searching for the gadgets they will be needing in order to run their online business. If you do not have enough capital to purchase all these, then don't worry! You can get loans in order to buy these products and to run your business. Different personal loans are now available for budding entrepreneurs to fulfil their dreams. Visit Crediful to know more about it.
Here in this article, you will get a full guide to the things that you will actually need to buy or to have to get started with your online business.
Computer
The most obvious thing you will need in order to start your online business is a computer. You do not need a very fancy computer. A basic computer with a good storage is enough to do your job.
For example, if you are a blogger, then you will need a less specific computer than a website designer. A normal computer will be sufficient for your everyday work. It will cost you around $200+.
Internet access
As your online business will run on the internet, it's obvious that you will need a good internet connection. You can get a Wi-Fi connection by setting a Wi-Fi router and can also purchase a broadband connection. A faster Wi-Fi connection will save your time. The cost of internet connection varies. It depends on the areas and the service providers. It will cost you around $500+.
And if your online business is related to video content, then you will require these gadgets-
Web camera
If you are planning to start your career on YouTube, then a web camera is a must to have in order to reach your audience. It will cost you around $100+.
DSLR
DSLRs are used to produce the high quality videos. They are very much expensive, so before buying it, just make sure that you really want it because you can also manage to survive with your cell phone camera. A DSLR will cost you around $100 – $1000+. After recording the video, you might also need some video editing softwares for mac, or you would like to do the editing in your phone, here are some video editing apps for android.
Microphones
A sound quality in your video is very much important in order to give a quality content to your customers. After investing your money in computer and internet connection, the most important gadget a business entrepreneur should buy is a microphone. A great sound quality gives a long lasting impression on your customers. If you are filming a voice over, then, it is just a necessary item to buy. A microphone will cost you around $10 – $60+.
Umbrella lighting
These are big lighting setups in which white umbrellas are fixed to bounce back the light at a particular subject.
An umbrella light kit comes with 3 lights, three umbrellas and 3 tripods, and it cost you around $45+.
Ring light
Ring lights are used in making vlogs. If you are shooting vlog videos in a room, then ring light is the perfect gadget in terms of lighting. These lights are great as they cast even lights across the subject and remove harsh shadows.
Think of purchasing a ring light if you have any video or photographic content in your online business;otherwise, avoid purchasing it. A ring light will cost you around $200+.
Conclusion
These are all the 7 important things that you will need in order to run your online business. Among all these, the most important ones  are- a computer and a good internet connection.