Communication these days have gone two steps ahead of what it was earlier. It has made life easier with permanency being its capability. So for instance, when it comes to communicating digitally, you interact with someone over an email and there remains a hard record of what is being exchanged. In the case of a fraud or other foul play, you at least have some proof of the abuse. But normally this isn't the case when it comes to telephonic conversations. Once your call is over, there's no record of what was being discussed. But you actually have the option of recording your calls on Android if it isn't inbuilt. And you can do this for your convenience so you don't forget things or for your security, so you have a record of all the discussions. Therefore let me tell you about certain call recorder android applications that allow you to function effortlessly. Choose the one that best suits your needs. And make the upcoming year the year of convenience and safety. Happy 2017!
1. Automatic Call Recorder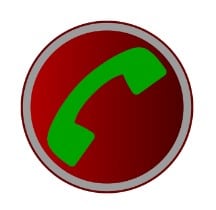 This is my personal favorite. Automatic call recorder is an easy-to-use android application having a very simple user interface & design. It also is aesthetically beautiful. The app allows you with Dropbox and/ or Google Drive connectivity to easily backup the calls. It actually does what the name says!
Automatic Call Recorder makes sure to record all your calls without any intervention. You can later add notes to remember what the recording is about. Or ignore certain contacts to not record their calls. You can even hide the notifications of calls getting recorded. The theme colors are changeable plus you have a storage size of up to 300 calls on the free version. At $7 the Pro version removes those advertisements (which personally I don't find annoying), give you an inbox size of 1000 calls and of course gives you other additional features.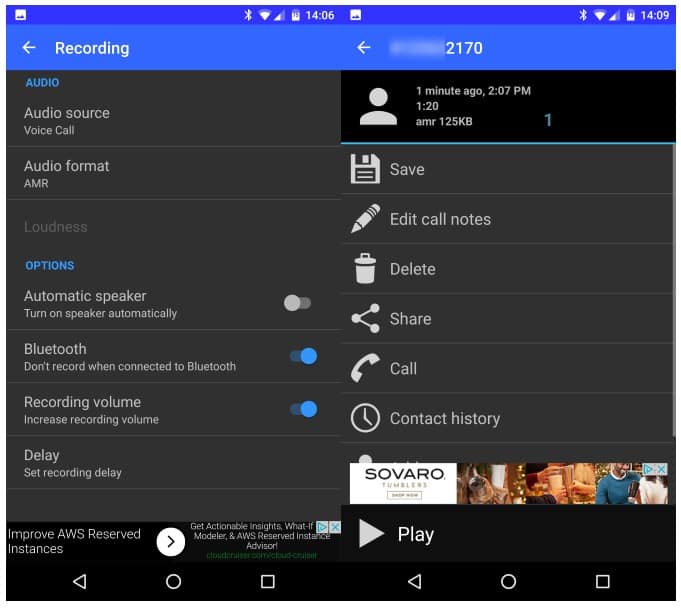 But yes, sometimes issues arise with the recording quality. You can barely hear one side of the call. And even if you try the Voice Call & Voice Communication options in both AMR & WAV formats, unfortunately, it still sounds poor. But calls made through earphones sound better and certainly loud enough. But whatever the situation is, I prefer using Automatic Call Recorder for my day to day needs. It is convenient and solves my purpose. The free version works fine for most people and you can use speakerphones to record in case of better audio quality needs.
Download: Automatic Call Recorder (Free)
2. Call Recorder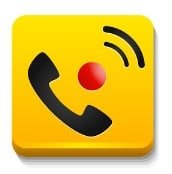 Despite receiving all the necessary updates, this app looks unpleasing. It offers just a few basic settings which are all common amongst the other recording applications.
You don't have the option to export your recordings to cloud storage. So this would require you to take an additional step of browsing files in the file manager app.
And you record with or without speakerphones, the other person is just impossible to be heard. But on speakerphone, the audio sounds better. Too many negatives but too simple of an app.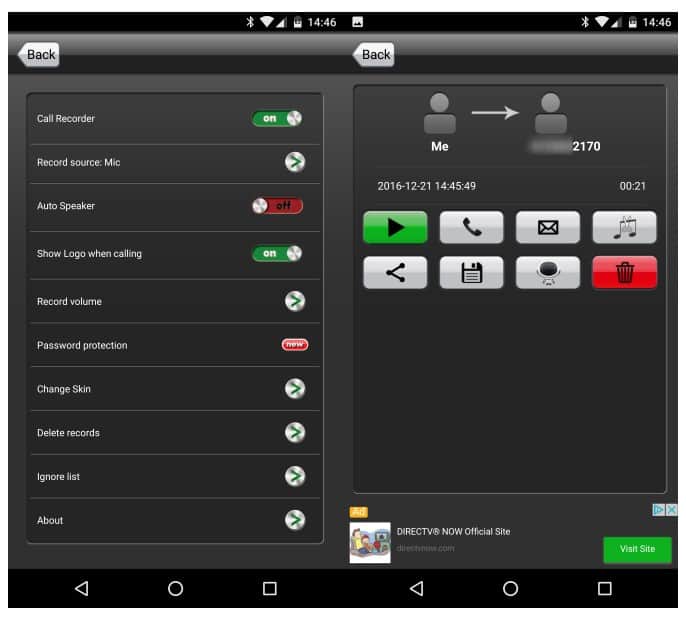 Call Recorder app works best for some people. And this definitely is for the ones who aren't concerned with hi-fi technical features but just need an app for basic recording purpose.
Download: Call Recorder (Free)
3. Another Call Recorder
The Another Call Recorder is a sophisticated android application. Before starting, the app demands confirmation of call recordings being legal in your country. It also asks you to acknowledge that the app cannot record Wi-Fi or internet calls. Once you join in, there comes up a Material Design application with a bit more features than the Automatic Call Recorder app.
This application can categorize your recordings into "incoming, outgoing, important status, contact or date." There also is an extended support for cloud service, including OneDrive and emailing, but this is locked behind the $3 Pro version.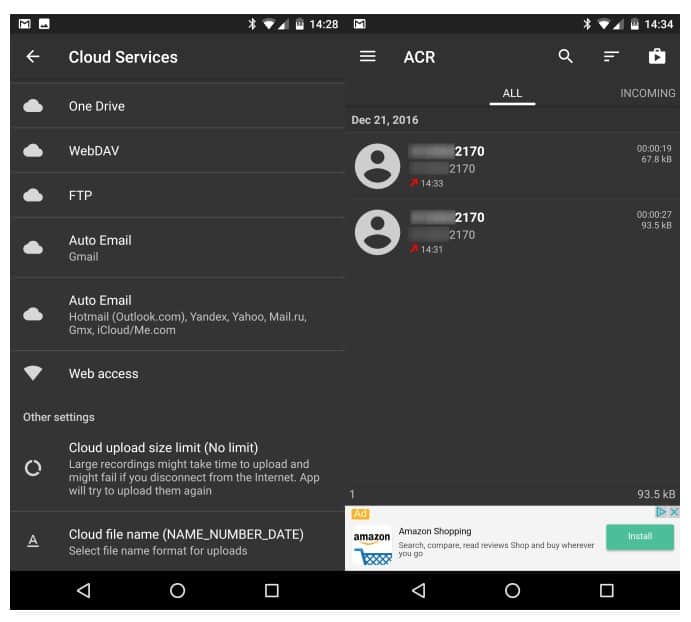 Audio quality is better both through normal call or via speakerphone. Another Call Recorder consists of some really advanced features and also has those aesthetic looks. So despite the low audio volume, I recommend Another Call Recorder because if you want to share the recordings to your cloud storage then this is what you need.
Download: Another Call Recorder (Free)
4. Super Call Recorder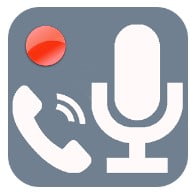 So, Super Call Recorder sounds really promising. The recording quality on this app sounds good. There is minimal to almost no hissing. But like others, you need to use the speakerphone for hearing the other person. There aren't many options for customization.
Apart from the positives, there again are certain features which are very similar to the Call Recorder. There's no option to change the "type" of recordings. Plus you need to export the files to the cloud services manually.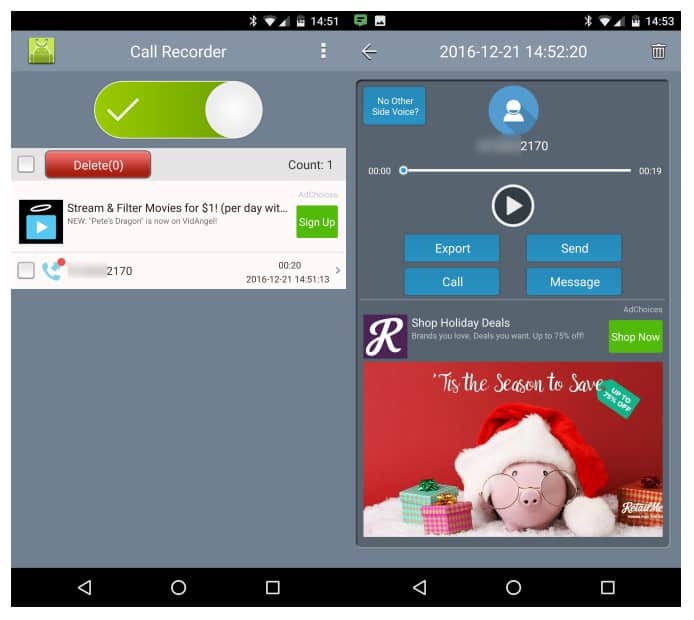 And some people are okay with an application popping advertisements, but this app has ads from recommended junk to even the full-screen ads while playing a recording. So the choice is yours. I would again suggest that too technical things are liked by a few but one who is happy with basic settings can obviously go ahead with this app.
Download: Super Call Recorder (Free)
5. All Call Recorder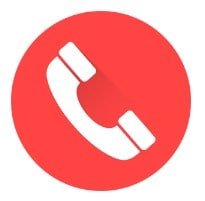 This is a very simple & efficient call recording solution for your Android smartphone. All Call Recorder records all your incoming & outgoing calls. It saves the telephonic conversations in 3gp file format. The recordings can be saved automatically or you can choose manually to record.
All the recorded calls are shareable via cloud storage, Bluetooth, e-mail, messengers, etc. For sharing or deleting a particular audio, you can long press on it to see the context menu and carry the process forward. The available cloud storage options are Google Drive, Dropbox, Microsoft SkyDrive and YouTube.
Download: All Call Recorder (Free)
6. Call Recorder – Automatic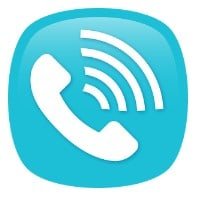 The Call recorder automatic enables you to record calls while on phone. It lets you choose which call you want to save and which you want to share. The Call Recorder Automatic app records all your calls on auto-pilot. It's easy to manage and your recordings get sorted by names, group or date. This is an advertisement supported version.
The app provides you the option of enabling or disabling the recordings of your incoming & outgoing calls. You can white list the contacts to avoid recording them which I feel is an option in almost all app (call recording) settings.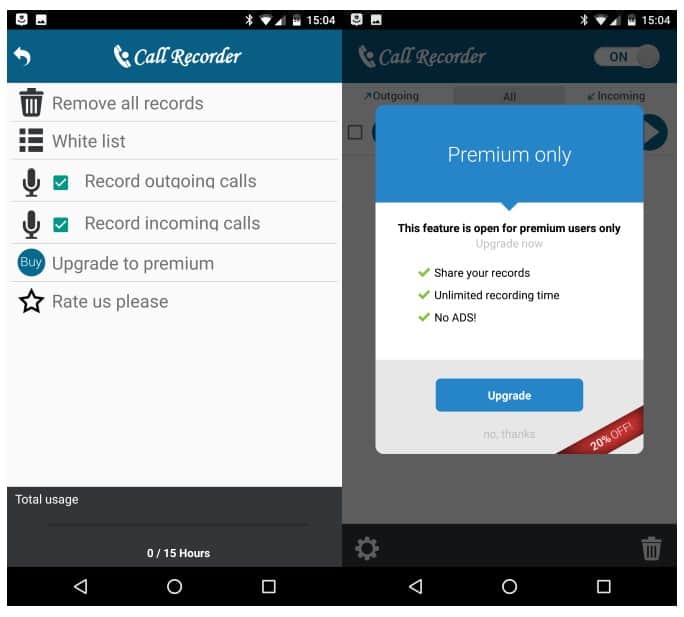 While on the other hand, Call Recorder Automatic doesn't let you hear the recordings inside the application and instead it requires you to open the audio via music player. The other sad part of the app is that you need to upgrade to the Pro version just to share your recordings (within the application).
Download: Call Recorder Automatic (Free)
Please Note: At the end, it is important on my part to let the audience know that in some areas it's forbidden to record the telephone calls. For instance, in the USA, a majority of the states require at least one party on the phone call to be notified about the recording. Summarizing all the laws on this matter is beyond the scope of this article. But make sure to do your research before taking any step.