Well, everyone is familiar with the fact that the internet which is known by people is mostly very limited. Where YouTube, Facebook, Twitter, Wikipedia, Google do not fail to provide you with entertainment, socialising and knowledge, our human brain is in constant search for something new and something interesting.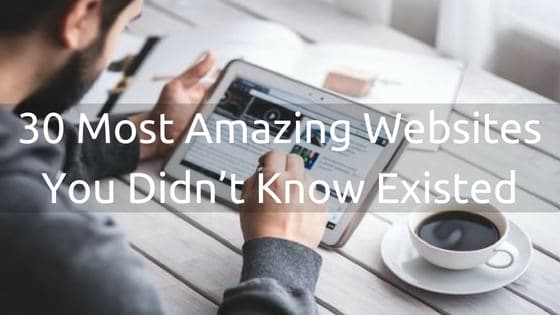 Who doesn't like interesting things? The internet is filled with tonnes and tonnes of interesting content which can outshine all the popular sites. Being brand loyal and using the trust worthy sites is not your fault, however you might want to give these sites a try. Spend some time on internet with these sites and unleash the other parts of internet sites and fun. So, like Ross says to Tag, from the famous F.R.I.E.N.D.S TV series 'stick to the list':
If you are a person who would really want to the back story of popular events in the present world, history, science, politics or any topic for that matter this site will surely fascinate you. You will be surprised with the kind of content you will find in this website which might not only shock you to core but also leave you with an intense burst of knowledge. Click here to explore.
This is a game which might leave you with a blank but when you fly your cursor around the screen and start combining the elements of the earth you'll understand. The sole purpose of this game is to creat as many combinations as you can and create new elements. For instance, when you combine earth and fire you create lava, water and earth mud, pressure and lava created granite and so on. There is no limit to this. As you keep combining these elements you the list of the materials goes on and on. It's more or else like 'combine nature and matter' which we studied in our schools. In total you can create 580 elements and probably animals and birds too. However, you will have to brainstorm to create them. Click here to explore.
3. A Good Movie To Watch:
This site provides you with selective and authentic movies. It is not just me who finds it difficult to find breath taking movies. Everyone encounters the same problem. With this persisting problem this site has made efforts to make your searches simple and effortless. All the movies are categorized and divided according to moods, genres, and some randomly. The uniqueness of this website is it shoves movies into limelight which couldn't please the mass audience but are splendid to watch. You can find a lot more movies than expected anywhere else. Click here to explore.
4. MUBI:
As we are on the topic of finding movies, you might find yourself in a situation where want to watch a movie but don't know what to watch. Interestingly, this website serves you at such times. This site consists 30 movies for you to stay complete with a whole bunch of movies for a whole month. It simultaneously, adds a new movie by removing one from this list every day. The movie is up for preview for exact 30 days from the day it is published on the site. This is a site which is not just thoughtful but loveable for all movie lovers out there. Click here to explore.
5. The Moth:
If you are a person who still has a kid alive inside you and love hearing stories and experiences of others then this site is for you! This site gives the right platform to host real life stories shared by the person who experienced or witnessed the incidents. It consists of podcast which enables these stories to be shared around the world via The Moth. I have surely heard a few of them and trust me its amazing. You'll have all your ears to it. Click here to explore. Click here to explore.
6. XKCD:
This site has fine and original comic columns of different genres like romance, language and math. If you don't mind spend some laughter and tears for your entertainment then do visit this site. Especially, maths lovers will enjoy it. Click here to explore.
7. The Odd 1s Out:
Another comic column section which make tickle your nerves and make you laugh your heart out. The comics hosted by this site are based on daily life questions and lots of comedy worth spending time on. The site also has a YouTube channel. Click here to explore.
8. BoredPanda:
The site has everything which is funny and trending all over the internet. The site is a house to pictures and photo rich listicle articles. The content they have is pretty interesting to read and help you know some real good knowledge published in there. This is a site for all the cute Pandas out there to swoop off their bored feeling. Click here to explore.
9. Cracked:
Yet one more website, which has a lot of listicles to provide you and these will surely tickle your nerves. The site has employed enough content providers to never leave you with the disappointment of lack of contents. They will leave with giggles for sure! Click here to expore.
10. Don't Even Reply:
If you have loads of time then you can spend some time on this site. Although you will need some patients for responding to classified ads one by one published on the Cragislist. The email interchanging is very funny. You might start liking it in no time or may be after a while. Click here to explore.
11. Cool Interesting Stuff:
This website has all in its name. You will find the most interesting contents in this site which are a part of conspiracies and mysteries. The content of this is exclusive and you cannot take it from the site. Its an interesting site to spend your time. Click here to explore.
12. Wait but Why:
This site consists simple news and shares topics on real life. It explains its content in stick figures and portrayed in a funny manner. The website is quite funny and unconventional. Click here to explore.
13. This is my Website Now:
You can totally rely on this website to spend your time. You can play a bunch of games on your browser. You will feel its effectively help you pass your time in less than 10 minutes, it will help you to fill your time with enough entertainment. Click here to explore.
14. The Oatmeal:
If you ask me which site has the funniest comics then I would suggest this! The ending of these stories will surprise you in the most unexpected ways and you will not be able to guess what can be the gag line of the whole story. However, take it from me you'll laugh or giggle endlessly. Click here to explore.
15. The Onion:
The Onion is known as the best in news coverage and the information it provides. The writers of this website had a special skill set to portray any news in which would make you giggle. Don't forget to go through this site atleast once and you'll become really addictive. Click here to explore.
16. BuzzFeed:
This was the first site to get inspired from its idea. And, today this site is renowned in almost each and every mind of teenagers and youngsters. It contains a useful bunch of articles and useful content. Get ready for some funny and hilarious GIFs and images which are photoshopped. Click here to explore.
17. The Chive:
The Chive is similar to the website BuzzFeed. It has content which are pretty much similar and well enjoyed by the audience. Click here to explore.
18. GIPHY:
GIPHY is a site which has the collection of best GIFs which has gone viral all over internet. GIGs have become a funny way to express you offensive and non-offensive thoughts. This will help you make your game stronger when you want to prove your point. Not to forget the overall design of the site will make you stay on the site longer than you intended. Not doubt you can also download these GIFs. Click here to explore.
19. I Waste So Much Time:
This website's maker has particularly designed this website for killing your time. As you go through the site you'll find a series of memes, funny animated cartoons, videos and tweets etc in no certain order. All these are not categorised in any fashion. All you have to do is open the website and you'll know what you have to do. Click here to explore.
20. Oddee:
Like the name suggests, Oddee concentrates on very unfamiliar, peculiar and unusual topics and incidents around the world. It is very different from the sites like BuzzFeed. The format of the site is pretty similar only the material inside is different. It is very interesting to read and probably help you spend your time in a better way. Click here to explore.
21. ZergNet:
ZergNet is more or less like a medium which publishes best articles and contents from across the globe. This website exclusively concentrates on TV series, movies and content related to the entertainment world. You will be able to find the best articles here about all the latest TV shows, movies, etc. Click here to explore.
22. Uncrate:
Uncrate positions more than 9000 products exclusively for men. These products include different categories like body, cars, gear, style, etc. This is an amazing site you should check out before starting your shopping on other sites. Click here to explore.
23. This is Why I am Broke:
If you are also the person who has ran out of ideas to give gifts then you should check out this website. The site has amazing products for your pets, for your smartphone addiction, for holographic Halloween decorations, a kit for making a hidden door, etc. I know all these unique products might have already triggered some adrenaline in you. Click here to explore.
24. Forgetify:
Spotify is undoubtedly the best site where you will find your kind of music for sure. Although, you might have noticed, websites pop up more of popular music albums or songs. But Forgetify, helps you to find and listen to the songs which are not very popular but are stirred with the best music in them. This site is a very good place to find new and talented music. Click here to explore.
25. Attack of the Cute:
As the name suggests, this website is overloaded with the cuteness of animals. You will not be able to stop admiring the adorable pictures of animals. 'Awww' will be the only words you'll be reminded as you scroll through this site. Click here to explore.
26. Open Puppies:
Dog lovers now have a platform just for them. You can enjoy as many GIFs and videos of puppies you want that too in the highest quality! Its like a lottery for people like us. No kidding! You have got to fall in love with this website. Click here to explore.
27. Pixel Thoughts:
Pixel Thoughts, unlike yoga and other meditating activities this site also allows you to retain yourself. How? All you have to do is share your problem to it and go with the flow. It will help you calm down in 60 seconds and reduce your stress. I really liked this site. Click here to explore.
28. A Soft Murmur:
Do you feel like listening to waves of the sea, the chirps of birds, crickets at night, thunder with light rains, and others. Well, all this is possible for your now on this site. Just plug your earphones or headphones and start listening to all the sounds you want to listen and bring your mind to peace. Although you cannot download them but you will surely love these whispers of nature. Click here to exlpore.
29. 100,000 Stars:
Probably the most creative and mesmerizing site on the internet. It shows you the whole illustration of our galaxy with all the stars present in it. There is also an option to take a tour of the galaxy which starts with the introduction of Sun. The site also provides you with facts throughout the tour. Click here to explore.
30. How Stuff Works:
Now this is an interesting site to get all your doubts resolved. It has answered almost very small to really bigger doubts of yours. It is the best place to read articles based on various topics. The content in this website is very interesting and covers a lot of topics including technology, culture, animals, etc. Click here to explore.
All these sites mentioned above will surely help you to pass your time effectively. You may even end up getting addicted to one of these sites. Let us know which websites you prefer to spend your time.