How do you read your own blog? This is a question that I recently started asking consulting clients. Most of them get confused, as though this is a trick question. But it's not. I'm honestly curious as to how people read their own blog content. For the most part, I get a straight forward answer:
On my computer. Why, should I be doing something else?
Yes, you should be doing something else. While you always have to check on your content from your computer — from multiple browsers if possible — that's not enough these days. Modern trends signal a shift in how readers consume blog content. If you're not reading your blog how they read your blog, how do you expect to satisfy their needs?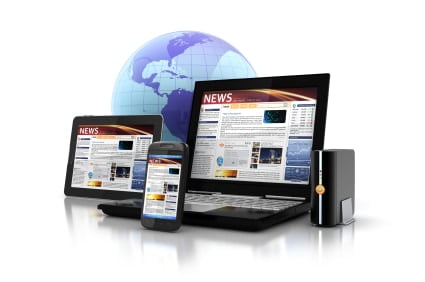 The Mobile Revolution
Before you even read on, go check your blog's stats for the last year. If you use a comprehensive analytics tool such as Google Analytics, you can break down your traffic in many ways. Check your traffic coming from mobile devices. If you're like almost every other blog out there, you've seen a huge increase in mobile traffic in the last year. In the last two years the growth will be astronomical.
Just as an example, on one of my sites we were getting roughly 2,000 visits per day from mobile devices in August, 2010. By August, 2011, that had grown to over 6,000 per day. Yesterday we received 9,300 visits from mobile readers. That's an amazing 450 percent growth over two years, and even in the last year we saw 155 percent growth. We plan to grow by triple-digit points again in the coming year, but we know that's not possible without extensive research.
Reading Like A Reader
You design your blog to give your readers the best overall experience, right? You want everything to function just right, so when they click on a link of yours or type your address into their browser, there's nothing that turns them away. Unfortunately, what works on a desktop browser might not work as well on a mobile browser.
If you're not checking your site on a mobile device, you could be missing out. You won't know what your readers see, so you can't help make their experience as good as possible. In this day of high competition around the web, one little mistake might mean losing a reader for good.
How can you read like a mobile reader and make sure your blog is well suited to them?
Create a narrow main column. Blogs that are about 800 pixels wide tend to render best on mobile browsers. Keep the main column to 500 pixels and the sidebar to 300, and you should have a nice-looking mobile website.
Experiment with mobile plugins. There are tons of mobile plugins, and they each have ups and downs. Experiment with many of them to see if they create a better experience for your readers.
Make commenting easy. Your commenters can be your most valuable readers. Make sure that if they're coming from their mobile devices that they can still create and reply to comments.
Smartphones AND Tablets
To repeat, after every time you publish a post you should check your site from your mobile phone. That will let you know what an increasing number of your readers will see. But that shouldn't be the only way you check your mobile site. It is important to check from multiple devices. That means checking from an Android device (or five) if you have an iPhone, or borrowing someone's iPhone if you have an Android device.
Not only that, but you also have to check from tablet devices. In the last month one of my blogs has seen 65,000 visits from the Apple iPad, against 117,000 from iPhone devices. Yet we're also seeing a number of other tablets in our analytics. I've been checking not only on my own iPad, but on a friend's Android tablets (both 7 and 10 inch) to make sure we look good on both iPad and Android.
—
We've seen plenty of changes in blogging over the past few years. Google has changed the game considerably with its Penguin and Panda updates. Bloggers had to react to that, and they're still making changes based on Google's new rules. But the mobile revolution has an even greater impact. The very way people experience our blogs is changing. If we don't keep up, we'll fall even further behind. It's time to take advantage of two rapidly growing gadgets to make sure our blogs keep up with the present.