Are you an admirer of how cool Procreate is? Undoubtedly it is the best and most powerful digital illustration software for the digital artist but the unfortunate part is that it is only available for the iPad or iOS users. So Window Users are confused which one is the perfect place for creating your masterpiece? We have sorted out this issue of yours and have filtered out the best 10 procreate alternatives for the Windows version. Lets, start discussing the best features of the procreate alternative softwares.
List of 10 Best Procreate Alternatives for Windows:
All the mentioned softwares can also be used if you are a professional digital artist. According to the features you can select the most convenient tool for your work. Among the list you will be able to find both the free and paid types.
This is by far the most used and highly recognized software for the Windows user. If you want to initiate the experience of Procreate on Windows, then this is the best software that you can use to get. You can start using it by making a free account and then you can easily enjoy all sorts of tools.
Features:
The first and foremost thing is that it is free for every user.
It runs smoothly in full screen view providing you a huge workspace with a set of tools and layers.
Availability of active stylus and palm rejection features
Pricing:
Free
Enterprise license: $85 per year
I guess every graphic designer has used this fabulous platform for Android users. It is fully enriched with amazing features even for the touchscreen devices. From smartphones to computers, laptops or tablets it works absolutely smoothly. You can use the colors, shapes and others to create some outstanding logos or icons of your choice available on this drawing app. 
Features:
Accessible and excellent typography on adobe illustrator draw.
Unlimited canvas for your work
Use rasterization to show your creativity.
Pricing:
Free trial: 7 days
Subscription: $239.88 per year
PaintTool SAI is noteworthy to be mentioned among the list of the best alternatives for Procreate. It is a software capable of both raster designing and painting. The software totally supports Windows, tables and even Android mobile phones. Make your design more alluring by gaining the control over color saturation, luminescence, pressure of the brush and various other elements.
Features:
You can use digital pen for producing outstanding masterpiece
Availability of the feature of selecting areas and editing layers
You can export your artwork in PSD or BMP file format.
Pricing:
Free trial available
Subscription at $50.81
Want to try something out of the box? Try this and you'll never regret using it. Krita is considered as the best alternative for Procreate by professionals because of its authenticity. Besides Windows users, it is also the best software for Linux. If you want competitive software for Procreate on Windows then you have to try working with this and you'll get satisfactory results.
Features:
It is totally free of cost and also open source to be used.
You can create awesome comics, illustrations and also sophisticated artworks.
Presence of raster graphics
Presence of advance layers
Pricing:
Free of cost
This software consists of a vast collection of graphic tools which can be very useful for the professionals too. Corel Painter is mainly used by the pro artist because of its capability to offer outstanding performance and outcomes. Even though you are a beginner, you don't need to struggle to use it as it will already provide you with a library of tutorials for every step. This design app provides an intuitive interface which should be tried.
Features:
Availability of 900+ painting brushes, paper textures, patterns etc
Video tutorials for beginners
The user interface is simple.
Chrome Extensions are available
Pricing:
Free trial 15 days
Subscription: $199
This software is considered best for graphic designing. You can do all sorts of arts and graphic designing. It provides you all the tools that you are looking for and is best for both professionals and beginners. Beside vector designing it also serves the purpose of raster based graphic designing.
Features:
Create your dazzling vector illustration with precise curves and colors.
Unlimited canvas for your unlimited artwork
Can create pixels as well as vector design.
Pricing:
Subscription: $49.99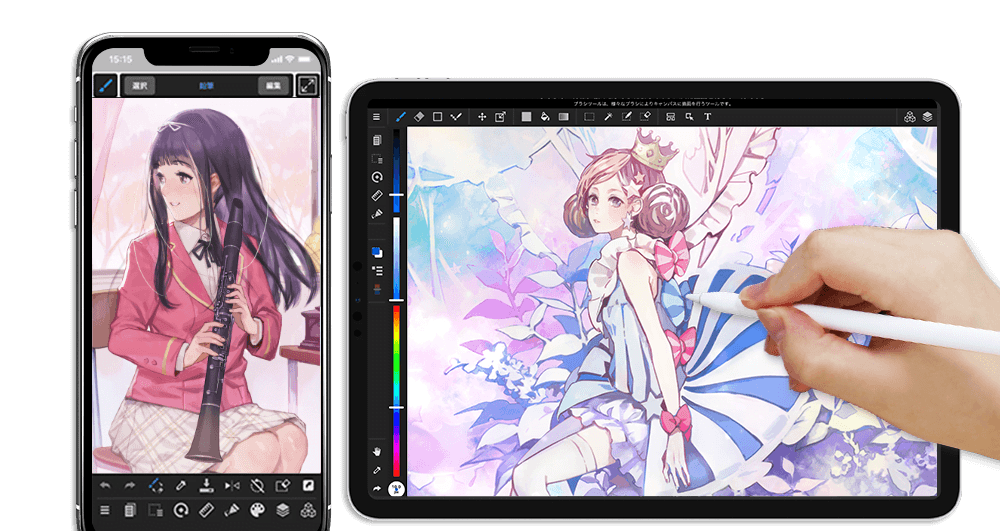 This software is great for creating comics and even manga. It is already used by several comics and manga artists.It offers a wide range of brushes, background, colors, font styles and tones. Windows 10 should definitely use this software if they are newbies and want to improve their hands in creating comics.
Features:
Presence of cloud syncing function
More than 800 background are available along with 50+ brushes
It is completely free to use
Pricing:
Free to use
Inkscape is one of the highly recommended software when it comes to list down the best alternatives for Procreate. You must definitely check it out since it is totally free and also open source. Here you also get an option of highly advanced tools for creating sophisticated illustrations, logos and others. Raster graphic editing is not the best but it is considered as the best software for vector designing.
Features:
Presence of procreate features like smart navigation, flyout and anchor
It is totally free to use
Bezier, color profiles, spiro curves and text tools are freely accessible to the user.
Pricing:
Free to download
If you are looking for some software for sketching or foe illustration or even want to do doodling then this is all you need. With the help of a gallery full of brushes and all the essential elements like color, background etc you can create splendid artworks. The layering system in Concepts is phenomenal, offering you the perfect control over the elements.
Features:
It enables the users to have an infinite canvas.
The availability of vector designing with flexibility is the prime feature
The quick gestures present in the Concepts makes it easy for the beginners and professionals to work up fast like the use of drag and drop.
Pricing:
Free to use
Finally the last on the list but totally worthy of being the best alternative to Procreate. This app allows the user to do drawing, sketching, designing and other. It is also capable of mimicking other features of Procreate like offering the support of stylus pressure also named NVIDIA DirectStylus support. It even supports Apple pencil.
Features:
Features like palm rejection is available for avoiding accidental zooming and panning while creating their complex artwork
The availability of GPU accelerated paint engine helps the software to run smoothly on Android devices
Vast canvas for upto 6144 x 6144 is provided with almost 50 layers
Pricing:
Free version available
Are there programs like Procreate for Windows?
Yes, definitely there is an extensive list of some outstanding programs available for Windows. Some of them are Autodesk Sketchbook, Adobe Illustrator, PaintTool SAI, Artflow, Corel Painter and many more
Can you use Procreate on an Android tablet?
Unfortunately Android tablet does not support Procreate, therefore you can't use it. It only runs on iOS, iPad.
Do you need Apple Pencil for Procreate?
No, it is not mandatory to use Apple Pencil for Procreate. All you need is high quality stylus for the smooth performance and productive outcome on the software.
Conclusion
I hope you were able to select the best apps like Procreate according to your creativity level. Like if you are a comic or manga content creator then you should use MediBang Paint for sure or if you're looking out for something highly advanced and professional then check Corel Painter, ibis paint x, adobe photoshop sketch, infinite painter, painttool sai and others. All the listed above softwares are extraordinary and tremendously powerful for producing a masterpiece and is best for android tablet users. You can easily find these apps even on the app store. Do share this with your friend and colleagues if they are into graphic designing or thinking about initiating it.