After the advent of fiber optics and wireless broadband technology, we can now make voice calls, video calls, file sharing and other tasks on a mobile phone with the best VOIP service for android. In this modern era, getting data connection is very easy as you can access free Wi-Fi connectivity at almost all the public places. Now people prefer to use VOIP services as these services run on data connectivity. With data connectivity, you can do all other tasks like using web browsers to open web pages and much more along with VOIP services.
We are going to list some best VOIP service for android, which you can use to communicate all around the world free of cost. You just need the data connection on your phone. But before moving to best VOIP apps for android, first of all, let us have a brief look at what is VOIP.
Also Read: How to Boost Mobile App Downloads by Video Presentation?
What Is VOIP?
VOIP stands for Voice Over Internet Protocol. It is the multimedia and voice communication over the internet. The plus point of VOIP service over the phone call is you don't have to purchase separate plans for voice communication. With a data pack, you can do all other tasks that we usually do with the internet. VOIP services were not free in the past, but fortunately, now companies realized the potential of VOIP and are now offering free services with some conditions for their popularity.
There are many messaging apps are available around which offers you free VOIP calls along with free message services. Some services offer unlimited calls and some offers limited. We will mention some free and best VOIP services for android users.
10 Best VOIP Service For Android Users
All the services that are listed below need internet connection whether mobile data or Wi-Fi. Although Wi-Fi connectivity may be much better than mobile data, but still works fine.
1. Skype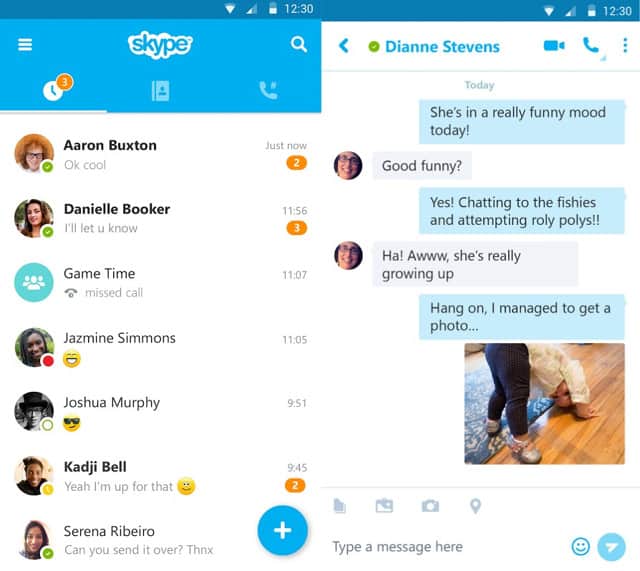 When it comes to best VOIP service for android or iOS users, Skype is on the top of the list which is owned by Microsoft. It is available on almost all the platforms. You can do voice calls, video calls, and instant messaging with this service for free. Apart from video, chat and audio communication, you can also send or receive documents and files. Another good feature is, you can do group calling with up to 25 Skype friends.
You can also use this service for sharing screen to others. Facebook and Outlook integration is also possible. If you are calling to the Skype users, then you don't have to charge anything. But if you want to make direct mobile or landline calls, you can purchase the monthly subscription for $6.99 or ¢2.3/minute without subscription with call allowance within the US. If you want to make calls anywhere around the call, you can purchase the monthly subscription for $13.99.
2. WhatsApp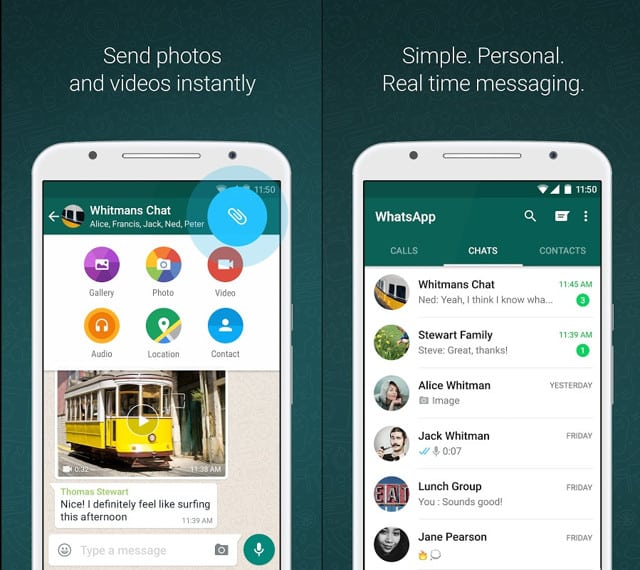 WhatsApp has crossed over 800 million users due to its reliable functioning. It is a very light android application and does not consume too much RAM. Earlier there were many issues with its calling features, but now its working very fine. You can do free voice and video calls, messages, file sharing to your WhatsApp contacts with the internet connection. This app is available for almost all platforms. You can integrate your WhatsApp account on its website to use it on your PC.
Earlier WhatsApp had only chatting and file sharing features. But still, it was the most used messaging app by the users all around the world. After the coming of voice and video call features, it becomes the second best VOIP service for android.
Also Read: 13 Whatsapp tricks that every user should know
3. Viber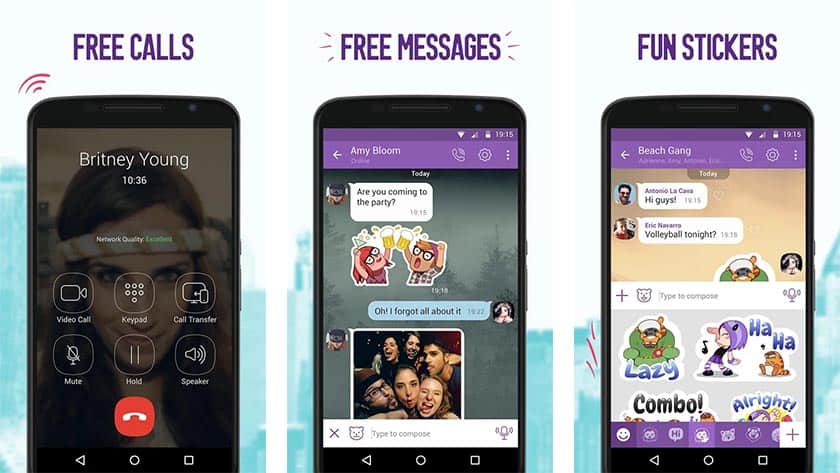 Viber is another best VOIP service for android users. Apart from calling to your Viber contacts, you can also call to other mobile and landline phones. You have to pay if you are calling to mobile or landline numbers. As like Skype and WhatsApp, it will use your phone number to identify and communicate with other Viber contacts. With the help of synchronization and your phone number, you can also use this service on your PC.
You can send free messages, files, and documents on the android app. In chatting, you can send animated emoticons and stickers. With custom themes, you can customize the app according to your taste.
4. Hangouts Dialer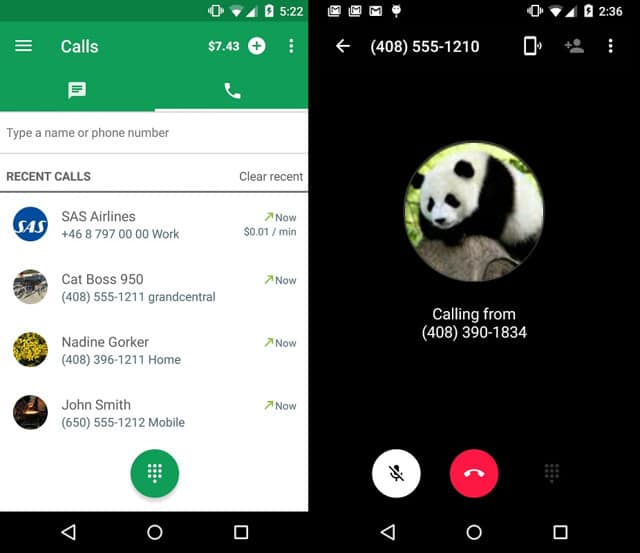 You can integrate hangouts dialer with your hangouts app to make calls to any mobile or landline number. You can make free calls to hangout users, but you need to pay for mobile or landline calling. If you have an android phone, then you will definitely see hangouts app installed on your phone. Due to its widely reach, it another best VOIP service for android.
It provides reasonable rates for paid callings. But it is not available in all countries. As like Skype or Viber, you don't have the flexibility to customize your app. Apart from calling features, messaging and file sharing features are also present.
5. Facebook Messenger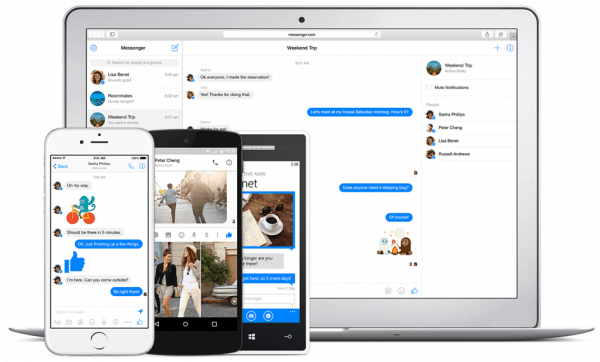 As Facebook is used by over 1.4 billion users worldwide, it another best VOIP Android app to reach maximum users. The messenger allows you to make voice calls, video calls, chat, file sharing with your Facebook friends. The is completely free to call everyone in your friend's list. This messenger is available on all smartphone platforms.
You can't make calls to mobile or landline phones. Even you cannot make calls to Facebook users who are not your friends. You can use these features on your PC also. The messenger also includes animated emoticons, stickers, and smileys.
6. Vonage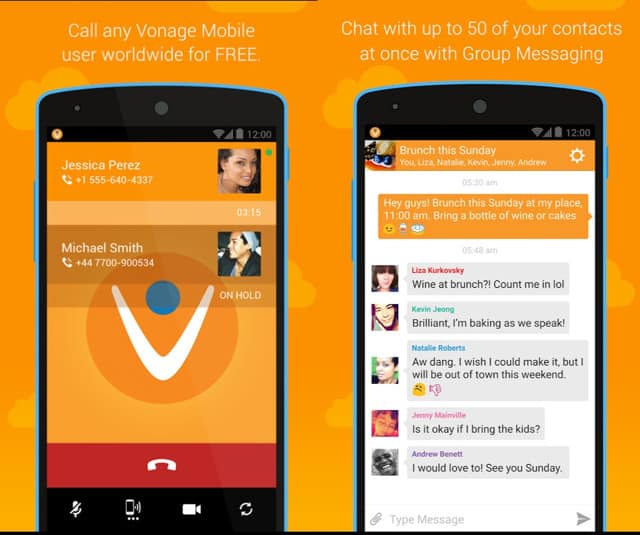 Vonage is another fully featured android app to make VOIP calls. It provides many free communication features like voice call, video call, messages, file or document sharing, voice messages, video messages etc. You can make international calls at very cheap rates.
The video calling is very good and Vonage claims that if you have a good internet connection then may seem that the person is sitting next to you. The business version of the app is specially designed. The business version offers many features with cheap rates.
Also Read: How to Backup iPhone With iTunes and iCloud or Apps
7. KakaoTalk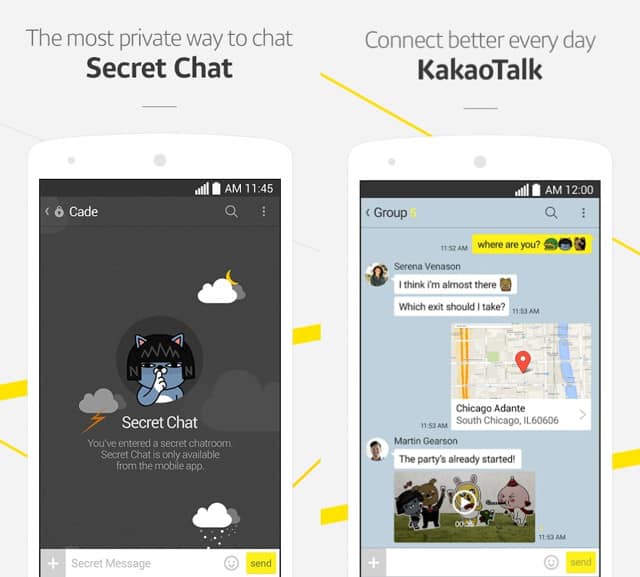 KakaoTalk is very similar to WhatsApp and Google Hangouts. This service is used by over 150 million users. You can start communicating any KakaoTalk user with no cost after registering to it. You can do voice calls, chat, conference calls. You can send emoticons, smileys in the chat. It is a social media app that also allows you to see updates of celebrities and famous people. The app is available for Android, iOS, Blackberry etc.
8. Tango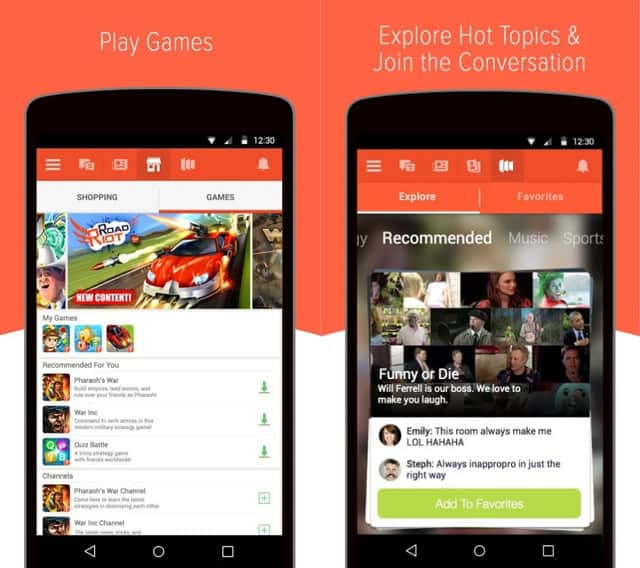 Tango is another best VOIP service for android which allows you to chat, do voice calls. It is a social media app just like KakaoTalk. After verifying your phone number, you can create your complete profile. You can play games with your friends. The voice calls, video calls, instant messages are free to do.
Just like Facebook and other social media platforms, you can share photos, videos, update status, share the latest news etc.
9. Nimbuzz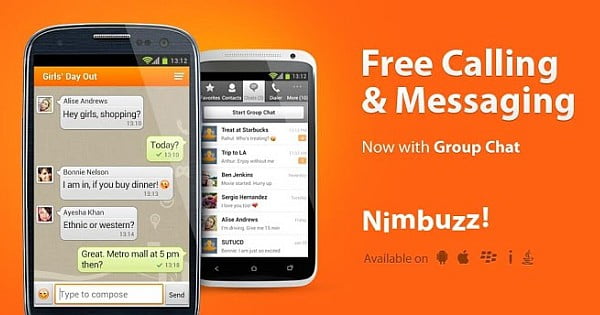 The user interface of Nimbuzz app is a bit outdated as compared to other apps. But still, it is a user-friendly app which allows you to do voice or video chat with Nimbuzz users for free. You can buy credits if you want to call on mobile or landline phone numbers.
The best thing about this service is that you can connect your social media profiles with your Nimbuzz account. You can integrate Facebook, Google Plus with this service.
10. Line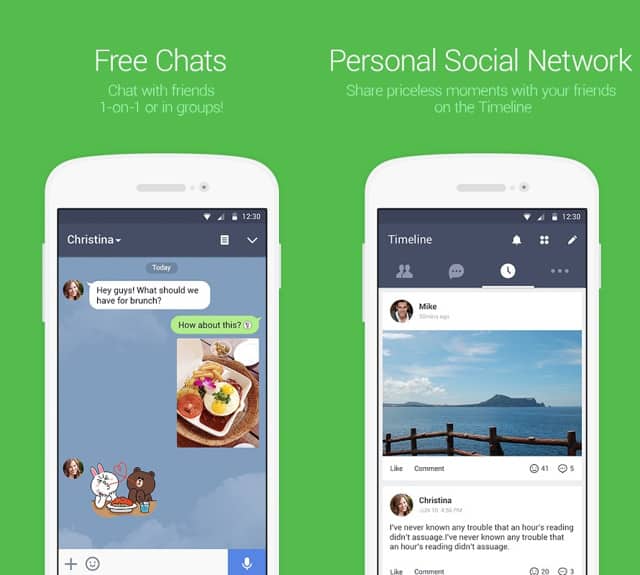 Line is on the tenth best VOIP service for android users which offers all the basic and advanced features to its users. You can do voice calls, video calls, instant messages for free. Instead of communication features, it also has social media features also. You can update activities on your profile, share photos, videos on your timeline. The service is used by over 600 million users.
The service also offers backup of your all Line conversations, photos, videos and memos to the cloud. With its social media features, it is liked by many users.
Also Read: 4 Critical Tips To Change The Way You Approach Text Message Marketing
Conclusion
Now people are more dedicated towards VOIP calling. When it comes to good quality VOIP service, you can try Skype. Although it costs some dollars for mobile or landline calls, but the quality is best. But if you want the most reachable service, then WhatsApp is the best option for you as it is used by billion of users.