Xiaomi is all set to host its annual Diwali sale on "mi.com" and "Mi India app" starting from 17th till 19th October 2016. Even this year, Xiaomi plans to conduct the "Re. 1 flash sales and discounts" as part of their Diwali Sale. The Re. 1 Flash Sale will be valid on three of its smartphones namely Redmi 3S Prime, Redmi Note 3 (16GB variant) and Mi 4.
Re. 1 flash sale – at 2 pm – daily
Redmi 3S Prime flash sale will be held on 17th October
Redmi Note 3 flash sale will be held on 18th October
Mi 4 flash sale will be held on 19th October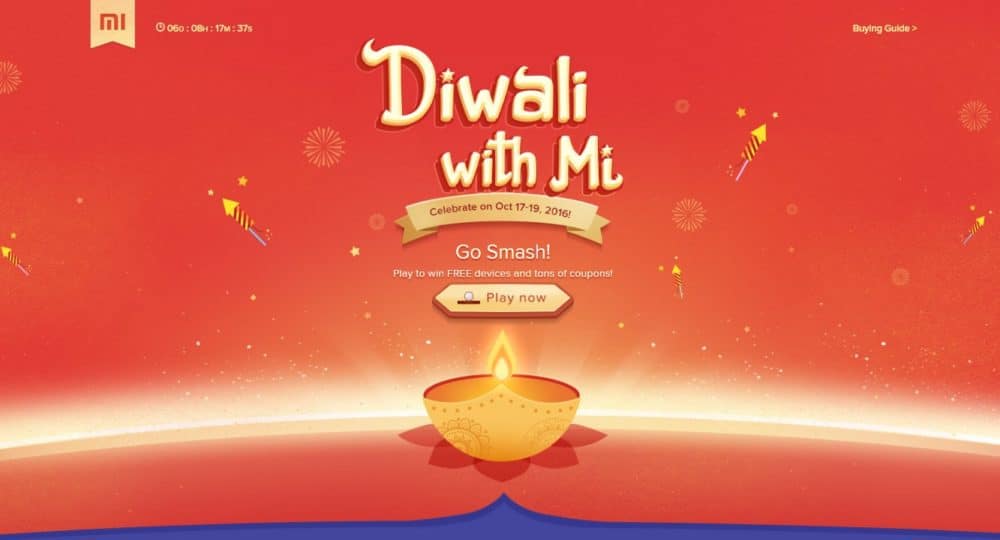 Other Products for the Xiaomi Re. 1 Flash Sale
The Re. 1 flash sale by Xiaomi is also valid on 20,000 mAh Mi Power Banks, Mi Bluetooth speakers and Mi Band 2 along with the smartphones. Each of these will have only 100 units during the Re. 1 flash sale.
How to be eligible for the Xiaomi Re. 1 Flash Sale
Buyers have to share about the Xiaomi Re. 1 Flash sale on social media channels including Facebook and Twitter etc in order to register themselves beforehand and achieve eligibility for the sale. All the flash sale results will be declared on the Mi Community every day. For the users who successfully add a Re. 1 item in their cart must pay the amount within 2 hours, else the order will be deleted.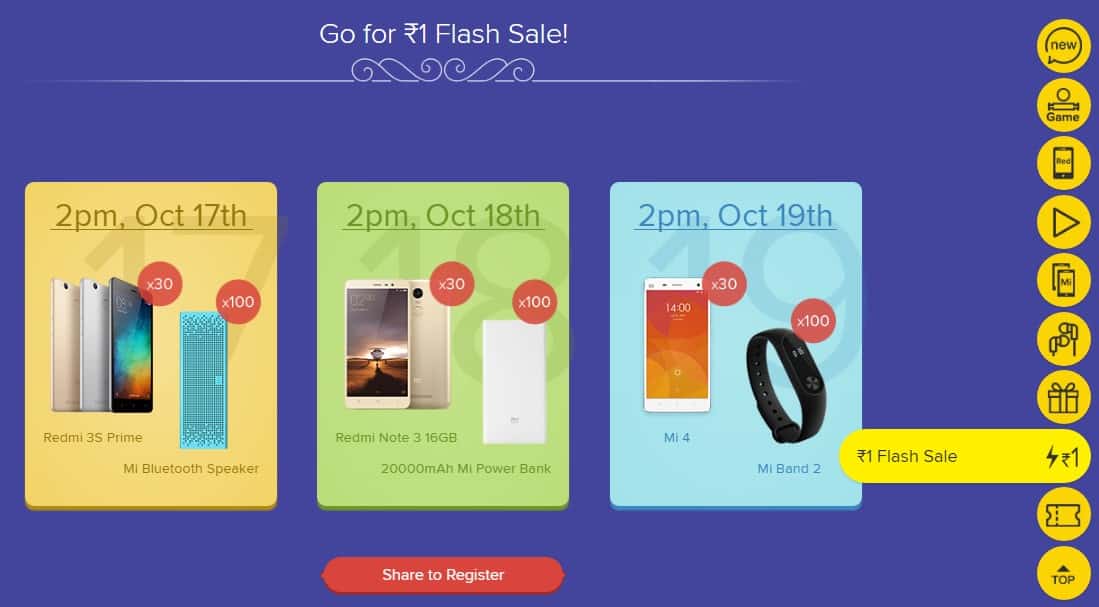 Discount Offers
Xiaomi will also be offering discount coupons worth Rs. 100, Rs. 200 and Rs. 500 on smartphones, accessories and more. These can easily be claimed from the official website between 10th to 16th October and be used on the day of the sale. Timings for the availability of these discount coupons are 10 am to 10 pm daily.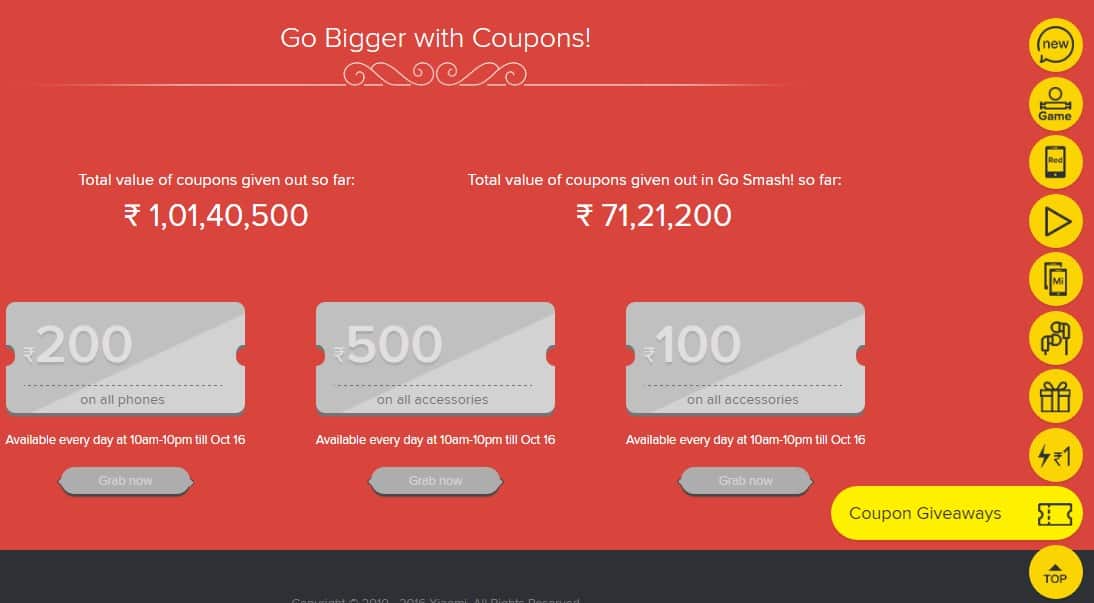 The discounts offered on accessories during the sale are also exciting. The 10,000 mAh Mi Power Bank is priced at Rs 1,099 instead of Rs. 1,299. Mi In-Ear Headphones Pro will cost you Rs. 1,399 compared to the original price Rs 1,799. Mi Capsule Earphones have been priced Rs. 899, while the Mi Bluetooth Speaker will cost you Rs. 1,999.
Lucky Draw
At the Xiaomi Diwali Sale, there is also a chance to enter the Daily Lucky Draw and win the Mi Robot Vacuum.
Free Gifts
For orders that happen to be placed between Rs. 5,000 – Rs. 15,000 customers get a free Mi-Keychain and for all orders above Rs. 15,000 your get a Mi USB Fan. A free laptop sticker is given out with all orders.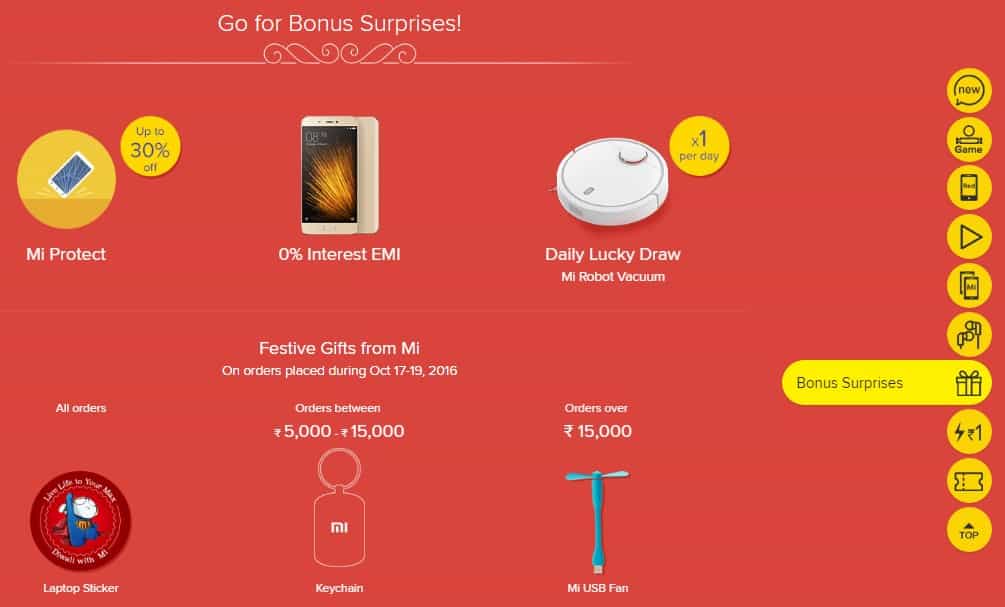 Xiaomi products on other sales
Xiaomi claims to have sold over half a million devices in less than just three days between 1st and 3rd October 2016. According to Xiaomi, Redmi 3S model along with the Redmi 3S Prime was the top-selling products on Flipkart during their Big Billion Days Sale. While the Redmi Note 3 device was the best-selling smartphone of The Great Indian Festival Sale at Amazon.
Protect Plan
Xiaomi's Mi Protect plan will now cover all the accidental losses and liquid damages. The plan also offers 30 percent off. It will provide free home pickup and drop. Additionally, a free second servicing within 1 year from the time of activation is also granted.
You can follow this "BUYING GUIDE" to gain more information regarding the Xiaomi Diwali Sale.