Project management is an important task which needs to be executed properly for better output. The result of the team's work is completely dependent upon how your team collaborates. There are a number of project management tools on the web, but Wrike stands out among all of them.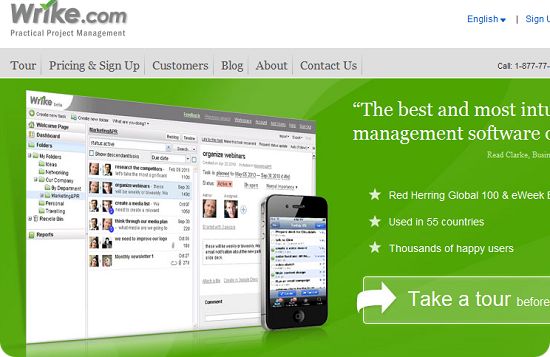 Introduction to Wrike Project Management
Wrike is an advanced yet easy-to-use project and task management software which helps your team collaborate on projects effectively  to save time and increase productivity.
Assigning Tasks Made Easy for Team Leader
As a team leader, your task is to divide the project into segments and assign them to your team. With Wrike team leaders can seamlessly accomplish this. Wrike makes it easy to create tasks and assign them to individual members of your team with no more than a few clicks.
Wrike comes with a well-organized user interface and better options for assigning tasks to team members. It is also possible to attach important files to assigned tasks and set schedules to complete every task on time. You can prioritize all tasks using Wrike's drag-and-drop feature and use the '@' tag tell your teammate about a task.
Awesome Features of Wrike Project Management Tools
Transform your Email into a Task
Did your client send you a job or task via email? With Wrike you can simply add it the email to your task list with a click of the mouse. A hassle-free escape from copying and pasting the message.
Wrike integrates with your email account to let you easily send emails to your task list. If you're a Gmail user, you will get a new button labeled "Create task in Wrike" just below the body of your email. One click turns your email into a Wrike task. There are also email add-ins for Apple Mail and Outlook, as well as smart email integration if you use other email clients. With this feature, you will never lose  important tasks sent by your client via email.
Activity Stream
Wrike's live activity stream keeps you updated with the latest activity on any tasks and projects you choose to follow. The activity stream updates automatically, so you always have recent work news at the top.
Collaborative Document Editor
Wrike's collaborative document editor let you edit and save attached documents online without downloading them to your desktop. And the live task editor within the tool shows changes other teammates are making in real time, so you always have the latest version of a task in front of you.
My Work
Wrike's My Work feature is a personal space that no one else can access. It makes it easy to arrange your task priorities by dragging and dropping them to today, this week, next week, or later, and only you will see how you have organized your work.
Check Performance and Manage Workloads
With Wrike you can easily track the performance of your team members using the burndown chart and review their current workloads to assign new tasks according to availability.
Integrate Wrike with your Favorite Apps
Wrike can be integrated with a wide range of apps such as Microsoft Office documents, Google Drive, Evernote, Outlook, iCal, Dropbox, Github, and more.
The best example of Wrike's integration is the ability to sync your Google Calendar with your task list.
Wrike – Online Collaboration Software Available From Any Device
With Wrike you can stay connected with your team from any location, on any device. Along with their full-featured web application, Wrike also offers free Android and iOS apps for managing work. Wrike also created a Google Chrome extension to make creating tasks and sharing links easy when you're anywhere on the web.
Final Words
Wrike is one of the best and most feature-packed online project management software. Their tool is being used by well-known companies such as PayPal, Adobe, MTV and HTC..
Now it's your turn to learn more and check out www.wrike.com.