Is it fine to use a personal number for my business? You must have had this thought before starting your business. In this article, we are going to discuss whether you should go for a business number and the benefits of having a business phone number.
Businesses are facing tough competition in almost every industry, making it harder to retain customers. These users have an option to shift to a new service provider, in case they are not satisfied with the provided service.
Hence, customer experience has been a major concern of every business organization. No matter what number you are using right now and if you know what is an 0800 number or not, this article will help you understand why you need a business phone number. 
Advantages Of Using a Business Phone Number
There are hundreds of advantages of using a business phone number. Some of them are:
Increases Business Credibility
Using a business number creates a positive image of your business in the customer's mind. It increases your business credibility by providing them a reliable solution to connect with you anytime they want.
No one wants to call a personal number and deal with the awkward interaction. They just want a professional conversation with the support executive regarding their problem. Hence, it is a great way to let them know that you are always there to attend their queries and solutions.
Keeps Your Personal Life Separate
The biggest advantage of using a business phone number is the fact that it allows you to keep your personal and professional life separate.
You will have different phone numbers to attend your personal and business calls. It is a great way to avoid confusion and helps you to manage them properly.
A Better Way To Manage The Calls And Data
A business phone number allows you to manage your calls in a more organized way. The tools and features of a virtual business number save you a lot of time and money that you would have spent on getting the analytics.
A business number can work with different filters to know the exact analysis of a call without checking your call logs. Additionally, you get to manage all the calls with a single mobile number.
It means that your customers all over the United Kingdom will be able to contact your business without adding the area code.  You can click WeNumber's solutions to know more about how to manage calls effectively.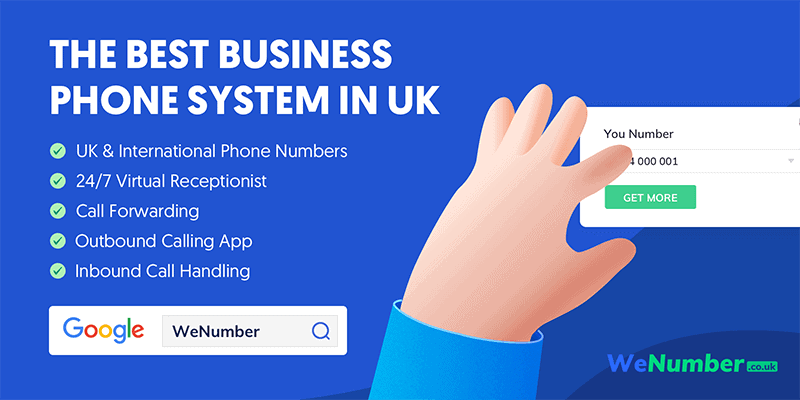 How to Get a Business Phone Number
Organizations can register their business number through a virtual number provider. These providers help you get your number by activating your preferred support number. You just need to find a service provider that gives you instant access to your virtual number.
These numbers are a great choice for large scale businesses, and they easily get it registered on their name. However, most of the virtual service providers take somewhere around 24-48 hours to activate your number. Y
You do not need to worry as we have found a service provider that activates your number instantly. WeNumber offers business phone numbers to most of the organizations in the UK.
Along with the instant activation, they offer their customers with a set of useful features to analyze the data easily.
Conclusion
Even if you have started a new business, you will still need to get a business phone number sooner or later. Getting a virtual 0800 number from WeNumber is way more affordable than getting your data managed by someone else with a personal number.
The businesses using virtual business numbers get all the above advantages without adding extra costs to their business. You can easily start by registering your business number to manage your calls and data easily.
Additionally, the virtual number providers offer some features that help you filter out your calls with different filters.