The most effective way for a business to keep customers over the long haul, and also perhaps gain new ones through word of mouth, is to make sure that you cater to those customers' needs. The trick is, you need to have effective means of accurately ascertaining these needs, preferences, and desires, otherwise you may end up trying a lot of different tactics that may not deliver results but will certainly waste time, money, and other resources. And to add insult to injury, you could wind up losing those customers.
Thankfully, Big Data is all the rage today, and gives today's companies the means of tracking customer preferences for the purposes of making a business more efficient, but also determining what future promotions, sales, and inventory should be brought to the fore.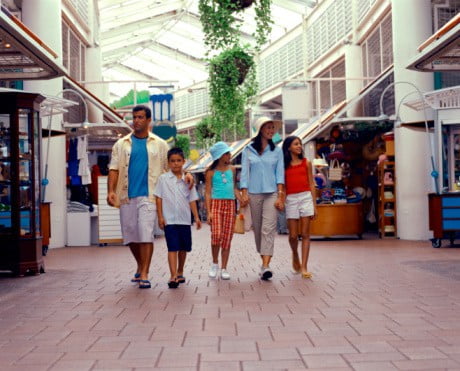 Big Data can even be used to track customers who enter a mall, and access their personal demographics information
Big Data: The Quick Definition
When you're talking about Big Data, remember the three V's: Volume, Variety, and Velocity. Big Data is a lot of information culled from a wide range of sources, and delivered rapidly. Naturally, the big problem is how to wade through this tidal wave of information and find the most useful bits. After all, according to the article "How To Unlock Big Data's Big Potential", there's already "… over two zettabytes (two billion terabytes) of data, and by 2020 estimates are that we're going to be generating over ten times that amount every year." That's a whole lot of info.
Social Media Monitoring
If you want to take the pulse of the public, check out social media networks like Facebook or GooglePlus. When people want to offer bouquets or brickbats, social media is the go-to forum. There are a ton of tools that enable you to search social media and find out what people are saying about your company, how often they post, and when they do it.
Microtargeting
The more information you gain from Big Data, the more exact you can make your focus when conducting marketing campaigns. There are ways of discerning behavioral patterns in customers based on their purchase history. Microtargeting is a strategy that uses demographics and consumer data in order to identify groups or individuals who are all like-minded, for the purposes of making them act or think in a certain way. You can also visualize this data by creating a custom map. It's a popular tool in politics, which should come as a surprise to absolutely no one.
For an example of microtargeting that involves e-commerce, Amazon uses Big Data to help power their "Recommendation Engines", which is what the online seller uses to recommend items based on your viewing history. This sort of approach delivers a more personalized experience to the potential customer, something only achievable if you have enough information about their habits to begin with.
Since it can be a chore to wade through all of this information, there are companies out there that will help you put together customer profiles based on such data so that you can bring to bear the power of Big Data.

Google
When you talk about Big Data, you need to mention Google Trends. It gathers information on who is being searched, and for what purpose. It's a great way to discern current trends, as well as to gauge what topics are on people's minds these days.
If you want to look into Google analytics, find out more in the article "3 Tools To Check Website Traffic And Revenue Stats Online".
Mobile Tracking
Once upon a time, stores relied on sharp-eyed sales staff to notice a customer entering the store and walking the aisles. The employees would intercept the customer and show them some items of interest, based on where they were browsing. These days, with the advent of Wi-Fi and GPS, store owners can track customer traffic and, if they have the means of picking up a customer's Wi-Fi card, can even be apprised of any given customer's gender and age, and in the future tailor a promotion or coupon for that customer as soon as they are detected in proximity to the store's location. Not too shabby!
There are many other ways that Big Data can be brought to bear in helping a company to better track their customers and their tastes. But whatever methods are used, it's clear that Big Data and its proper application will factor hugely in the success of any given business today.
Byline: John Terra has been a freelance writer since 1985. He's a fan of Big Data, but finds it creepy that his personal information could be tracked at a mall.