Ever since Facebook introduced its new timeline profile, there has been an increasing demand for timeline covers. If you've ever considered using a tool to make a Facebook cover for your Facebook profile, you've probably found that you need to invest both a lot of time (design time) and money (purchasing of a professional graphic app) in order to get something professional looking. However, there are now good apps that enable you to make a Facebook cover for free.
The first application that we will look at that is designed specifically for this purpose is Make A Cover for Facebook.
Make a Cover for Facebook
This is a free Facebook Cover Maker program that makes it incredibly simple to design and apply your creation as your Facebook cover. In truth, this Facebook cover maker program isn't really a design package; it's a program that builds a college from a selection of graphic options.

When you first open "Make a Cover for Facebook" you'll be presented with two options, an option to build your Facebook Cover around a male or female character.  Upon selecting a character you'll see a Facebook Cover design area on the right with design options for your cover down the left hand side. Below the Facebook cover design panel where you make up your cover design there are two buttons: the first allows you to download your cover designs whereas the second applies your design as your Facebook cover.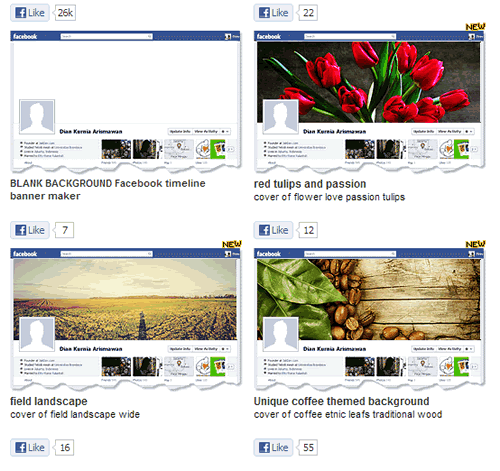 The way in which this Facebook Cover Maker app works is that you dress up a character using predesigned clothing and facial expressions. You select designs from categories such as nose, mouth, clothing, glasses, scarf, hat, hair etc. As this free app is designed in HTML 5 the speed with which your clothing selections are made and implementation to your design as you make a Facebook cover is almost instantaneous.
Similar  Free Apps to Make a Facebook Cover
Time Line Banner – Select a favourite Facebook cover from a stock and then make the cover your own by customizing in a Microsoft Paint like interface for your web-browser.
Page Cover Maker – Customize predefined templates with your photos, stock images, and text and gradient settings. Very similar to 'First Cover Maker' although this has the additional option of using stock images.
First Cover Maker – Flash based utility that makes Facebook covers based on photograph images you elect to use, text and gradients. Users can apply their Facebook cover that they make directly by clicking a button.