Smartphones has revolutionized the way we interact with the world. This whole new perspective in which we watch the world is quite interesting and thrilling. Saying that, people want to share their valuable life moments with the people and therefore, smartphone camera plays an important role in this situation. Being a vlogger and an Instagram story creator, I usually use a selfie stick for capturing and curating stories of my lifestyle. Though most of the devices these days comes with Optical Image Stabilization, for serious videography you should depend on smartphone tripod mounts.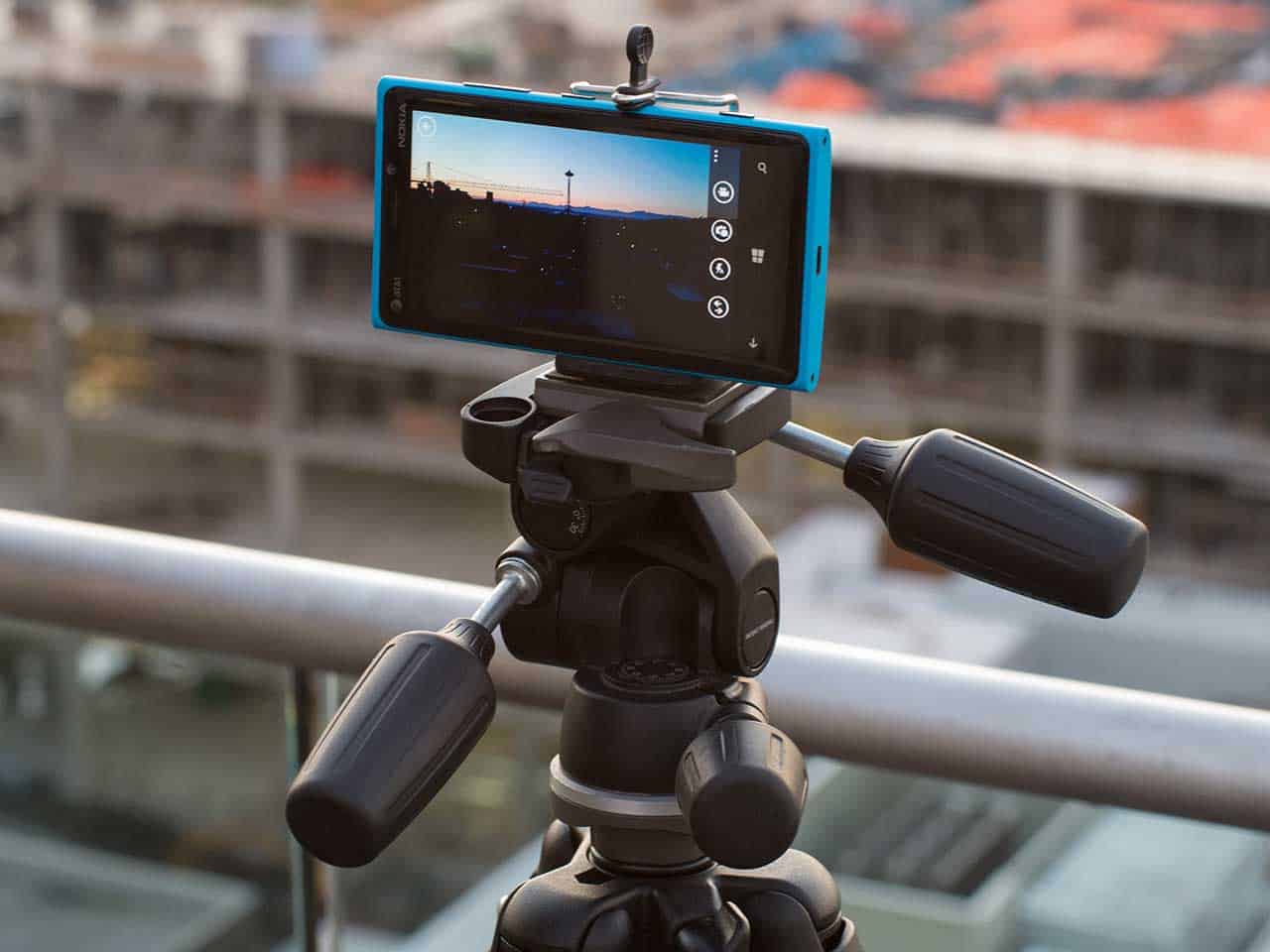 Talking about Smartphone Tripod mounts, you will find a whole lot of them in many online shopping sites. When it comes to quality, most of them will underperform. Finding a reliable one for your professional as well as personal use is really important especially, when your hundreds of dollars' worth smartphone is what you are risking. On a personal note, my friend broke his iPhone screen when it fell out of one of those cheap selfie sticks he bought from a tourist place. Long story short, he ended up paying 15000 INR (200$). To avoid that, I have here is a list of smartphone tripod mounts; the standard ones, the funky ones, easy to carry ones and multi-utility ones.
Smartphone Tripod Mounts
Starting off the list by Joby GorillaPod, one of the most trusted smartphone tripod mounts in the world. Used by many professionals Joby GorillaPod Hybrid is feature rich, easy to use and comes with ton of accessories. The first thing you will notice is how flexible and how easy you can mount this on any surface. The wrappable legs with rubberized ring and foot grips gives you stable grip on any sort of surface.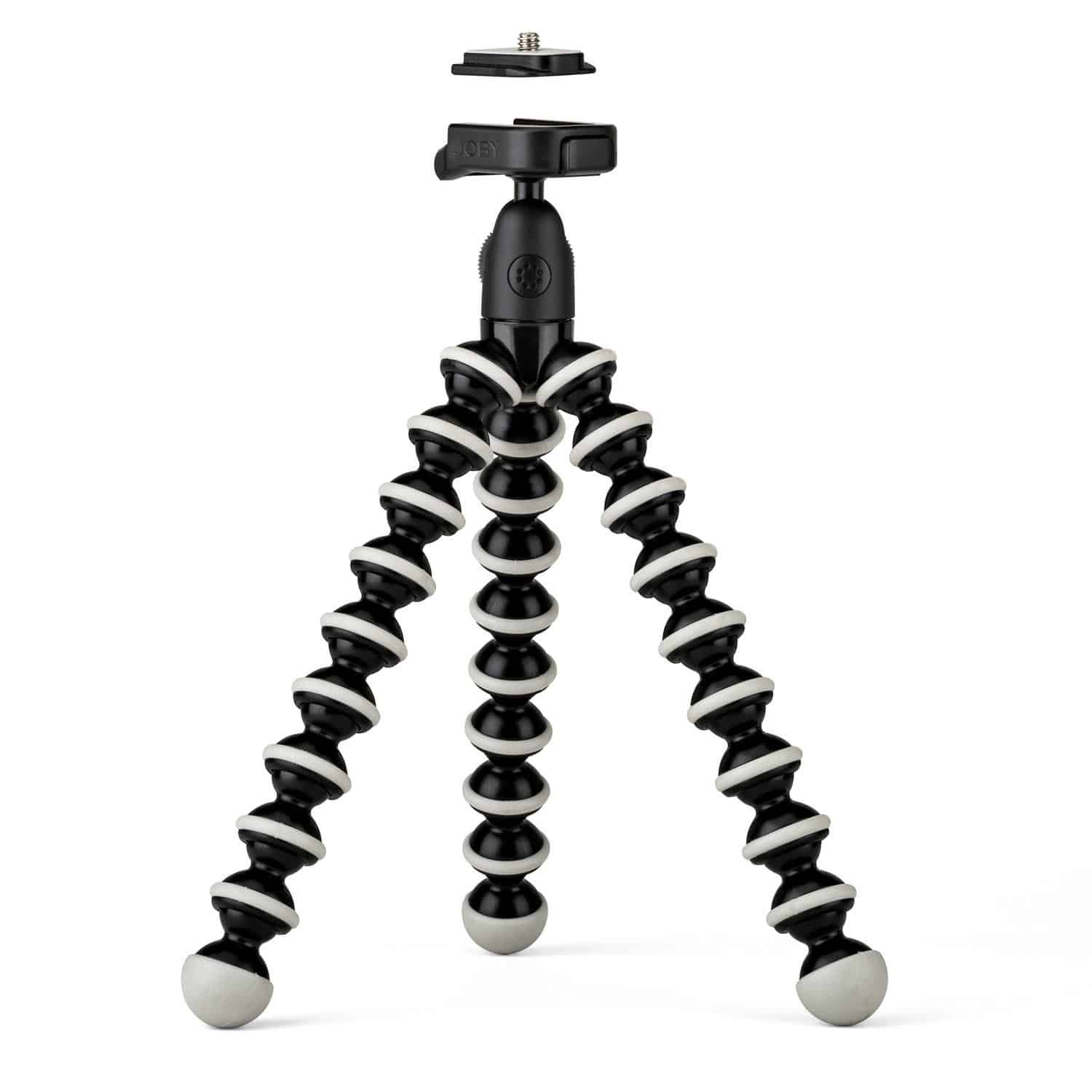 This particular product is specially designed for DSLRs however, you can use smartphone tripod mounts which packs along with the box to plug in your smartphone. Features include; accurate control over your shooting with 90 and 360 panning. The smooth panning ensures there is no tilt or jerkiness to your video/photo. There is a bubble level indicator to ensure the device is in perfectly par with the ground level. Joby GorillaPod Hybrid is the only tripod in its class to use durable Japanese medical-grade ABS plastic and German TPE.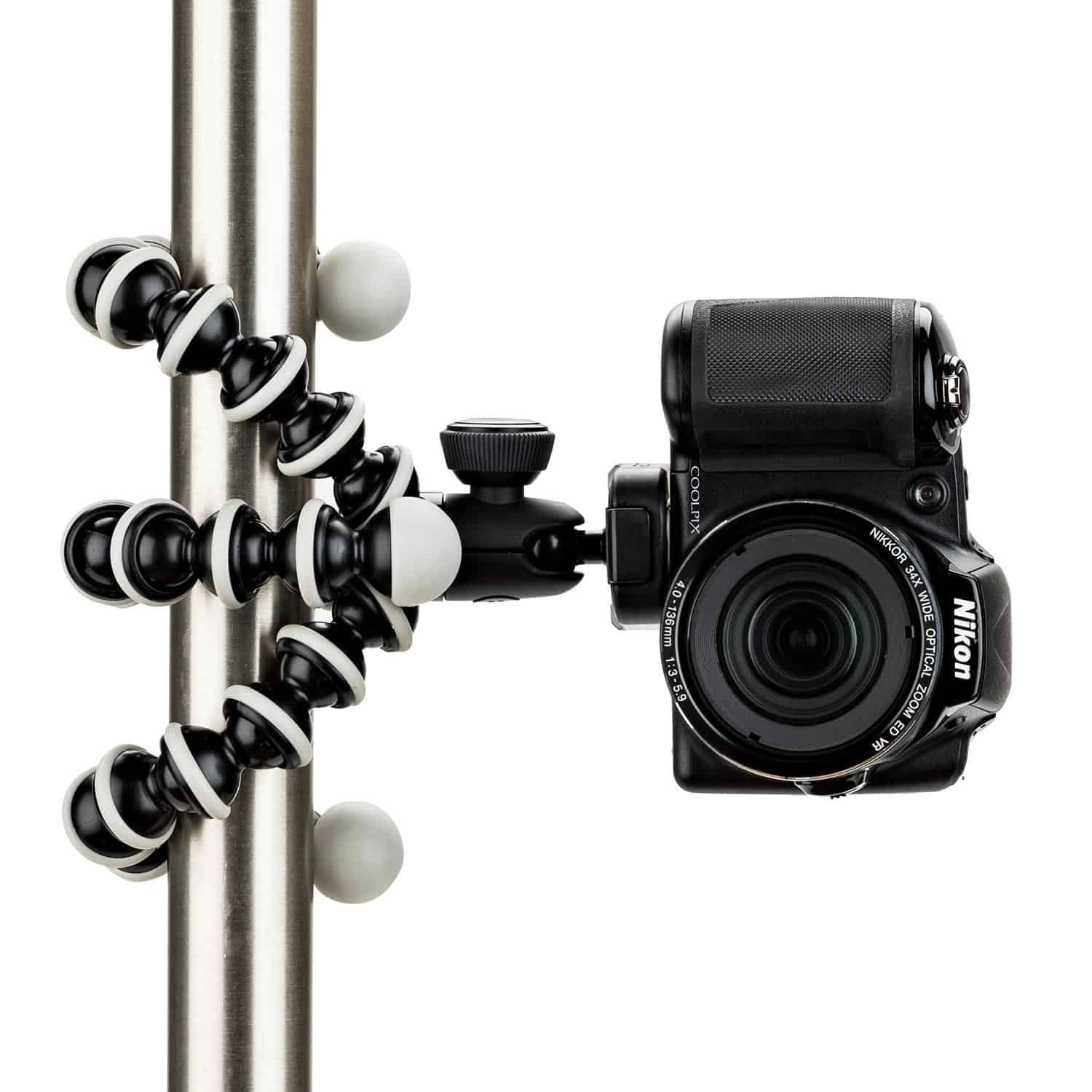 Square JellyFish Spring Tripod Mount comes with a complete kit for your smartphone photography. The accessories include micro ball head, jelly legs micro tripod. Here is a picture of the same with above mentioned accessories.
This smartphone tripod mounts can hold smartphones up to 3 5/8 inches wide. The device is small enough to fit in your pockets. The 4 springs inside provide better grip and secure hold for your expensive tech piece. The universal tripod screw mount allows the spring tripod mount to easily attach to any of the standard tripods. Switching from Horizontal to Vertical is as easy as turning the screw. If combined with one of the tripod mounts, the Spring Tripod Mount can act as a good desk stand for your smartphone.
Ztylus Smartphone rig is one of the perfectly stylish smartphone tripod mounts. To start with, this tripod mound is a multi-purpose yet well-build piece of accessory you can ever buy. I got to say, there has been a lot of thought process that is put out while designing the product. Take the comfortable grip for example; with the ergonomic feel, which will definitely improve your handheld photos and videos.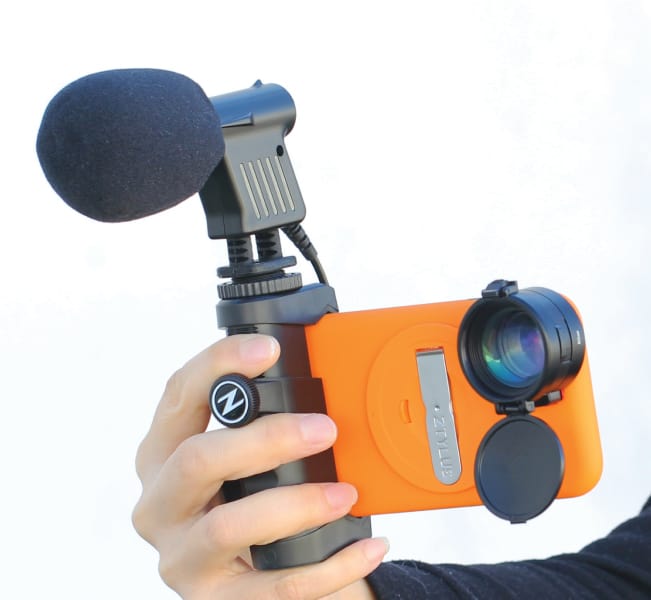 The adjustable phone holder can be extended to a maximum of 3.5" inch. There is also a cold shoe mount on the top to attach things like the mic or lighting etc. The universal tripod mound makes it easy to attach to any tripods out there.
If you are looking for some premium smartphone tripod mounts then, the Saramonic SR-BSP1 Aluminum Holder is one of the best out there. The aluminum body makes the device one of the most reliable in the list. The fit and finish of the product is also something you will definitely love. The foam padded grip handle gives you fatigue free hold while shooting.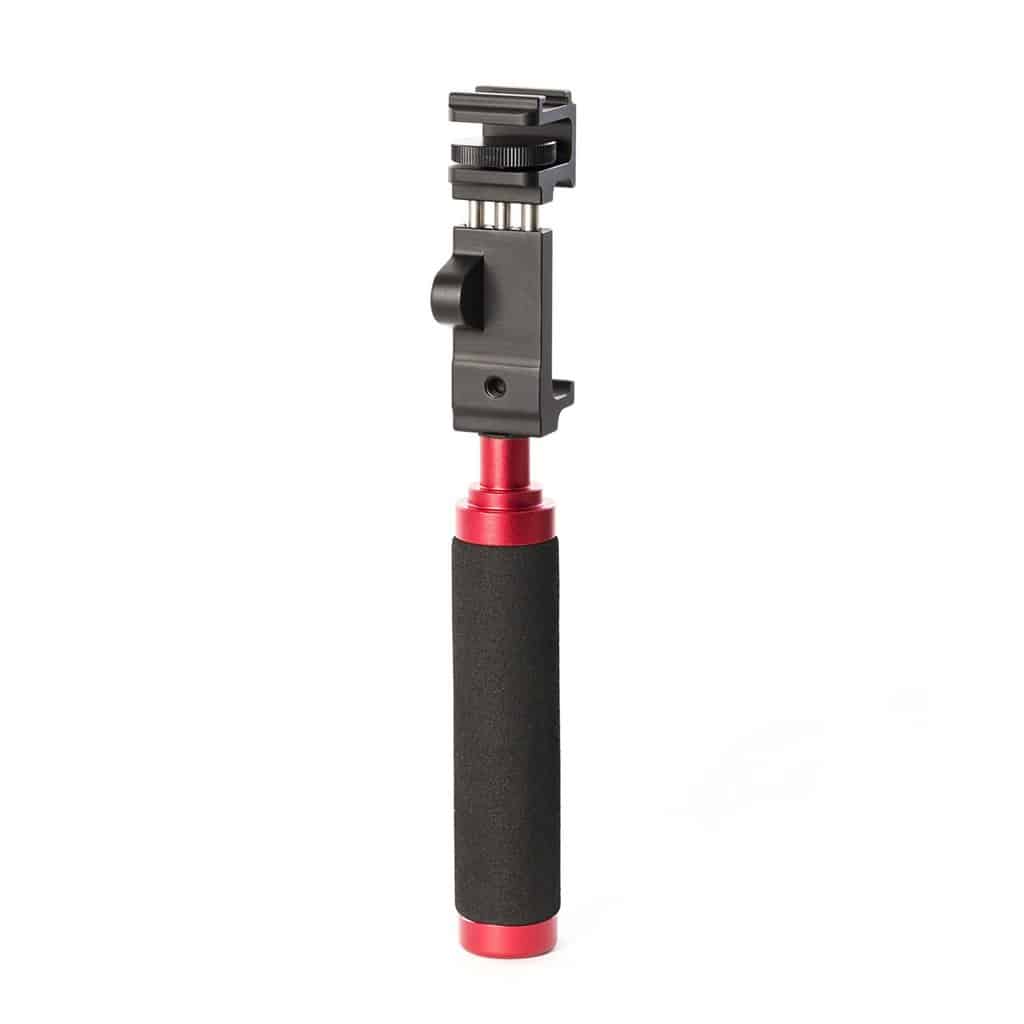 The product has a universal design, which can fit almost all size of phones. There is a female mounting threads and cold shoe mount for your accessories.
The shoulderpod S2 is the successor of ShoulderPod S1, the one which already revolutionized the market. The S2 comes as a multipurpose tool for creative travelers and story tellers. The high quality wooden handle grip is one of the notable feature.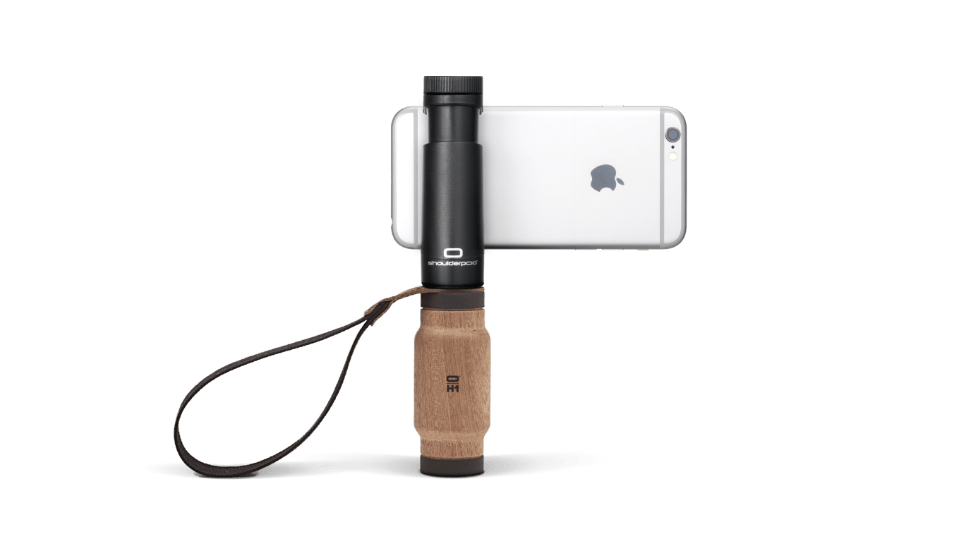 The ShoulderPad S2 can act like a smartphone tripod mount, filmmakers handle and also as a mobile stand both in portrait and landscape mode.
What makes Glif Tripod Mount stand out from rest of the pack is the unique release lever mechanism. Upon opening this lever, the jaws move freely making it easily to load and remove your device. When you close the lever, it automatically tightens across your device.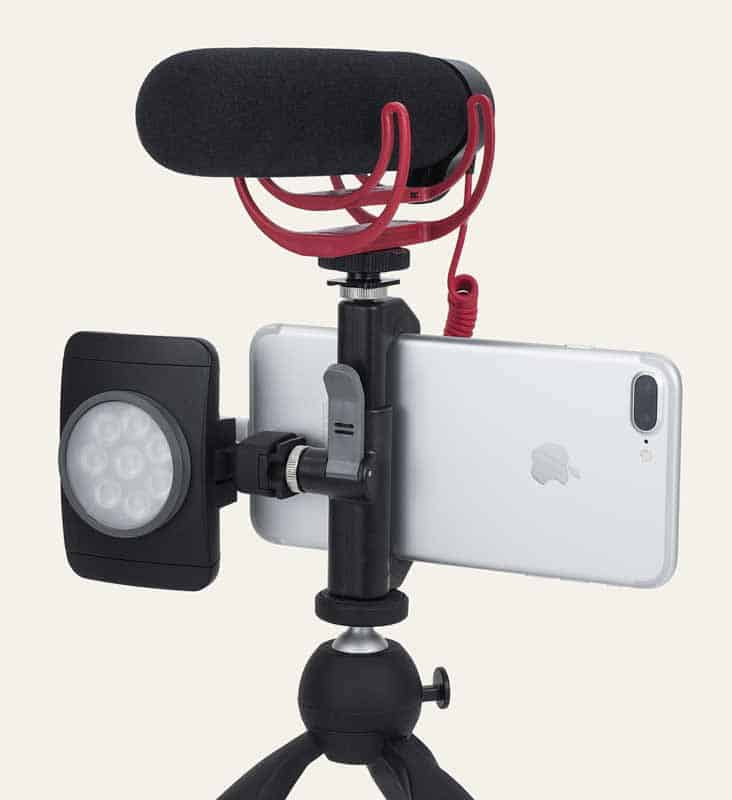 You can shoot both in portrait and landscape mode. The extensibility level on this device is very flexible.  The Glif has a total of 3 tripod mounts, which allow you to add additional accessories, like a microphone or light, or our own hand grip and wrist strap. If you purchase the full set, you will get a solid cherry wood hand grip, paracord and leather wrist strap.
The iStabilizer is a simple smartphone tripod adaptor. It is clearly not a multi-purpose accessory. The good part thought is, the iStabilizer can fit in almost all size of phones. This little device can extend upto a width of 3.5"inch.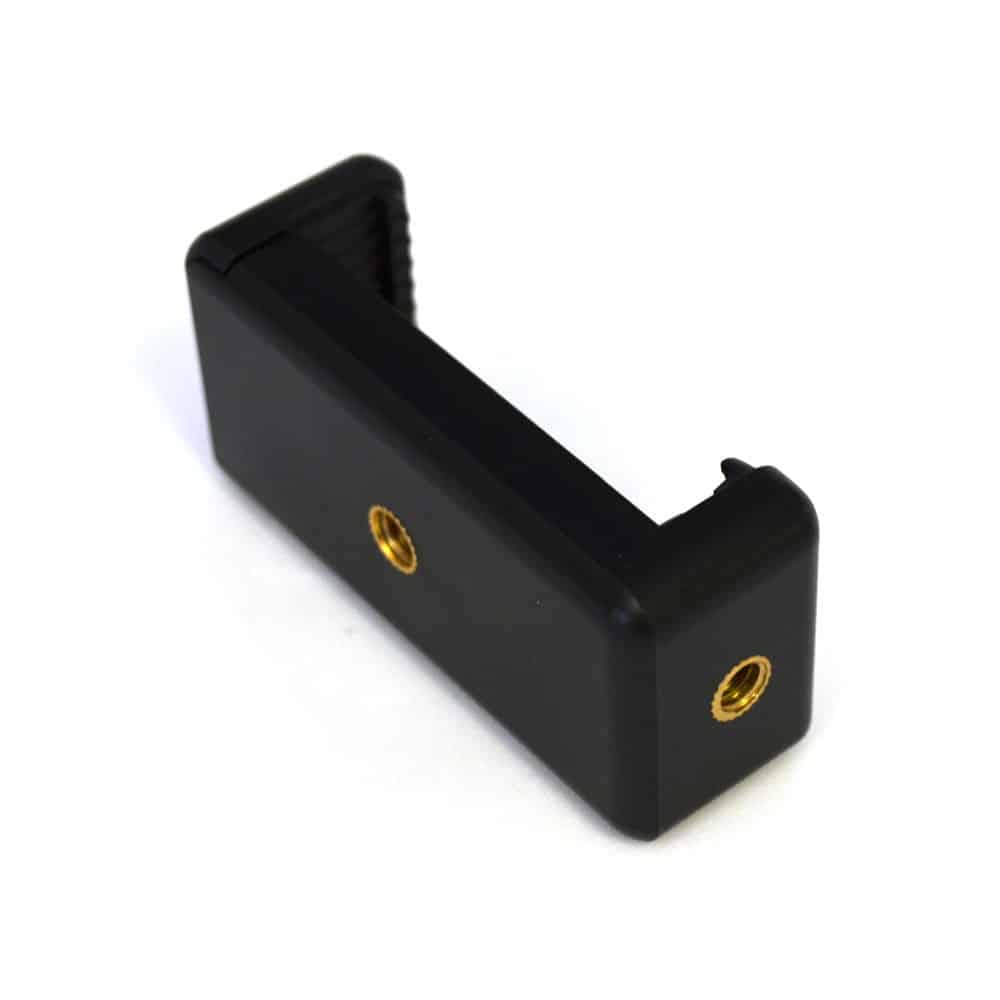 There are two universal tripod mounts, one on the side and other on the bottom. This will help you mount your smartphone either in portrait or landscape mode. There are no other accessories for this adaptor. It's just a simple tripod adaptor.
If you think the list is over then you are wrong. The RetiCAM tripod mount is one of the top rated phone mounts on Amazon. The metal construction reassures strength and makes it more reliable for you purpose. Unlike the other locking mechanism, springs to keep phones in between the jaws, this one uses steel bolt.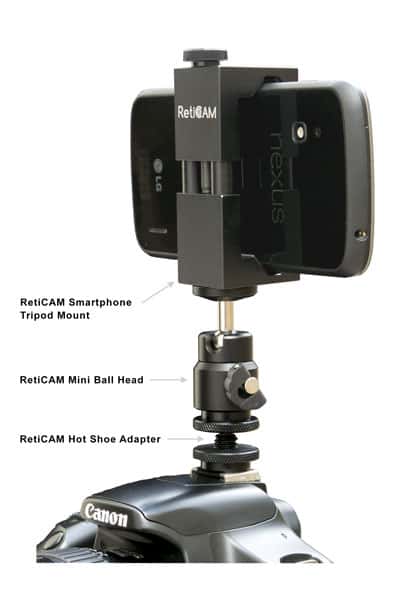 The V grooves leaves extra space for the buttons. Its very light weight and easy to use. As a bonus, manufacturer is also providing a travel case for the RetiCAM. It comes with several adaptors like Mini Ball head, hot shoe adaptors making it easy to mount on any standard tripod or on top of DSLRs.
The CaseStar Tripod mount sure is one of the best Smartphone tripod mounts in the market. However, size wise, this one will be a bit hard to carry around especially, if there are lot of travel involved. This tripod mount can even fit iPad, which explains the size.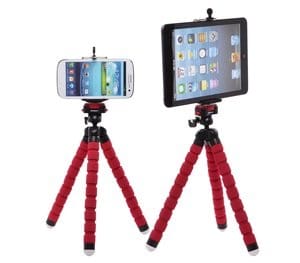 The adjustments are made using screw, ensuring your device is securely locked in place. The device standard screws allows various tripod mounts to be attached.