The whole point of having a personal computer is to store your personal data, images, movies, software, files which are highly essential for your work, etc. We all know what happens when you work 24 hours for your presentation and accidentally your sibling or your younger ones delete it. Yeah! Each and every person can relate to this and feel that pain inside. And, cheers to the clever ones who hide their important files and folders. But, there are equal chances that the person who accidentally deletes your important folder is you. Here Data Recovery Softwares comes into play.
Anyways, whatever the cause of deleting your files might be, getting back to a solution is the only option. There is not a cent per cent chance of retrieving your files unless the file was accidentally deleted or because your system got corrupt.
Before, we get into this it is very important for you to understand how files get deleted from the system. When a user deletes a file unintentionally from the system, the file does not actually get deleted. The file is remarked as deleted and hidden in our system. This creates an illusion that it is deleted. It's similar to Harry Potter's invisibility cloak. The files remain invisible until they are rewritten when you enter new data. So, if you've not entered any fresh data then you can still retrieve your files. You can retrieve data from the iPhone as well read this to get full knowledge about this. Illustrated Guide to Recover Lost Data from iPhone.
We have tried a bunch of softwares which might help you in resolving this problem. Each of these softwares are good in their own ways and perform differently. Try out the multiple tools whichever works for you the best.
Note: I tested all these softwares in Dell Inspiron, Core i7 (64 bit) with an 8 GB RAM which works on a 2 GHz processor installed with Windows 10 version. These softwares worked pretty well for me, if you find difficulty to use them then download an older version of these softwares and try it.
1.Recuva:
The 'Recuva' software developed by the Piriform software developers has an interface which is user friendly and qualitative. Piriform software developers are known to develop some of the finest software one of which is the 'CCleaner Tool'. So, you can trust this software completely. Moreover, it is certified with no spyware and ensures 100% clean download.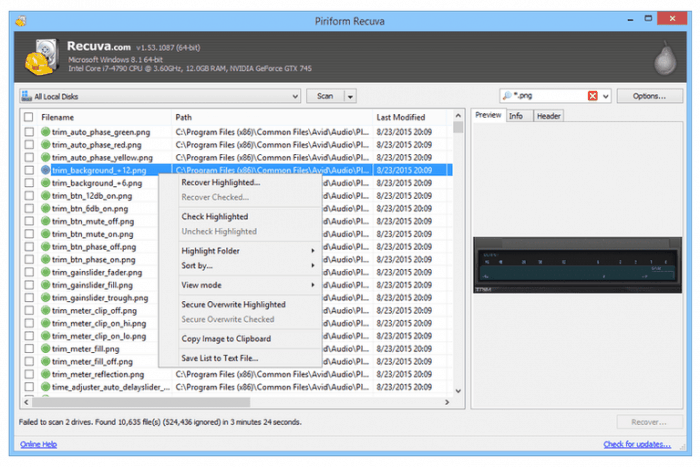 The software consists of an in-built wizard which instructs you the steps of retrieving your data each time you look forward to recovering your data, although this feature is optional. The users just have to answer some questions asked by the wizard-like the files to scan, the format of your data you are searching for, scan type etc and leave the rest to Recuva. You can go for the normal scan, however; you can opt for a deeper scan in order to recover your data. But, be patient if you have opted for an in-depth scan this will take time.
It can retrieve all sorts of data including pictures, mp3s, videos, documents, emails of any data storing device which Windows is capable of reading (digital camera, hard drive, etc), compressed files and many other formats. It is available in a free version and paid version. The free version of Recuva supports you enough to recover your data although the paid version comes with advanced data retrieving support, virtual hard drive support, updates the software automatically and other interesting features.
Price: Available with a free version, Paid version costs $19.95 / INR 1,467
Compatibility: Windows 10, 8.1, 8, 7, Vista, XP
Wise Data Recovery:
I will not say that this software is loaded with a lot of tools or can be customized. It has a limited amount of tools with an ability to make your work faster. Although it supports various types of recovery including data recovery from virus attacks, a formatted disk can be recovered and many more.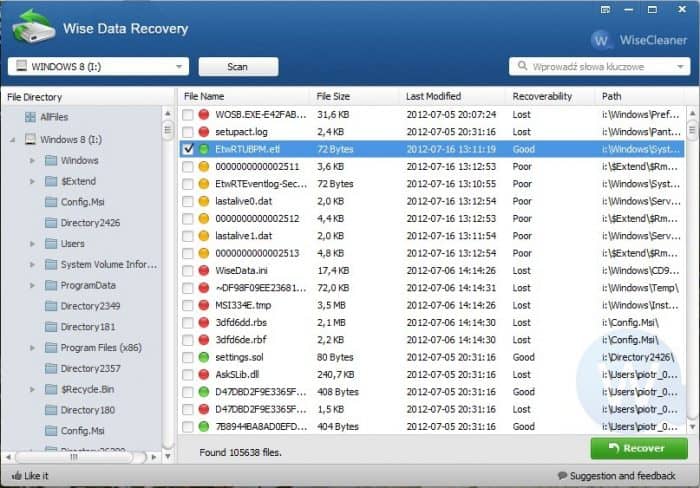 Upon downloading this software you just have to put some efforts to fly your cursor across the screen and click on this software. As the homepage of the software pops open, choose the drive you want Wise to scan for you. Users can scan their USBs and other external devices as well. As mentioned before this software has the ability to scan faster than any other software. It supports a wide array of files in each and every category; documents (DOC, EPS, HTM, CWK, etc), Photos (JPG, TIFF, ORF, RAW, etc), Videos (AVI, MOV, SWF, RM/RMW, etc), Audios ( AIF/AIFF, M4A, OGG, etc), emails and messages (PST, DBX, etc) and compressed files ( ZIP, RAR, SIT, etc). It has over 6,400,000 users and assures a safe retrieving process.
Price: Free
Compatibility: Windows 10, 8, 7, Vista, XP
Free Undelete:
This is yet another software which has limited tools yet works perfectly fine. You will not find any advanced recovery options or customizable environment. But, it pretty much works like the Wise Data Recovery. Choose the drive you want to scan and look out for the recovered files. Again, you can scan removable devices as well.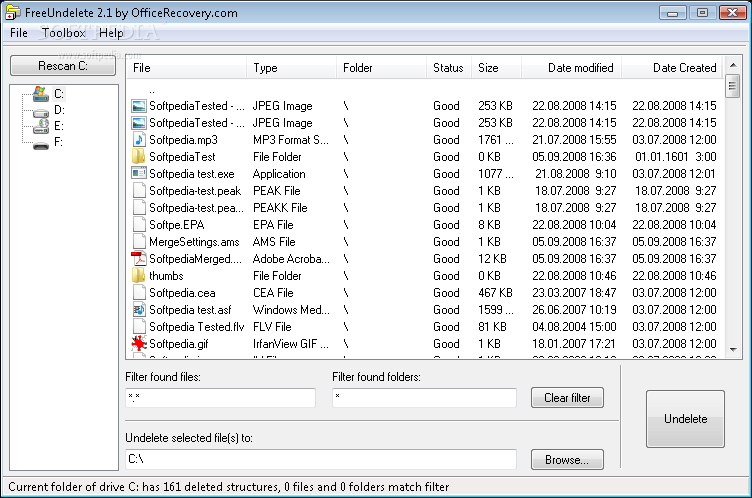 The software presents you with all the files and folders recovered from the drive so you can easily select which files you need from the folder or select the whole folder. It can retrieve the files deleted from the recycle bin as well. Users can retrieve files including images, folders, documents, videos, emails and compressed files.
Price: Free for personal use , $ 69 (INR 4,630) onwards for corporate use
Compatibility: Windows 10, 8.1, 8, 7, Vista, XP
Disk Drill:
Disk Drill is also known as Pandora Recovery. This software is a bit different from the above-mentioned software. You can customize it deeply with a numerous number of tools and features. It doesn't sport an attention-grabbing interface, however, it manages to please the users with its features and tools. It is a lighter substitute to Recuva.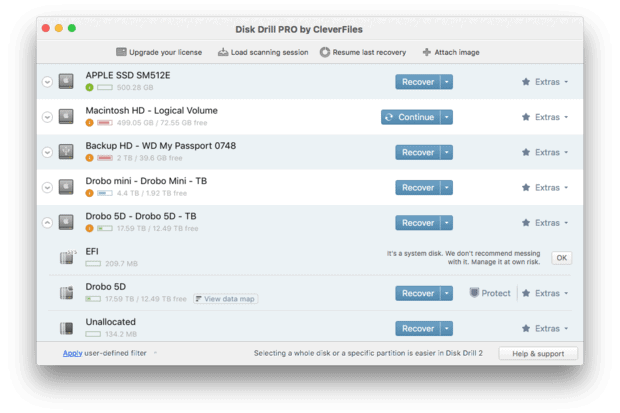 This software is capable of retrieving FAT32 or NTFS files including many other file formats. Alike the Wizard tool in Recuva, Disk Drill also has this tool which guides your way through to retrieve your data. Users also have the option to choose how you want to scan your files.
Users can scan a whole drive including the removable drive, a file type or deep scan them. You can use the different manners of scanning for the removable drives as well. The software is pretty interactive as it helps out the users to understand which icon performs which task whenever you would require them. Unlike other software, this software is known to be very simple to use for MAC OS X computers.
Price: Free
Compatibility: MAC OS X, Windows 10, 8.1, 8, 7, Vista, XP
Minitool Partition Recovery:
This software has an amazing interface which will grab your attention. It is filled with tools which will fulfil your requirements. However, the software will support you to recover files only till a limit of 1GB for the free version after which you will have to buy it.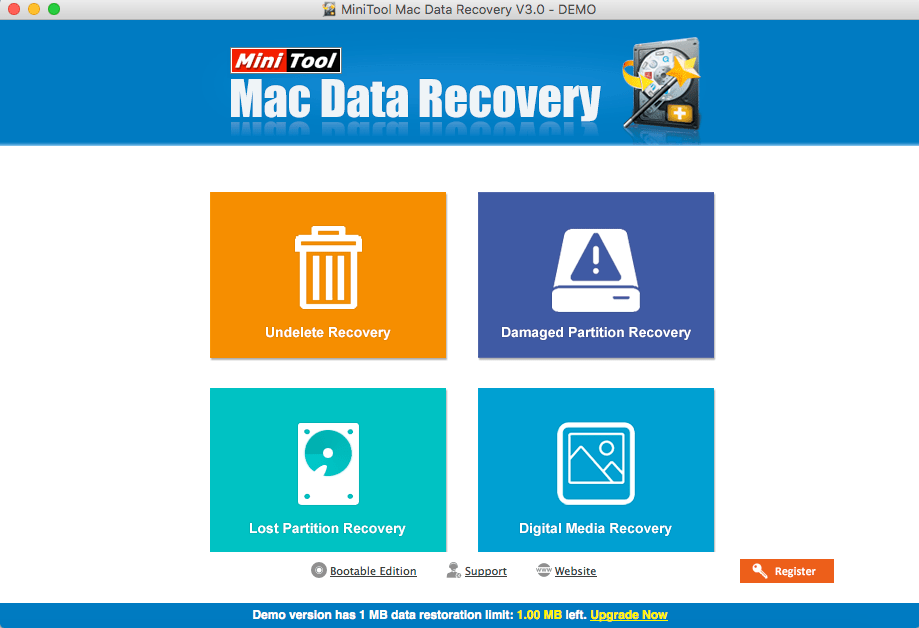 Minitool Partition Recovery has by far recovered five times more data than the above mentioned softwares. It worked astonishingly well. Moreover, it segregated different file extensions under different categories which enhanced the overall experience. Though the scanning consumed some time the results were worth the wait.
It is utterly useful for people who require deep scans. It supports you to recover files which have been formatted, damaged and deleted portions also. It is worth buying for your constant needs. The software supports FAT12, FAT32, FAT16, VFAT, NTFS and NTFS 5.
Price: Free to recover data up to 1GB, paid version $59 (INR 3,961)
Compatibility: Windows 10, 8.1, 8, 7, Vista, XP, MAC OS X 10.5 and above
Glary Undelete:
Glary is easy to use software and requires a small size. It comes with limited tools. However, the tools are pretty useful and are filled with some really good features. You can easily filter your files which will assist you to find the files you need. Users only have the option to quickly scan a drive including the removable drive.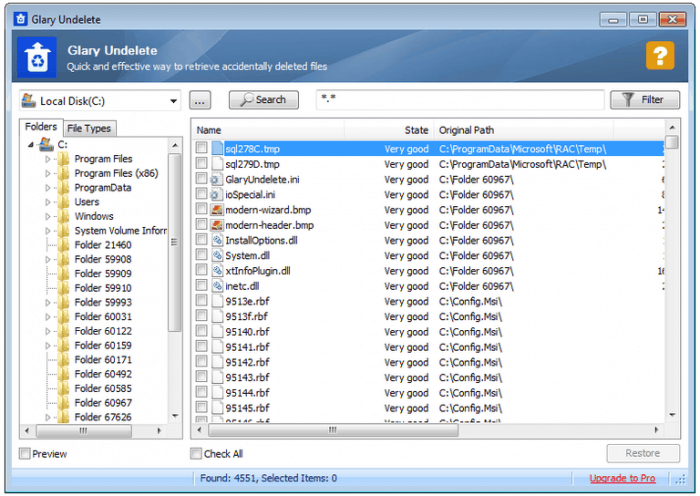 The software presents you with the retrieved data quickly which is segregated according to their extensions. One can easily track their files by filtering your search in terms of time, size, names etc. Moreover, it also supports NTFS, NTFS+, EFS, FAT, compressed files and other file formats.
Price: Free
Compatibility: Windows 8.1, 8, 7, Vista, XP
UndeleteMyFiles Pro:
The UndeleteMyFiles Pro software provides you with many features and tools for recovering your files. Users can search for their respective documents or media files separately if the results don't please try using the filters to search deeply. One can use the filter to search for particular file size, name, extension, and other filters.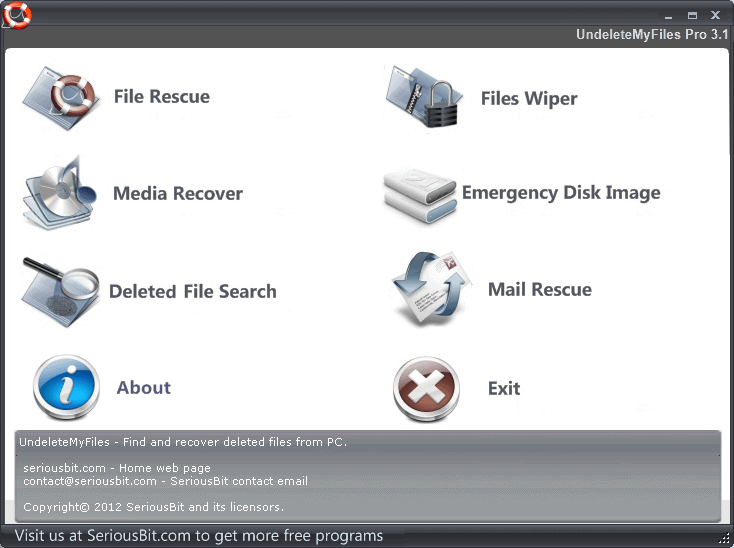 Moreover, it provides you with some unique tools like 'Files Wiper' which will delete the files permanently or the 'Disk Image' tool which prevents overwriting the deleted files with new data. The software runs quick and deep scans which is a time-effective function. It has the capability to retrieve twice the files by running a scan compared to the other software.
Price: Free
Compatibility: Windows 10, 8.1, 8, 7, Vista and XP, Mac OS X
PC Inspector File Recovery:
This is a complex software which I would not recommend to beginners. Due to obvious reasons, I am not a fan of the software's interface. No doubt it is efficient in its functions as it allows you to scan the drives deeply and enables you to scan a particular section. The speed of its deep scans, well let's say it might take more than 2 hours to scan a 50 GB drive.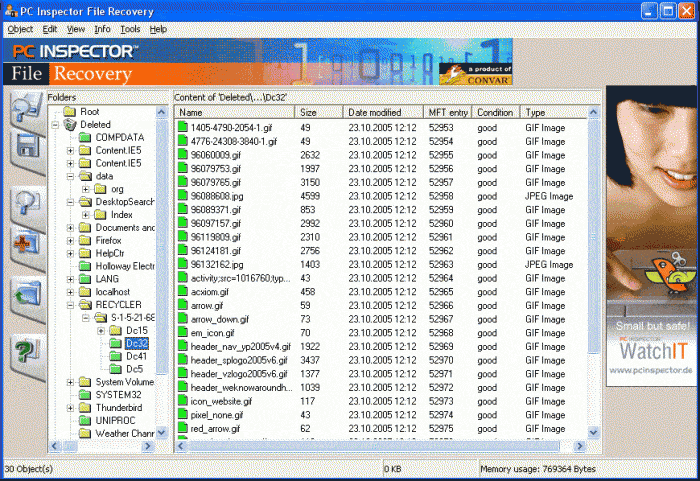 The results it presents you with is worth, you won't regret it. Almost all the files can be recovered using this. Users can search for their files easily using filters and search according to the file extension, names etc. If you are well versed in using your desktops in an advance mode then you can surely go for it. The PC Inspector also supports NTFS and FAT 12/16/32 file systems.
Price: Free – http://www.pcinspector.de/default.htm?Language=1#
Compatibility: Windows 10, 8.1, 8, 7, Vista and XP
Remo Hard Drive Recovery Software
Remo Hard Drive Recovery Software is a reliable and user-friendly tool that can help you recover lost or deleted files from your Windows or Mac OS hard drive. With support for various file types, including documents, photos, videos, and music files, this software can recover data from a range of scenarios, such as accidental deletion, formatting errors, partition loss, and virus attacks.
Its straight forward interface, advanced scanning algorithms, and two scanning modes (Quick Scan and Deep Scan) make it easy to use for beginners and professionals alike. Additionally, the software provides a preview of recoverable files before restoring them, giving you greater control over the recovery process. Overall, one can make use of the professional hard drive recovery software from remo to recover lost data from their hard drive.
Conclusion:
These Data Recovery Softwares do not guarantee to recover all the files but promise to retrieve most of the deleted files. So, if you are satisfied with one of this software then try the others as well. Also, make sure you have enough space to download this software and try not to use any other documents while running the scan as it will consume more time and the system may even lag while working on it. Let us know which Data Recovery Software worked the best for you in the comment section below!