If you are a musician, DJ, band, club owner, music manager, or anyone working in the entertainment industry looking to build a visually stunning, user-friendly website in no time at all, then this article is for you!
You might be wondering why it's important to have a website in the age of social media. It's a fair question. After all, when people want any information they tend to run to what they know best – Instagram, Facebook, Twitter, and – if all else fails – a quick google search.
One of the things a website does that social media can't keep up with is creating a world to get lost in. As a musician or content creator it's imperative to have a centralized hub for all the projects you're working on and a place where new and old fans alike can come and find out every piece of information about what you're working on and where to find it.
A good website can help you generate buzz, increase ticket/event sales, drive traffic to streaming platforms, or even sell merchandise and put money back in your pocket. It's a reflection of you, who you are, and what you have to say as a brand. A bad website, on the other hand, can turn off people in a number of ways. If your site is visually outdated, not properly updated with recent photos/press, embedded with broken links, or just generally hard to navigate, you could be accidentally closing the door on thousands of potential fans and supporters!
With this in mind, we've compiled a list of the seven best WordPress themes for showcasing your music brand: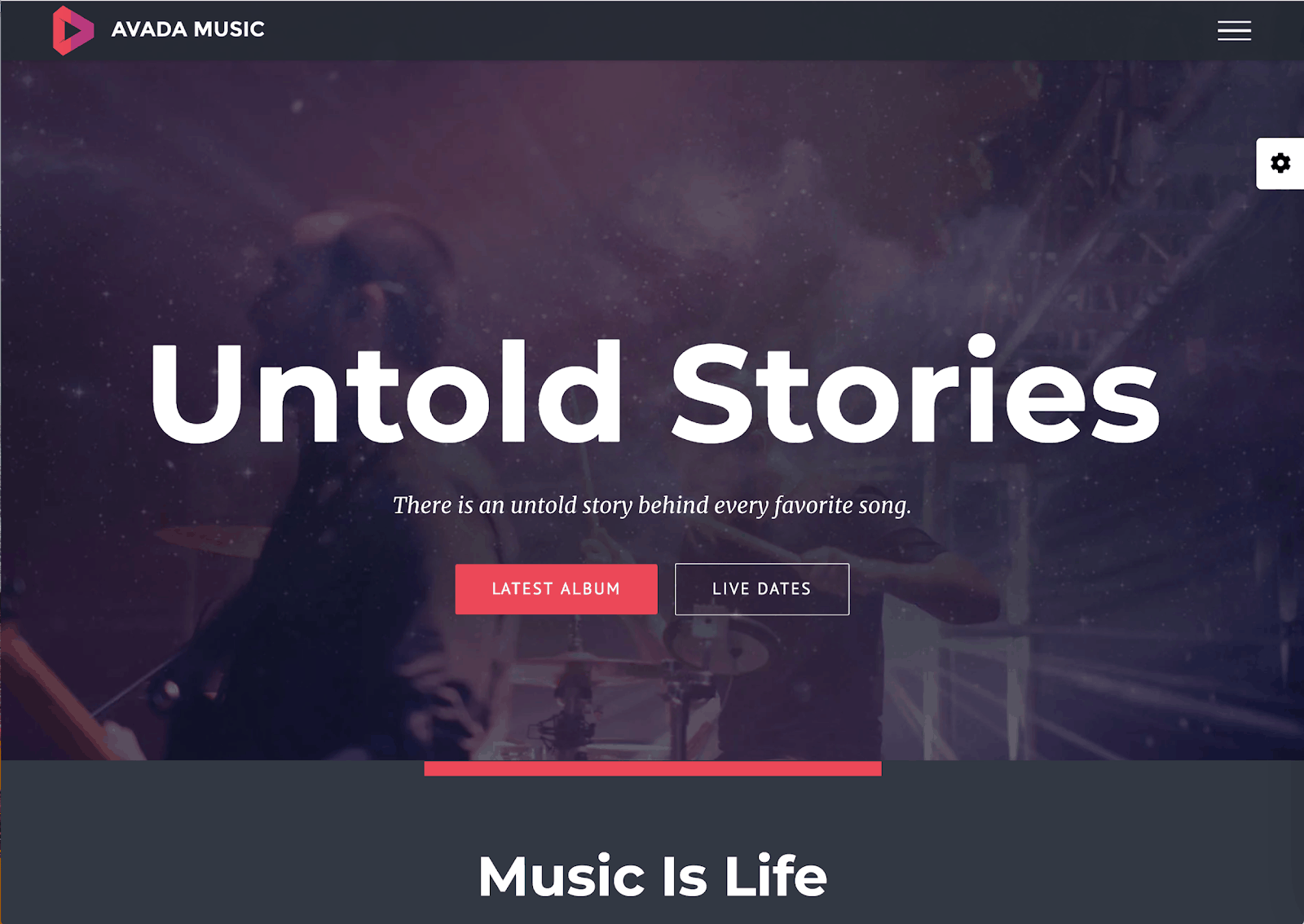 AVADA Theme
Who it's good for: Solo Artists, Bands, DJs, Nightclubs, and everyone in the entertainment industry
Why We Love it: Powerful tools, unlimited designs, responsive framework, and unparalleled support.
Why it matters: There's a reason Avada is the #1 selling theme for more than 5 years. Not only is there template visually stunning, it comes in virtually every color pallet, making it as good a fit for a band as it is for a club owner. If you're going to learn one template really well and use it for a variety of projects – make it Avada. If you have any questions as you build, their customer service is top-notch. Here is a great example of the template's potential.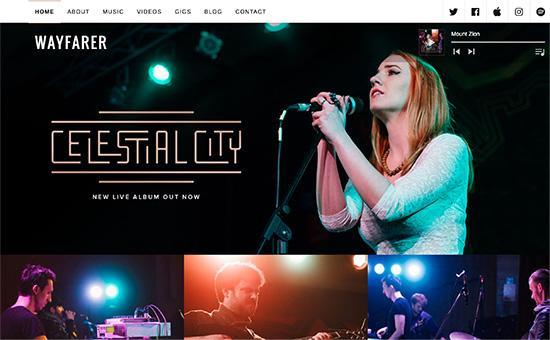 WAYFARER
Who it's good for: Solo Artists, Bands, DJ's
Why we love it: Featured page, Gig Management
Why it matters: The featured page is one of defining elements of this template. Here you can feature two/three sections of your site on the home page, highlighting the best of what you have to offer to new site visitors. With the gig management feature, you never have to worry about fans missing a show. Each gig has its own page, allowing your supporters to easily share links via Instagram, Twitter, Facebook, or email. Individual pages display time, date, venue details, ticket information, calendar links, and more.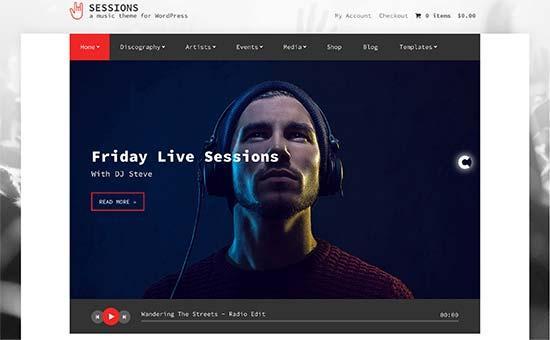 SESSIONS Theme
Who it's good for: Solo Artists, Bands, DJs, Nightclubs, and everyone in the entertainment industry
Why we love it: WooCommerce Support
Why it matters: WooCommerce is the most popular eCommerce plugin. It allows you to sell product directly from your website. Integrated eCommerce is the difference between a fan buying that perfect hoodie, and getting overwhelmed by the endless redirection links.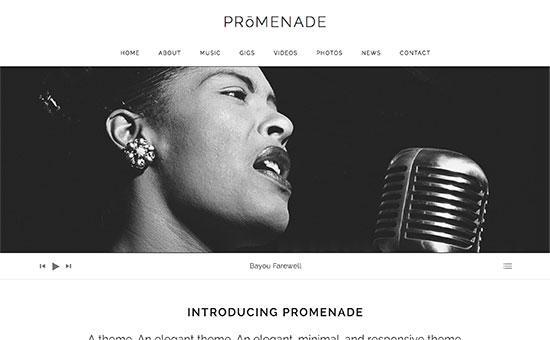 PROMENADE Theme
Who it's good for: Solo Artists, Bands, DJ's
Why we love it: Minimal and elegant theme, Music Showcase
Why it matters: If you're a musician that wants to stand out with beauty, grace, and class – look no further. Promenade has the visuals to make Nirvana look like it belongs on the same stage as Billie Holiday. The music showcase feature is great for the artist looking to make a deeper connection with their audience. Promenade displays your tracks in a clean and simple track list. Each track is linked to an individual page where you can add lyrics, download links, or even tablature — it's up to you.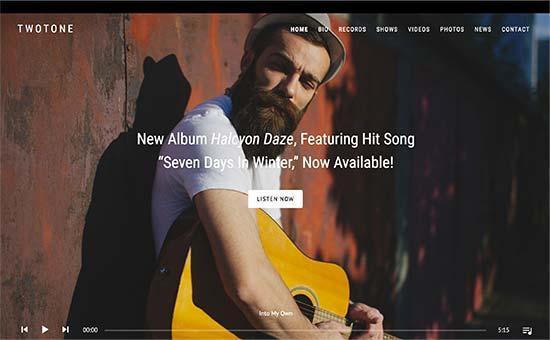 TWOTONE Theme
Who it's good for: Solo Artists, Bands
Why we love it: Full-screen header, transparent site-wide player
Why it matters: If your main goal is to capture visitors from the first moment they enter your site with eye-popping visuals – look no further than Twotone. I'm not sure what's more appealing– the clean, full-screen header or the simple transparent music player. If you've got killer photography that represents you as a brand, this is one of the best templates for showcasing the visual side of your music – the music player stays out of the way yet is easily identifiable for quick control.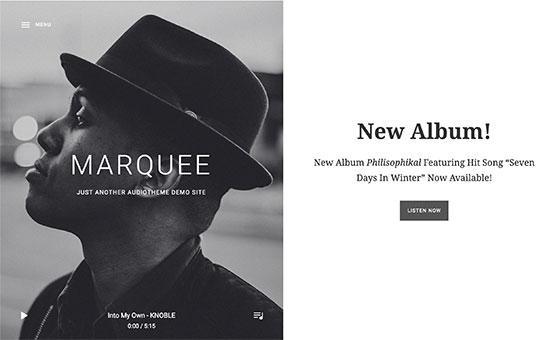 MARQUEE Theme
Who it's good for: Solo Artists, Bands
Why we love it: Split screen layout
Why it matters: This is one of the most unique templates I've seen in a long time. Marquee features a two column split featuring a header image to the left (that toggles to reveal your navigation and optional site-wide player) and a featured section to the right. If you're looking for the template that perfectly combines simplicity with innovation, Marquee is for you.

Final Thoughts
One of the great things about designing with WP in 2019 is that most templates are very customizable. You can add elements you like from each (such as social media integration, site-wide players, and eCommerce), with easy-to-download plug-ins. While this might not be as user-friendly as the templates offering built in options, it's very doable with a little bit of time. The last piece in the puzzle of making a great music website is your site's web address (name). It's the cherry-on-top of a great looking website. You can head over to a registrar to search for your desired name. I personally prefer 101domain for this, but there are a lot of great options out there.

*Pro tip: if your name is already taken, try adding music to the end. (Don't believe me? Check out Justin Beiber's site) Now go out and make your dream website!