Hacking when performed to identify potential threats in a system or for the safety of an organization or even a nation is termed as 'Ethical Hacking'. It is a discipline that is widely followed by the tech industries in order to protect or guard their organizations from hackers. Making it a part of the security in an organization can be extremely helpful.
The industry is transforming and with the advent of automation tools and several ethical hacking tools are being developed that can pace up the testing.
What are Ethical Hacking Tools?
To put it simply, Ethical hacking tools are tools that can help in detecting viruses and vulnerabilities in a computer system, server, applications with the use of programs and scripts. These tools are getting more and more popular as cybercrime is on the rise and the availability of ethical hackers is limited. There are a plethora of open-source ethical hacking tools in the market to prevent hackers from accessing the computer system in an unauthorized way. 
Top 10 Ethical Hacking Tools
In this blog we are going to list the top 10 ethical hacking tools that are widely used by ethical hackers, so let's dive in!
 Nmap is a widely used tool by ethical hackers, it's an open-source security scanner, port scanner, and network exploration tool that is free of cost. With this tool, ethical hackers can audit device security, and it also supports cross-platform. This tool is capable of detecting open ports on remote hosts and can also find many vulnerabilities inside a network. 
Platform: Mac OS, Linux, OpenBSD, Solaris, Windows
Best for: Scanning network
Type: Computer security & network management
Price: Free
Metasploit was mainly designed for penetration testing and is an open-source tool. It can be downloaded for free of cost and comes with a 14-day free trial. This tool is extremely testing when it comes to detecting security vulnerabilities and can also be used to develop security testing tools. 
Platform: macOS, Linux, Windows
Best for: Developing anti-forensic tools
Type: Security
Price: Starts at $15,000 per year
This free tool supports cross-platform and is absolutely free of cost. It is most useful for network and host analysis and also to create custom plugins. It includes features like sniffing live connections, content filtering, active and passive dissection of many protocols. 
Platform: Cross-platform
Best for: Creating custom plugins
Type: Computer Security
Price: Free
Aircrack-ng is one of the most reliable ethical hacking tools which was primarily developed for vulnerable wireless connections. It supports various platforms Linux, Windows, OS X, Free BSD, NetBSD, OpenBSD, Solaris, and eComStation 2. Additionally, it supports exporting data to text files and can also check Wi-Fi cards and driver capabilities.
Platform: Cross-platform
Best for: Wireless network interface controller
Type: Packet Sniffer and injector
Price: Free
Previously known as 'Ethereal', Wireshark was designed to track network problems and inspection of protocols. This tool is capable of compressing gzip files and can also perform live captures and offline analysis. This tool is free of cost and lets you apply coloring rules to the packet list.
Platform: Windows, Linux, macOS, FreeBSD, Open BSD
Best for: Analyzing data packets
Type: Packet Analyzer
Price: Free
Acunetix is a fully automated ethical hacking solution that is designed to scan JavaScript and single-page applications. It prioritizes risk and audit problems and authenticated web apps via a single view.
It also scans for invariants of SQL injection and 4500+ vulnerabilities. In addition, it is also capable of identifying over 1200 WordPress core and theme vulnerabilities. It comes with a free 14-day trial period.
Platform: Windows, Linux, macOS
Best for: Scanning
Type: Security
Price: Starts at $4,500
Intruder is a powerful ethical hacking tool that has an automatic vulnerability scanner that is capable of discovering security weaknesses across modern IT environments. 
It's the best-in-class threat coverage with over 10K+ security checks and also has advanced protection for your systems. The best feature about Intruder is that it has a network view to show how the system looks from an external perspective. Comes with a free monthly trial.
Platform: Cross-platform
Best for: Detecting Vulnerabilities
Type: Computer & Network Security
Price: Starts at $97/month
Netsparker is a very accurate ethical hacking tool that replicates a hacker's actions to find vulnerabilities in online applications and web APIs such as SQL Injection and Cross-site Scripting.
Netsparker checks the discovered vulnerabilities in a unique way, confirming that they are real and not false positives, so you don't have to waste hours manually validating the reported vulnerabilities after the scan is finished.
Platform: Windows, Linux
Best for: Preventing Vulnerabilities
Type: Security
Price: Starts at $666/month
Nikto is a web scanner that searches and checks multiple web servers for obsolete software, hazardous CGIs or files, and other issues. By collecting the received cookies, it is capable of conducting server-specific as well as generic checks and printing. It is a free, open-source application that scans 270 servers for version-specific issues and finds default programs and files. Its open-source software can check plugins and misconfigured files and is also capable of identifying insecure programs and files.
Platform: Windows, macOS, Linux
Best for: Scanning Vulnerabilities
Type: Network Security
Price: Free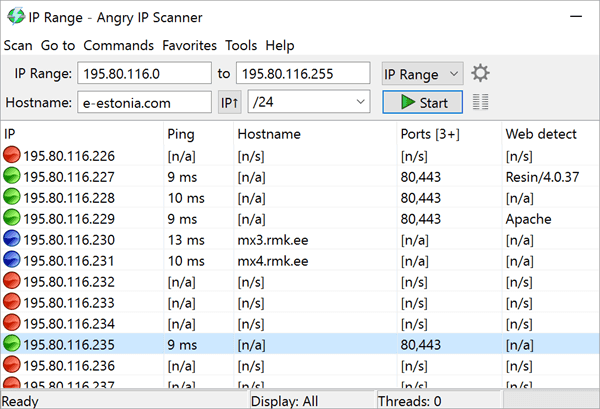 Angry IP Scanner is a program that scans IP addresses and ports. It is capable of scanning both the local network and the Internet. It can export results in various formats and is extensible with data fetchers, there is no need for an installation for this tool.
Platform: Windows, macOS, Linux
Best for: Scanning
Type: Computer Security
Price: Free
As technology advances, the need for security also increases. Most organizations prefer ethical hacking tools to keep their databases and systems safe from hackers and malware. These were some of the best 10 ethical hacking tools to look out for in 2021.