The current wave of COVID-19 in India has compelled several states to enact a curfew in which residents are only permitted to leave their homes at specific time periods. Given the circumstances, mobile and other tech manufacturers are extending the warranty on their devices.
Given this bizarre situation, the world, Poco, Vivo, Xiaomi, and Oppo, along with Oneplus, Realme, Tecno and Itel Mobile Phones have all prolonged their mobile warranties. The switch ensures that if a customer's gadget has any technical issues over time, they won't have to think about their warranties ending, even if they can't get it repaired right away due to utility centres being closed.
So, without further ado, here's a rundown of the initiatives that the retailers have revealed, as well as what consumers should know about certain warranty extensions.
1. OnePlus Extends Warranty Across Products
"I hope you continue to be safe and healthy through these trialling times. We would like to take a moment to let you know that the OnePlus Support team has put actions into place for the well-being of our employees, customers, community members, and partners during the current unforeseen circumstances".
Oneplus posted the following update, along with details about their warranty extension.
Due to the current COVID-19 situation, OnePlus stated that there would be a pause in the production and shipment of new deliveries. However, the distribution delay is limited to specific sites, and OnePlus has stated that it is currently unable to increase production. Furthermore, the update posted implies that the firm will be unable to determine the arrival date of your purchase, but OnePlus promised that orders will be delivered as fast as possible from their side.
They also announced that the majority of their repair facility activities have been suspended indefinitely, till a notice from the authorities arrives. When the situation improves, after-sales activities will be restored.
Realme Puts safety first
"your health and well-being, as always, remains our top priority.
Looking at the current situation, we would like to announce that the Realme products with their warranty expiring between May 1st and April 30th will now have their warranty extended until 30th June". ~ Via Realme
Realme also has declared that it will prolong the warranty coverage on all of its devices until June 30th, 2021. The coverage extension applies to Realme wearables, smartphones and other electronics whose warranties expire as of May 1st and April 30th of this year.
The decision was made in the midst of the COVID-19 second wave, which is currently underway in India, and comes after other companies announced warranty extensions.
3. Poco extends the warranty on its Smartphones.
Poco is providing expanded warranties to all consumers whose warranties were due to end in May and June. In India, Poco has increased the warranty for certain consumers by two months. The manufacturer's change coincides with the nation's continuing COVID-19 crisis. In addition, the company has stated that no new products will be released in the month of May. Poco has mentioned that it will keep its customers up to date with any big updates including future releases or service extensions.
A Tweet by the company confirmed the extended warranties for Poco devices. The manufacturer revealed that the devices' whose warranties were set to expire in May and June, will now get an extra two months of warranty. The organization stated that it took this action due to an increase in cases throughout the nation and covid-19-induced lockdowns.
4. Warranty extension for Xiaomi products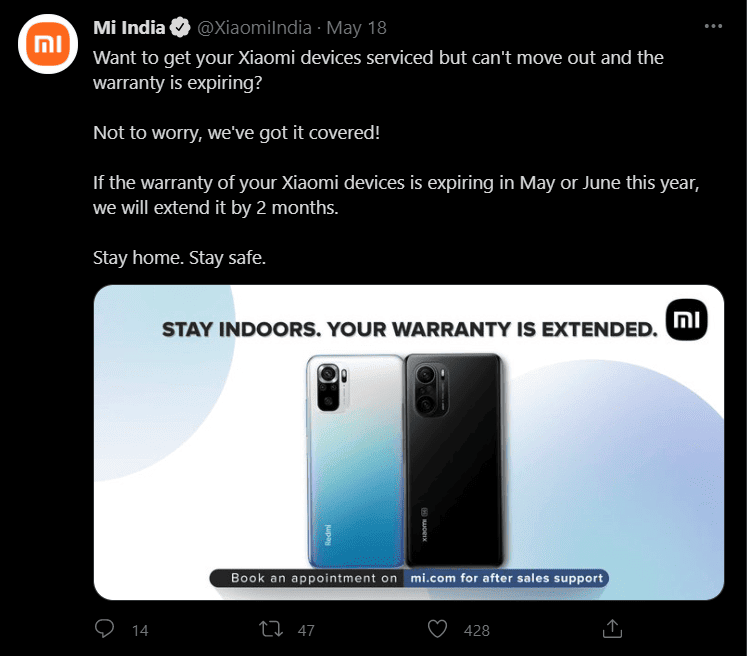 Xiaomi has prolonged the warranties on its smartphones that will end in May or June by 2 months. The group announced the news in a tweet in order to offer some support during the continuing Coronavirus-related lockdowns in India, which have prevented consumers from leaving their homes. After other manufacturers announced the same, Xiaomi is one of the newest mobile makers to get on the warranty extension train. Customers must set an appointment for after-sales assistance on the company's website, according to the company.
According to the tweet, Xiaomi devices that hit the expiration of their warranties in May or June will be eligible for an extra 2-month extension. Customers will be able to have their unit repaired under contract for an extra two months until August (for those whose warranty expires in June) without deciding to move from their homes to visit a store. Xiaomi clients can use the website to schedule an appointment for after-sales support.
5. Vivo announces a 30-day warranty extension.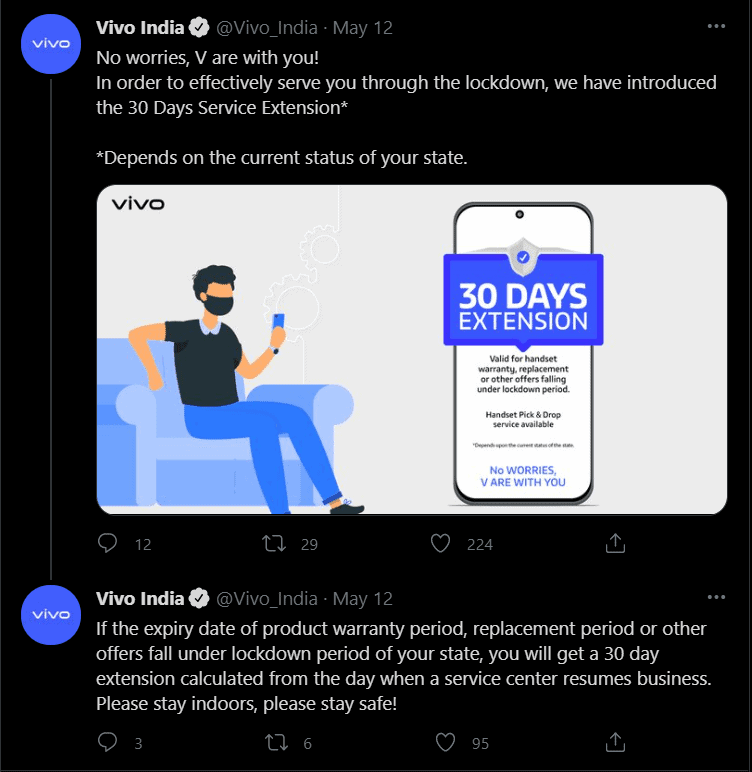 Vivo has expanded its warranty in India by 30 days. The warranty extension is valid on all Vivo products, but it is not open to all users and is only exclusive to those who live in lockdown zones. So, if you live in a city that has been recently closed due to an increase in coronavirus infections, you should be able to extend the coverage on your Vivo handset if it was about to end. The corporation stated that the initiative would resolve the needs of all consumers who were unable to access a service centre due to the lockdown.
Along with the warranty renewal, Vivo has introduced a phone pick-and-drop option for its users, which is said to be free of charge — based on the province's present predicament.
According to the tweet from Vivo, the 30-day warranty expansion will be determined from the day the service centres reopens. The company has stated that the extended warranties would be valid if the deadline of the product warranty or repair comes beyond the lockdown span. This means that not all Vivo customers will be entitled to claim the warranty extension value on their products and it is conditional on the expiration date of the device warranty or exchange.
6. Oppo increases the time period of warranty on all its devices 
Due to the ongoing COVID-19 lockout in various parts of the nation, Oppo has expanded the warranty on its goods. Oppo claims that the maintenance warranty on its goods has been extended until June 30, 2021. This applies to computers whose warranties have expired when the lockout is in effect. This provision applies to phones as well as devices like chargers, data cables, and earbuds too.
Oppo has also declared the release of a new WhatsApp number (+91-9871502777) which consumers can verify the status of services in real-time. Due to lockdowns in various parts of the region, Oppo service centres will remain closed.
7. 60 Days Extended Warranty on Tecno and Itel Mobile Phones
Transsion Holdings' companies Itel and Tecno have declared a 60-day warranty period expansion in India due to the second wave of coronavirus and lockdowns in many districts. Individually, the manufacturers declared that only devices and mobile phones with warranties expiring during April 15 and June 15 would be considered.
A sequence of tweets was used to announce the extension of the warranties on Tecno and Itel devices and smartphones. If your mobile or device's warranty expires between April 15 and June 15, you may be exempt. However, qualified users must apply via the CarlCare Mobile Application. Users will get the app from the Google Play store.
"The welfare and safety of our consumers is of utmost priority. Thus, to ensure the same, TECNO India has implemented a two-month warranty extension policy, which is valid for all TECNO smartphones whose warranty expires during the period between 15/04/21 to 15/06/21, will be automatically extended for 2 months. " via TECNO

To avail this warranty period, follow the below steps:
Step 1 : Download carlcare app  from Google Play store
Step 2 : Open the carlcare app and click Warranty button on the home page
Step 3: Check the validity of your device by entering IMEI of the current device in carlcare app
Step 4: If your device is eligible for extension, you will see 60 days extended warranty option. Click on receive to extend the warranty.
Step 5: Register before 30/06/21, to avail warranty extension
Seeing the initiative, many other manufacturers have followed suit. From automakers to kitchen appliance manufacturers, all have jumped on the bandwagon to provide their consumers with an extended warranty.