This is a guest post by: James smith.
This review is for SysTools PDF Unlocker tool, version 3.1. In this review, all the potential features as well as weakness of the tool have been mentioned along with discussion over its design framework; specifications; performance; functionality and benefits it offers to the users. The product is designed to unlock security from PDF files and is available in Personal, Business and Enterprise License. Let's start with the outlook or design parameters.
Also read; List of 300 useful free softwares and download websites
The initial screen of the software looks like this: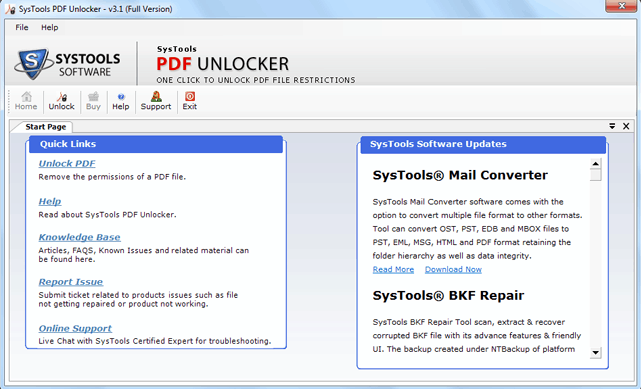 The Graphical User Interface is quite simple and easy to understand for all kind of users. The steps to follow afterwards are self defining and the user can easily use the tool without any kind of technical assistance.
 Specifications:
The latest version of the tool is 3.1with 2.8 MB size.
Now the good thing about the tool is that it is lighter and does not occupy much space on hard disk. Moreover it does not interrupt in the smooth performance of other applications after installation and does not make the system bulky.
 System Requirements:
Supports all versions of Windows including latest version 8.1.
Supports 'Adobe Acrobat 9' and all lower versions.
1 GHz processor is fine but recommended specification is 2.4 GHz.
1 GB of RAM is recommended, however 512 MB works.
5 MB free hard drive space is required.
The requirements for successful download and installation is defined hereby and it can be noticed that the product does not require anything much than that of normal computer or laptop with standard configuration. Here, it is important to mention that it does not require Adobe Acrobat for removing PDF security, which is quite an impressive feature. However to view the file respective application must be installed.
Demo And Full Version:
All the editions namely, Personal, Business and Enterprise come with complimentary demo version as well as paid (licensed) version.
Demo Version: Removes restriction from PDF files and offers to save them on machine but the newly recovered version of PDF will have developer's watermark on the file.
Full Version: Offers to recover limitless locked PDF files and restores them on machine with no backend image or watermarks appearing on the recovered file.
Since the demo version is offered to explore all the features of the tool prior to purchase but it can be utilized to the maximum if the need is only for accessing the data while not saving the recovered file. This version is beneficial to some extent. Demo version lets user understand the tool in better way before purchasing the same and saves them from facing any kind of inconvenience after buying the full version.
Features Offered versus User's Expectations
The features offered by the SysTools PDF Unlocker are summed up herein:
Unlocks password protected PDF files (for known passwords).
Removes restrictions such as printing, extracting, editing and copying from PDF files.
Offers previewing recovered PDF files within the tool.
Offers to preview permissions assigned on the PDF files.
Maintains integrity of data and recovered files are saved at new location.
Performs 'read-only' action on original files.
In the upcoming section, the expectations of an ideal user have been discussed and the judgment is made (based on the features offered by the tool) whether it fulfils user's expectations or not. So, let's see how capable the tool is for fulfilling user's demands?
| | |
| --- | --- |
| User's Expectations | Achieved or Not Achieved |
| Unlock the locked/ password protected PDF files | Achieved |
| Remove various PDF restrictions. | Achieved |
| Batch Processing of PDF files. | Not Achieved (in Personal License) |
| Offers preview of the recovered PDF files. | Achieved |
| Original files remain untouched. | Achieved |
| Security maintenance while processing files. | Achieved |
| Support corrupt PDF files. | Not Achieved |
Though, the tool offers users with potential features that satisfy user's expectations to a larger extent but some deficiencies falls into this section.
It does not offer batch processing of PDF files under Personal License. Recovery of multiple files at once is only possible in Business and Enterprise License.
The tool does not supports corrupt PDF files which is a major shortcoming.
Summary report of all recovered files must be generated by the tool for the convenience of users.
Single file recovery at a time sometimes tends to be time consuming.
License Key and Technical Support:
License key can be obtained within 24 hours, once payment is made. The technical support team is available for all time assistance.
The services provided by the technical staff are quite amazing and in my case I got the activation key within few hours of making payment. However, I have not called upon for any kind of help from support staff (to be very honest) because I haven't found any discrepancies in the functionality of the tool.
Final Opinion and Suggestions:
As a whole, the tool offers complete features that are required to unlock and preview PDF files, but still there are some discrepancies that need to be removed for making it highly scalable. However, there are no issues found with overall functionality and performance of the SysTools PDF Unlocker (as per my experience as a user), so it is quite a recommended product. In addition, 24 * 7 assistance and availability of demo version are pretty impressive features that compel users to adopt the tool. In the end, I would only say that this product is surely worth exploring.
Keeping in mind all the respective features and performance, my rating for the product is 8/10.