There is a number of software out there to record screen or stream live with excellent options. One such option is to record gameplay or to stream live that gameplay and share those recordings on multiple streaming platforms.
So, if you are someone who is a gamer and uses capture cards to record games which you are playing and fond of sharing them on multiple streaming platforms, then shadowplay as well open broadcaster software(OBS) might be a wonderful choice. Now you might think which one will be an excellent option and has better features, this is still an arguable subject matter.
A lot of people are on the fence about which gameplay streaming is superior to the other one. Some basic differences are evident in both software that defines the uniqueness of each software. So with these differences, one can get a clear perspective about both the software and decide according to their requirements.
If you are searching for which gameplay streaming software is better than this article will be helpful for you. We will do a comparison here of open broadcaster software and shadowplay software's key features advantages and disadvantages. This will shed light on the circumstances to help several people in clearing the confusion.
Now let's deep dive in and talk about the OBS studio's main features, advantages, and disadvantages.
Open Broadcaster Software OBS For Gameplay Recording
Open Broadcaster Software(OBS), is the streaming software which is free open- source and also a cross-platform tool that permits you to capture or stream audio(speakers) from your computer effortlessly with barely any clicks. This software is an excellent option if you are looking to record your screen or stream online. The tool can be used to record screencasts, capture your gameplay, directly stream to Facebook or Youtube live, and even much more. There are versions of Mac, Linux, as well as Windows.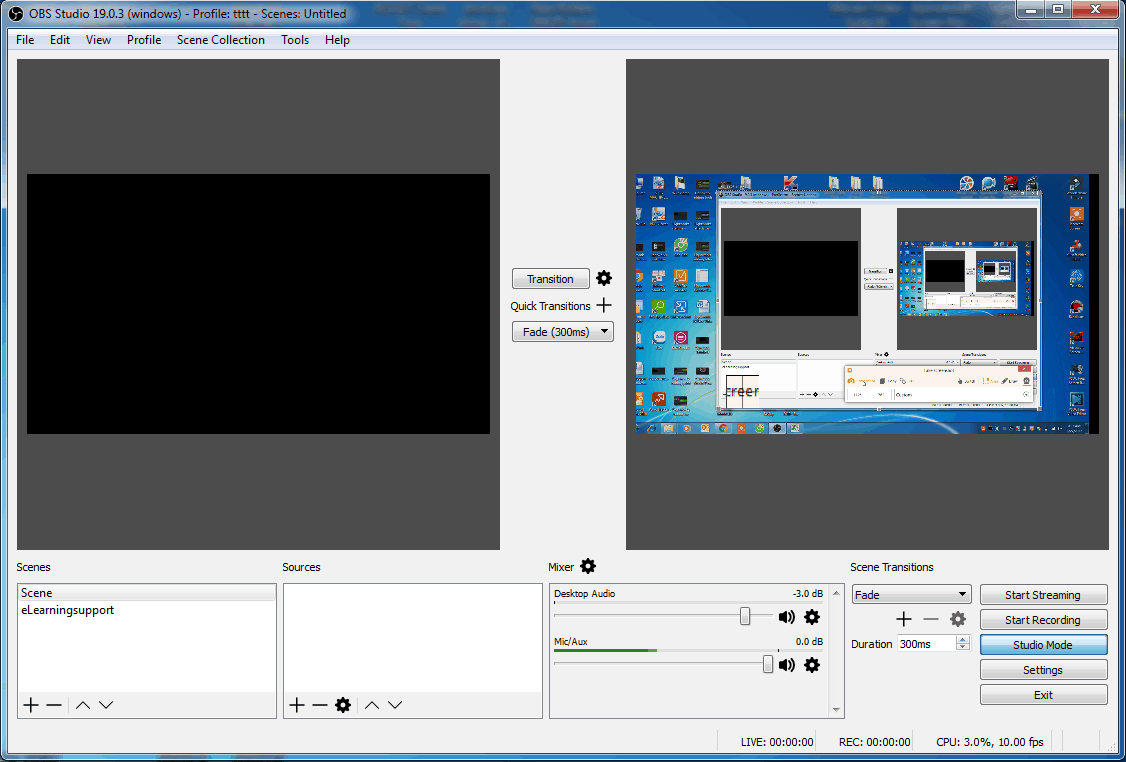 Now let's look into some of the key features, advantages, and disadvantages of the product,
Key features
Multi Screen option – OBS offers the best multi screen setup where you can play a game on one screen and look into OBS studio simultaneously.
Editing Tools – OBS provides a group of editing tools such as chroma keying, image masking, automatic color improvement and further.
Powerful configuration – Configuring OBS is easy without thinking about ruining the streaming or recording.
Insightful audio mixer – Software offers features such as noise suppression and gain filters so that mixing is easy and has better quality too.
Advantages
OBS has little impact on frame rates and has control over the bit rate which we are using.
Videos can be recorded in formats such as Mp4, Flv, Mkv.
Offers high performance when compared with pricier software options.
It can use more than 20 Plug-ins which enhances the functionality.
Disadvantages
It doesn't work on Windows XP.
We can't link to an audio file as a source.
Shadowplay Gameplay Recording
ShadowPlay by Nvidia is the easy way to record and share first-class gameplay videos, screenshots, and stream live. ShadowPlay is utility available in GeForce, one should have GeForce graphics card to use the tool. It offers good performance and advanced recording by using feature Instant Replay Mode.
As OBS studio, Shadow play can also stream live to Facebook, Twitch, and Youtube. It can work up to 4K resolution and the software is available GeForce graphics card only, doesn't work on other graphics cards.
Now let's deep dive in and discuss the Shadowplay's key features, advantages, and disadvantages,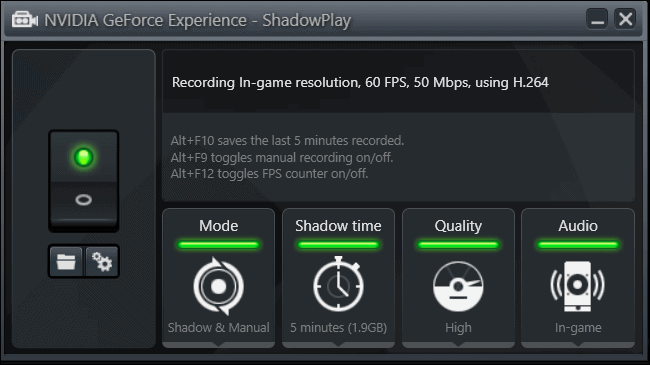 Key features
Instant Replay mode – Incredible tool if you want to record a nice move, but not the entire game.
Custom graphic overlays – Assists camera and custom graphic overlays which we can use to personalize the live stream.
Resolution – It can go up to 4K.
ShadowPlay Highlight – It records the best gaming highlights.
Advantages
You can manually record the gameplay by the click of Alt + F9 keys, which makes it so easy to record the gameplay.
We can view live FPS counter by pressing Alt + F12 hotkeys.
It has a lower impact on the CPU performance even if it goes to the higher frame rates or resolution
Disadvantages
AMD graphics card doesn't possess the ShadowPlay-like attribute, so you will need a third-party game-recording application to do the recording with graphics hardware which is AMD based.
If we turn on the feature to save past gameplays, it records all the movements on the computer but doesn't save it.
Comparison – OBS Vs Shadowplay
Here, we are going to do the comparison of both OBS and Shadowplay's some key gaming features,
Professional style:
OBS has added features such as plug-ins, multi screen option, and many more features. While Shadowplay is just to record gameplay and broadcast live to the websites with simple options and minimal resource use. So OBS wins the point here.
Resolution:
As discussed earlier, Shadowplay offers resolution up to 4K since it encodes in GPU without affecting much of CPU performance. While OBS offers also good resolution but by affecting CPU performance which uses software encode. So, Shadowplay wins the point here.
Customization:
There are a lot of customization options in the OBS studio by using a lot of plug-ins and sources and transitions too. But Shadowplay doesn't offer that many options. So, another point goes to OBS.
Streaming:
With Shadowplay, one can broadcast the gameplay directly to Twitch, Facebook or Youtube. But both recording and streaming cannot be done at a single time. OBS offers excellent overlay options and to stream the gameplay easily. So, OBS wins another point here.
CPU performance:
Shadowplay has a lower impact on the CPU performance even if it goes to the higher frame rates or resolution. But OBS has a greater impact on CPU performance even though it uses limited frame rates. So, here goes another point to Shadowplay.
File Size:
OBS recordings utilize less space when compared to shadowplay. Here compression plays the role since OBS does them in advance but Shadowplay's compression results in superior file size. So, OBS is the lead here.
Conclusion:
So in the end, with all the above-discussed points OBS wins the fight. But one can prefer OBS or Shadowplay according to their needs.
So, if one is looking for great recording and streaming solutions with more customizable options then OBS would be suitable for them. On the other hand, if one is looking for simple recording and streaming with limited features then one can decide on shadowplay.
Since OBS affects CPU performance one should keep in mind that when choosing OBS studio for gameplay that they need higher performance systems. OBS is the most loved streaming tool by gamers compared to Shadowplay.
To conclude, it all depends on the perspective of the person as what are their requirements and how does it fit in the OBS and Shadowplay tool.