This year a lot of top anti-viruses got a complete makeover and Kaspersky Anti-Virus 2012 is one of them. The new version of this software looks quite different from the 2011 version, as well as has some brand new features. So, let's have a look at what Kaspersky Anti-Virus 2012 has to offer.
You should also read my vipre antivirus  ,  Bitdefender antivirus and avast antivirus reviews to chose the best from among three.
Pros:
High ratings from independent security testing labs. New cloud-based detection. New File Advisor context menu feature to check out file reputation. Fixes faulty Windows and Internet Explorer settings. Removes traces of computer usage and browsing activity.
Cons:
Very heavy on system resources.
Review
Kaspersky Anti-Virus 2012 has a lot of improvements over the previous version, Kaspersky 2011. One of them is flawless installation. As some of you might remember, Kaspersky 2011 had a bug that messed up the installation process if it detected any traces of previously installed security software. Thankfully, this issue got fixed in the 2012 edition.
Once installed, the product needs to be activated and updated before it's ready to go. The initial database update is about 80MB, which doesn't take all that long to download if you have a fast Internet connection.
Interface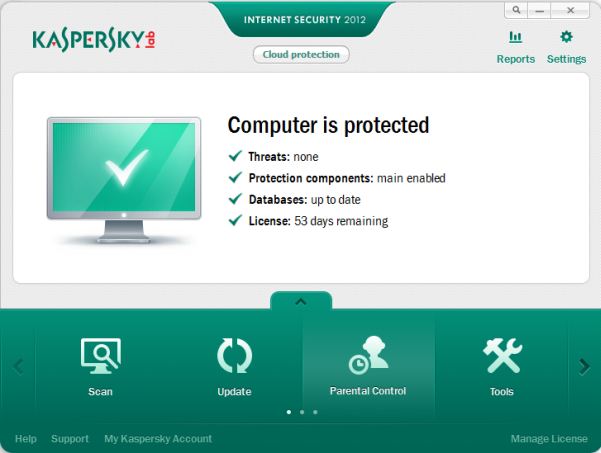 Kaspersky Antivirus 2012 looks very different from the 2011 edition. The program doesn't have the familiar tabs on the left format and goes for large buttons near the bottom of the program window instead. You can slide the features bar sideways using the little arrows to access more features and options. There is also the new Cloud Protection button at the top of the screen. Clicking on that button opens a new screen that explains how to use the new Kaspersky cloud technology. The new interface is very clear and makes all features and options easily accessible.
Features
Kaspersky Antivirus 2012 has quite a few new features:
Cloud-based detection network – this feature sends anonymous data to Kaspersky servers where files are scanned for infections. This provides advanced real-time protection without overloading the system.
File Advisor – a context menu option that allows to check a file's reputation without having to open the main Kaspersky window. This feature checks the files over the Internet pretty quickly and can save a lot of time.
System Watcher – this feature was introduced in last year's edition and has been improved in Kaspersky 2012. For example, the Roll Back feature can now revert damage done by any malware that somehow didn't get detected in the first place.
Other features like network port monitoring, privacy cleaner, gaming profile, virtual keyboard to protect personal data against keyloggers, battery saving options, and more.
Performance
Kaspersky Anti-Virus 2012 is not the lightest and the least resource-hungry anti-virus out there. In fact, it can be quite heavy on system resources and slow down the performance of older PCs quite significantly with all its default settings enabled. KAV 2012 can increase the average system boot time by 25 sec. and double the average shut-down time. On top of that, it can make older systems sluggish and even result in freeze-ups if you have 1GB of RAM or less.
Unlike some of its competitors, this product doesn't focus on quick scans. Even though the software promises to complete a quick scan in 3 minutes, it usually takes something between 8-10 minutes to complete.
Malware detection
Kaspersky Anti-Virus 2012 has proven to have very good malware detection rates. In the tests performed by AV-Tests the product scored 5.5 out of 6 on Protection and Repair, and 5 out of 6 on Usability, and gained an overall score of 16 out of 18, which is one of the top results.
The bottom line
The new Kaspersky 2012 offers very solid real-time threat protection thanks to its new dual cloud plus local approach. It's not the lightest nor the fastest anti-virus, but the protection is pretty good. About the
Author: Liz Cornwell specializes in computer optimization, software reviews, and Windows tips and tricks. Liz is a regular contributor at http://www.dailydeals4you.com – a website that provides antivirus coupons for software like Kaspersky, Bitdefender, and other popular antiviruses.