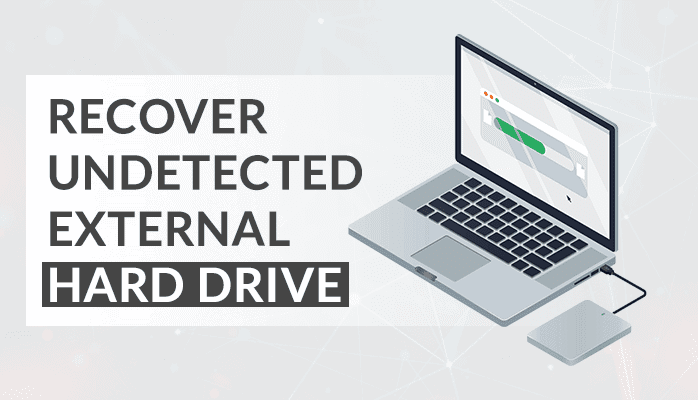 When working on a computer's external hard drive, if you face external hard drive not detected, then read this guide. Here, you will find unlimited tricks to recover undetected external hard drives.
First, start with some important points about the Hard Disk necessity in our Computer system.
Importance of Hard Disk on Computers
Not only Books but now computers are our new-age best friends. As currently, we rely on our computers to fulfill our daily personal and business needs to connect. Also, we save all our daily data on the computer and hard drives. But, what happens when your companion, your computer doesn't work fine?
It does not recognize any external hard drive. Do you hopelessly search for a method to repair external hard disks that are not detected? Hey, don't worry it is a common issue and can be resolved with the right fix. Let us learn what causes this trouble, with the help of certain methods.
How do I recover files from undetected External Hard Drive?
Let us begin by analyzing the manual methods to resolve the issue.
DIY Methods to Recover undetected External Hard drive
Manual methods to resolve the issue of external hard drive not detected are divided under three methods mentioned below.
Method 1: Recover your data from Hard Disk which is not Detected
Firstly, ensure that it is not a USB Port issue by performing these steps:
First, utilize another system and just link the Hard Disk to it. Whenever the hard disk displays complete data then just recover it from there.
Next, again on your system, reconnect the hard drive.
Mostly, the first and key issue when you have improperly connected hard drives. So, always test and verify and make sure that you have properly connected the computer cable to your system's USB port. Hopefully, it should get resolved.
If still you find the same problem then, just move to the next method. It will give you a proper answer on a query "how to repair external hard disk not detected?".
Method 2: Recover data from Undetected Hard Disk via Disk Management.
Always prefer the Disk Management tool to solve the undetectable hard disk issue. For this, just learn the below points and get your problem solved.
Firstly, navigate to the Computer tab option and then go to the Manage option. After this visit the Storage option >> Disk Management. It opens the Disk Management tool.
By this, you can see your External hard drive.
Pick that drive and format it. Then, you are easily able to view the hard drive on your system.
Still, you are not able to access the computer's external Hard drive. Then, solve how to recover data from external hard disk which is a corrupted query from the next method.
Method 3: Upgrade Driver to recover undetected External Hard drive
As you are still unable to fix the hard disk problem with the above methods. Most certainly, there is some issue in your Driver update. Then, you need to navigate to your Device Manager and for that follow these steps:
Take help of Windows and R keys from your keyboard to Run command.
Then, import the command devmgmt.msc there and hit enter.
Next is to tick the Disk drive menu.
Make a right-click on these yellow marks and opt for properties option.
Troubleshoot the error on the internet itself and fix it.
Utilize the System Restore, Reinstall the drivers, or use the Update Driver option to make the upgradation in drivers.
The above steps solve the error by upgrading the driver.
Notice that when windows ask you to format your hard disk the hard drive itself becomes unprotected. This means you can't reach the hard drive anymore. In that case, copy and format all of the Hard Disk files.
Now, if all these approaches are unsuccessful the only alternative left is to opt for professional support. To that end, find an expert in computer hardware and apply your disk for physical damage check and fix. If you lost hope of finding an undetected external hard drive. Then get support from Removable Media Data Recovery.
This utility is programmed from the external hard drive to retrieve all corrupted data. Let Removable Media Data Recovery do the job of restoring data from even a formatted Hard Drive. Safe with Removable Media Data Recovery all of your missing, lost, unintentionally deleted data into their original form today. Using this tool to manage both FAT and NTFS file systems in a convenient way. Formed to manage fast data recovery from both tables of partitions, MBR and GPT, give it a try today.
Conclusion
Computer Hard Drive includes information about our everyday results. But, in the case of several mishaps, we can lose the data from Hard Disk. In case you are having trouble with how do I recover files from undetected external hard drives. You can choose to recover undetected external hard drives using manual methods. These manual methods are unreliable in retrieving lost data when sensitive information lies on External Hard Disk Drive. But always take the help of Removable Media Data Recovery for consistency in performance.