Pixelied is a burgeoning graphics design tool for designers and one of the best photo editing software, owing to its vast template designs, the editor and user interface is super fast and easy to use even for a first time user as well.
From unique illustrations to a variety of images, icons and elements to choose from PIXELIED seems to be a great fit and a perfect alternative to canva.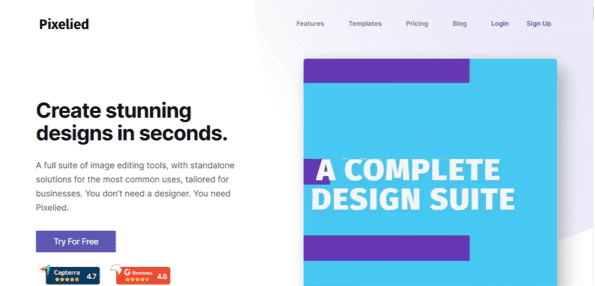 Pixelied can be really useful for:
Content creators
Startups
Digital Marketers
Bloggers
For budding content creators who cannot hire designers can explore Pixelied for their youtube channel, podcasts or editing their Instagram videos. You can actually bring to life your imagination and designs with 3 million+ templates and excellent editing options and an alternative to canva.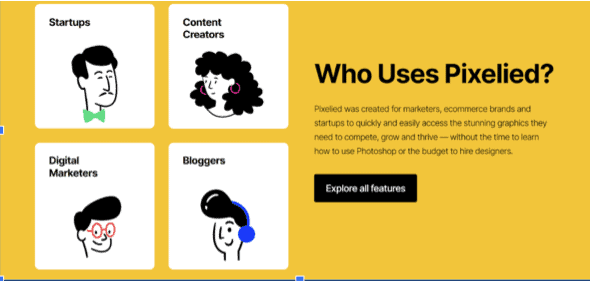 The TOP FEATURES you would love to learn about PIXELIED: PROs of PIXELIED
Below mentioned are few features and advantages which state as Pixelied is a superb alternative to canva.
3 Million Ready made templates
A special template for all your needs, all you can do is some minor changes and you are good to go with your very own personalized template according to your business needs. They have over 3 million+ templates which give a wide variety to designers to choose from.
Available formats are:-
Facebook image templates
Facebook Post
Facebook Page Cover
Facebook Profile Cover
Facebook Story
Facebook Event Cover
Facebook Group Cover
Instagram image templates
Instagram Post
Instagram Ads
Youtube Templates
Youtube Channel Art
Youtube End Screen
Youtube Thumbnails
Twitch Templates
Twitch Panel
Twitch Offline Banner
Twitch Profile Banner
Also includes templates for:-
Twitter Posts, LinkedIn Cover, Blog Featured Image, Soundcloud, Email Header, Podcast Cover, ArtEtsy Banner, Patreon Banner, Ebook Cover and many others.
Background Remover
Just with a touch, you can remove any background disturbance in your picture with the help of AI technology. A super simple and super easy hack to a lot of problems! Add people, products, or other graphics to create professional images for your business.
Check this out here: Background remover
The best part is that the background remover tool works as a standalone feature with no trips to the editor.
Workspaces for brands and projects
Workplaces can make your work easy and organized. Want to work with a team on a design? PIXELATED allows you to do that!
You can use your own colors, designs, files, and settings and collaborate seamlessly with designers, copywriters, and developers you want to work with as a team.
Upload and edit your Vector files
Upload your own vectors from programs like Photoshop and Illustrator to use in your designs to make them unique and interesting for your design which makes it an ideal alternative to canva.
Designing made easy
It is a savior for small scale business budding artists and people who want to learn art and design. Few super easy steps and you can also become that art maniac!
The entire UX Design and easy-to-use filters, text-shadow, image crop, and custom border make it easier for anyone to design their posts and content without needing full-blown graphic design or photo editing tools like Illustrator and Photoshop.
User interface: This helps the user to have a smooth experience on the website. The PIXELIED website has everything under a special heading which leads to the other page and makes your choice process easier.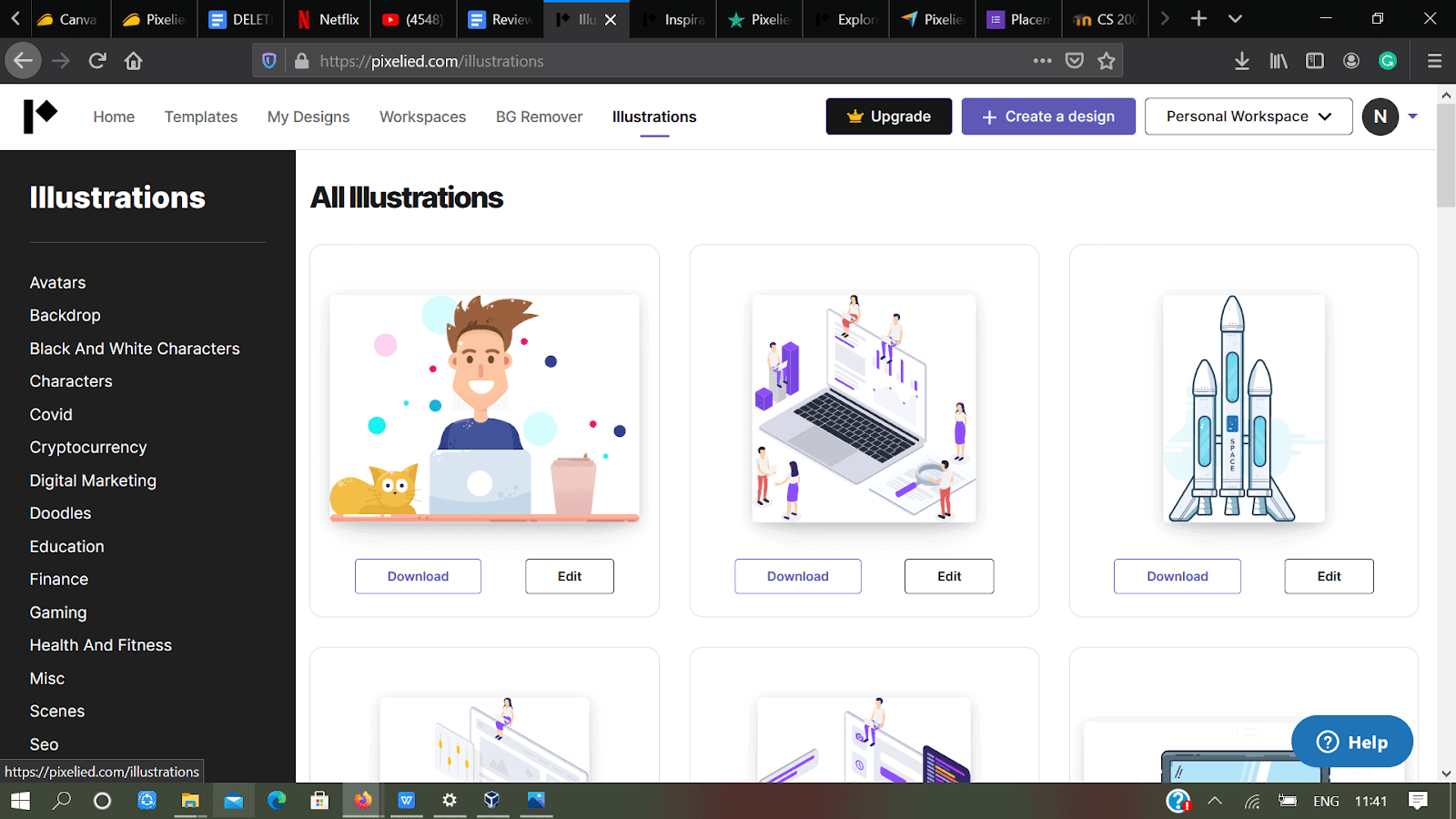 For example this is the illustration page where you can download and edit from various illustrations like Avatars, Backdrop, Doodles and many more. You have a Personal Workplace icon on the top right hand side where you can create your own designs along with your team.
The design window is easy to use and has easy options for editing. You don't need any specific design skills to use it, because the templates are free to use and inspiring enough for any design.
Speed
Pixelied loads real quick, in fact the entire page loads quickly. You can design super quickly in comparison to other designing websites.
Add text styles, elements, and icons to any design to make it more unique and relatable, the editing gets automatically saved and also has an option of manually saving the entire design.
With Pixelied, you can edit your images with professional filters and effects, like sepia, vintage, brightness, blur, and contrast.
The search icons option provides you with a huge amount of illustrations which are easy to use and have a wide variety of designs which can be utilized in a million ways.
You can change the colors of the illustrations, including skin color, to fit your design and brand colors, it's a super-easy way to redesign your illustrations in a new format.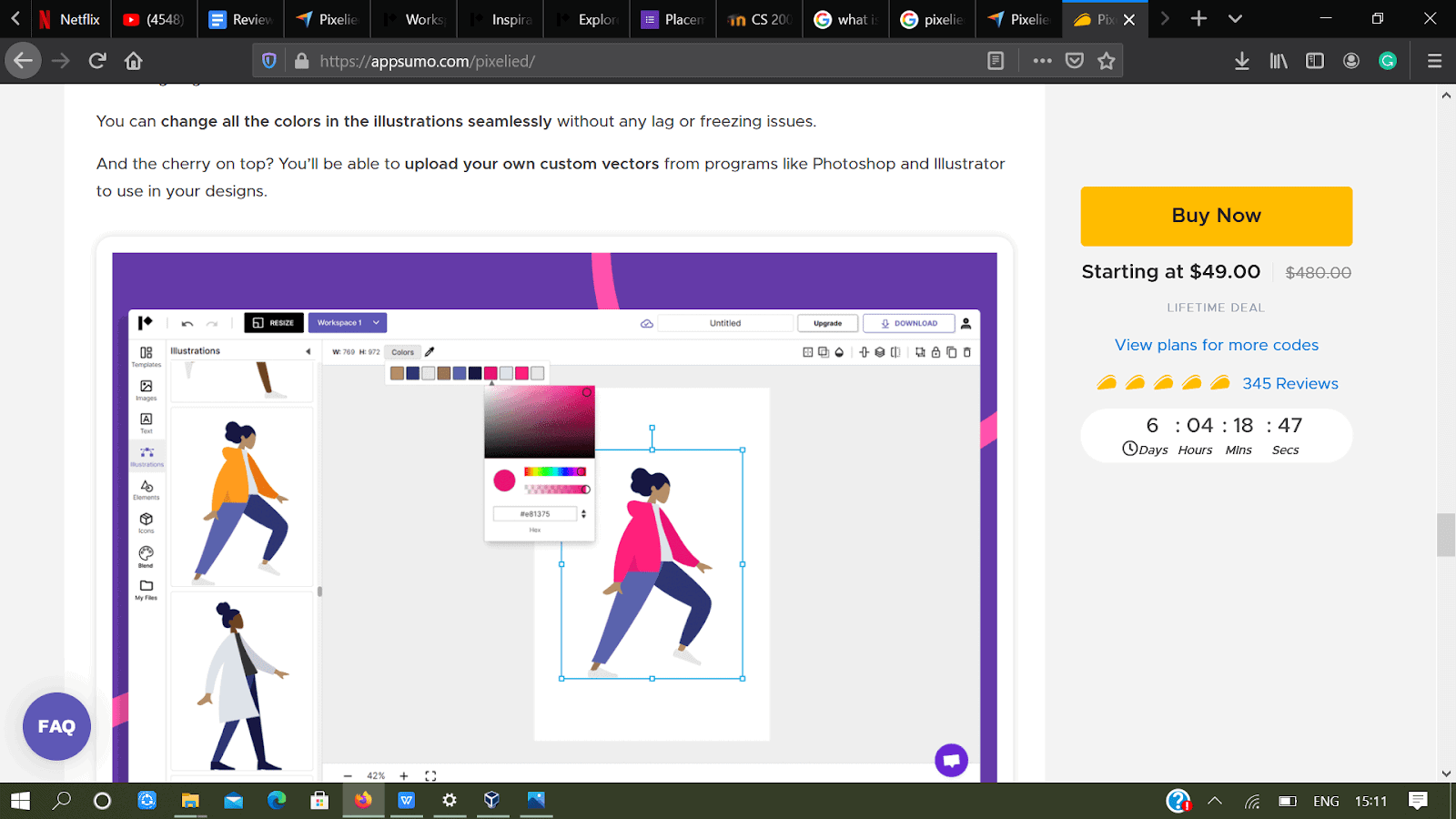 Speaking of brand colors, they have a great option of Blend feature allowing you to apply your brand colors in just one click. You can choose, blend and mix colors to find a color of your choice.
The workspace on PIXELIED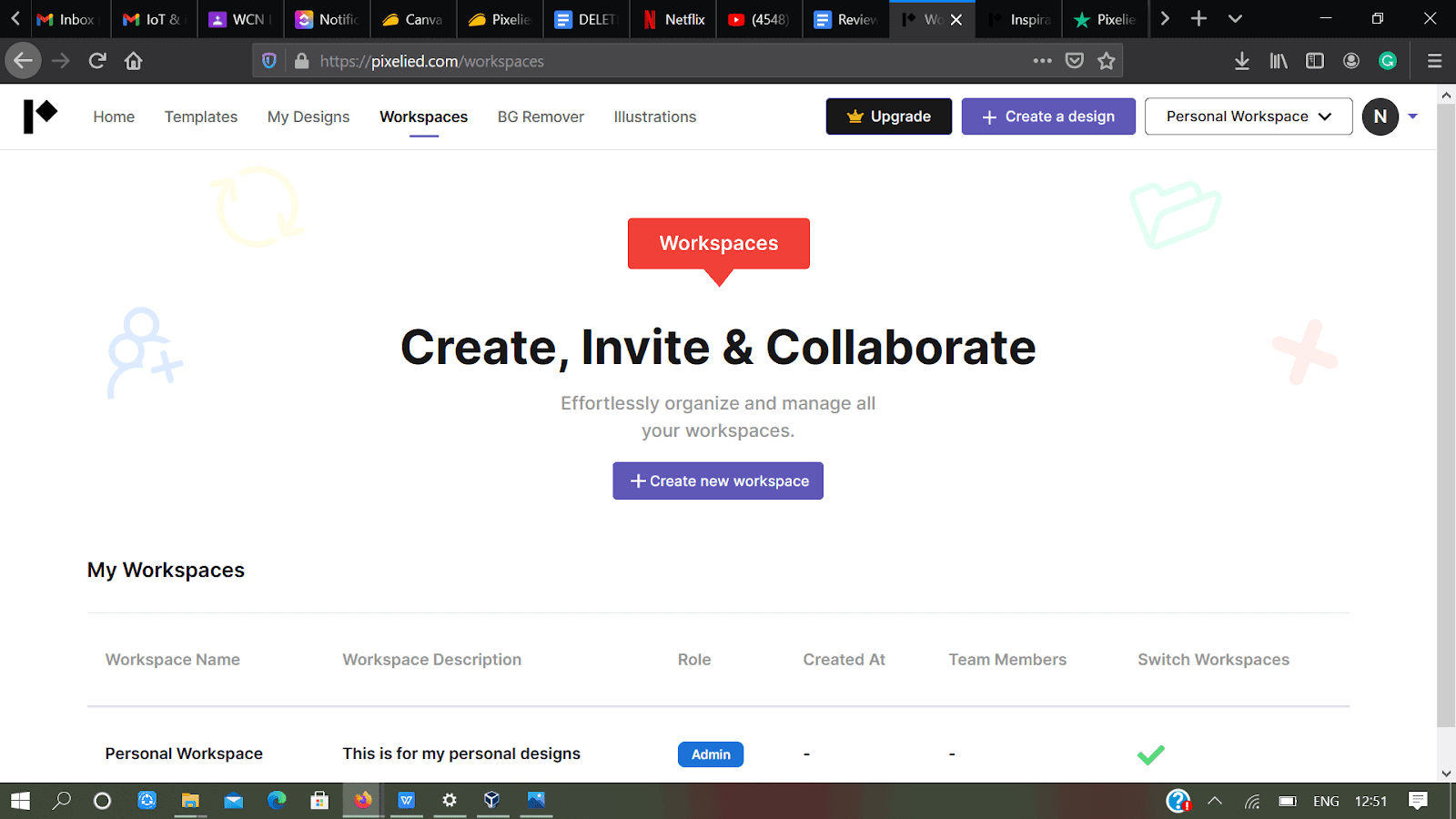 Designing is never easy, it does need people's recommendations. You can easily create, invite, and collaborate with your entire team to work together on a project. Create Workspace Name, add a description, role, and add team members.
What differentiates PIXELIED from their competitor companies is that they just don't stand as a designing tool; they offer a great set of options for editing, creating, exploring under one roof! And hence it can be stated as best photo editing software and an ideal alternative to canva.
One can import their vector files from software like Photoshop or Illustrator and can fully customize it. (something which other design tools are not offering)
Ever imagined designing book covers could be this easy? The only hard time Pixelied offers you is choosing your design from millions of amazing templates!
Pixelied has predefined icons to add on your design automatically making the work super efficient and quick.
How many times do you struggle to find that perfect color? Pixelite helps you blend colors according to your requirements! So blend blend blend till you finally find your perfect shade.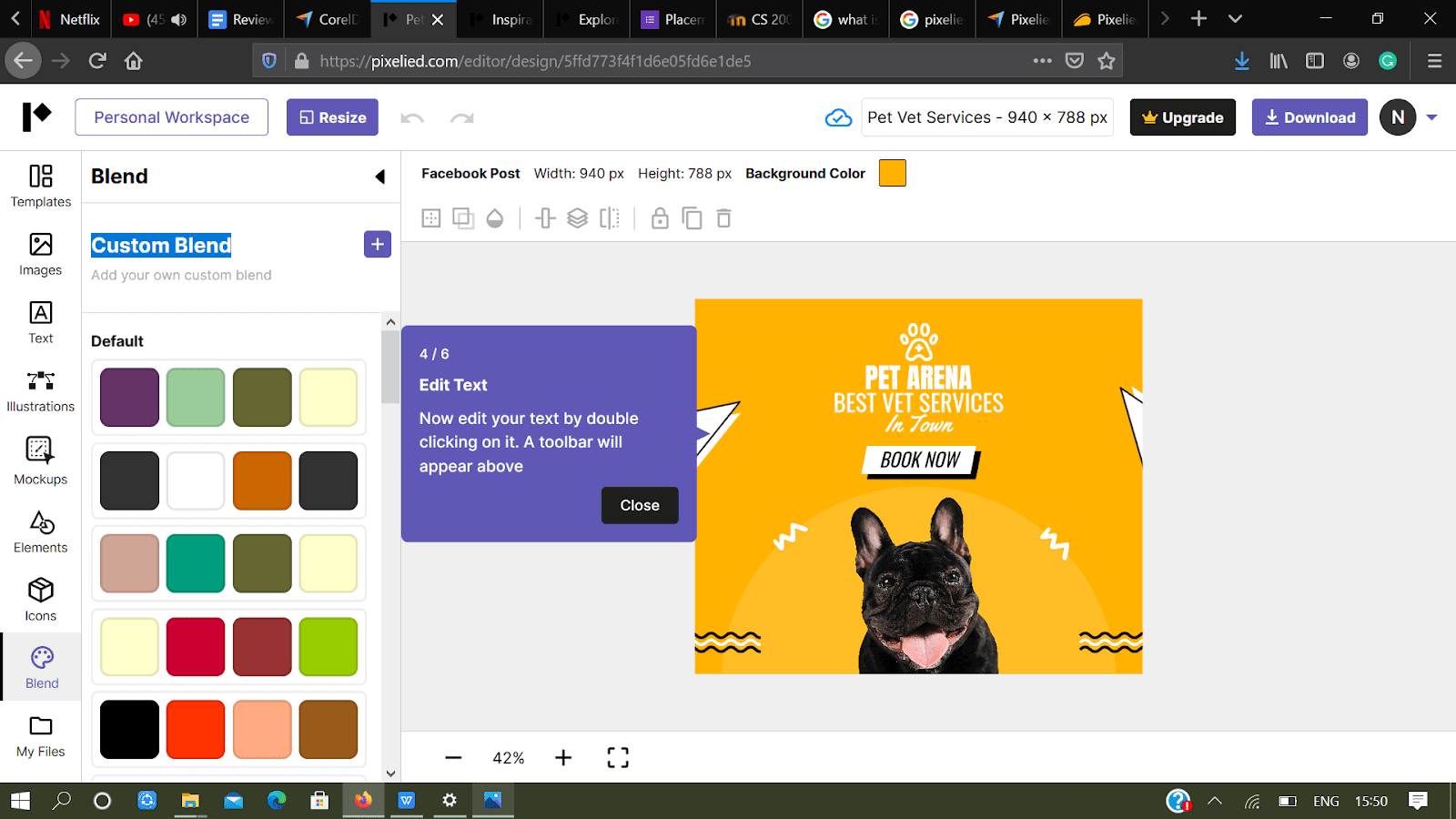 The official pricing plans on Pixelied
A quick breakdown of the pricing is:
1- The free plan: It gives access to amazing templates and icons, create 2 folders for free and is sufficient for any personal projects and frequent users.
2- The Pro plan: For a total price of $7.95 per month, there is access to all the premium templates and icons which can be used in unlimited ways along with unlimited downloads. There are lots of features which exists in the free version but the PRO gives access to:-
All templates
Unlimited downloads
3 million+ Stock photos
5 Workspaces
Premium icons
Custom Font Uploads
Currently Pixelied is up for grabs on Appsumo for an attractive deal. You can grab a lifetime account at Appsumo for just $49. Click here to grab the deal now.
CONs of Pixelied
They could install a user onboarding or walkthrough for first-time users to make the experience exciting and easy at the same time.
They can increase the number of templates as it provides more scope for growth.
More export formats, animations, additional templates, and keyboard edit features can help them stand in the market with the competitors.
The lack of search function and the total time it takes to search anything on PIXELIED is high.
Lack of color picker to match the background image.
PIXELIED a perfect alternative to Canva:
Canva is a very powerful online graphic design tool that can be used to create almost every type of visual content with perfect ease and is one of the best photo editing software.
In addition free templates and a lot of extra additional perks. Canva has a lot of advantages:-
Stock Photos – There exists a stock of photos which can be used by the user from the library.
Elements – Unique elements which the user can add to make the design more attractive.
Typography – Choose from a large list of serif, sans-serif, and cursive fonts.
Folders – Organize everything on your finger tips.
Compared to Pixelied, Canva templates offer more variety if you consider categories like: personal, business, education, marketing, etc.
However, in the arena of social marketing PIXELIED is ahead in terms of the templates numbers and designs.
Despite having 3 million + templates it's a more affordable Canva alternative. Here's a quick breakdown of the pricing plans:
Free – use millions of templates, use the background remover, hundreds of premium icons, and other elements, and create up to 2 folders, all for free.
Pro – for a minimal price of $7.95 per month, you get everything included in the free plan, everything to change your design world and constant customer support.
With comparison to Canva, pricing of canva is expensive in comparison to Pixelied.
Free – includes templates, just resizing option is not available, option to export files in different formats (including PDF, PNG, and JPEG).
Pro – this includes everything the free plan offers, as well as, brand kit (option to upload logos, brand colors, and fonts), more templates, option to download videos, 100 GB's worth of storage space, and much more. It costs $12.95 per user per month (or $9.95/user/month when billed annually).
Enterprise – perfect for larger teams and agencies, this plan includes everything the pro plan offers, along with other exciting features, and more storage space, to name a few. This plan should set you back by $30 per user per month (billed annually). However, price may vary according to requirements.
Considering all the points, it's clearly visible that PIXELIED has a slight edge over Canva and can be said as a ideal alternative to canva. The total variety, pricing, perks proves that Pixelied can do magic with your art in a perfect way!
Some quick facts about PIXELIED!
Under the free version of PIXELIED you can download up to 5 templates each month after a month you may download the next 5 templates.
PIXELIED accepts credit and debit cards (Visa, Mastercard) for the payment procedure for the PRO plan.
The templates, photos and icons are regularly updated on the website.
All stock photos, icons and graphics are completely free which can be used by any person who has signed in and is using PIXELIED.
Still confused about using Pixelied as an alternative to canva, the support team is available and hears out everything! Contact them at contact them here
There are more options to edit the picture, Know How to Edit the best Picture On The Internet
Conclusion
Pixelied is an easy-to-use design solution which allows users to create unique designs with the 3 million stocks available, access to millions of stock photos, icons and illustrations and one of the best photo editing software. It provides a full suite of design editing tools, like background remover and product mockups, for the most common uses, tailored for businesses.
It can be the perfect guide for budding designers to learn, explore and understand their inner passion and talent and people looking for an alternative to canva.