Want to edit some pictures but looking for an alternative of Photoshop? Don't worry! there are always some alternatives to everything. I can't promise you that you can enjoy all the features that Photoshop allows, but you can use these software for basic edits by avoiding any load on your pocket.
If you need ideas or designs for reference, you can visit sites like freepik.com and Envato Elements. You can refer to many templates, designs, and even download .psd files to make your life simpler if you are already using Photoshop.
All these softwares serve a different purpose, some of these tools are online. Here are few softwares and tools you can try out:
1. Affinity Photo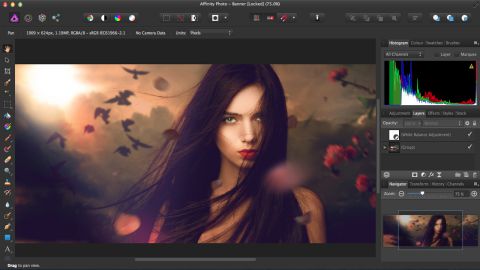 Affinity photo is an app which was available on the App Store. This app is known to redefine the extent of photo editing for Mac users. You can use it for almost everything be it working on layers, simple edits or be it retouching the image. The correction tools and adjustment tools that it provides are better than any other tool out there. It also has a unique feature for noise reduction which is very useful to filter out the pixelated portions. It consists of retouching tools like dodge, patch, burn, blemish, clone and red eye tool etc. It provides the users with some other unique features like bath processing, 360-degree image editing, HDR merge, panorama stitching, RAW workspace for dedicated camera.
2. Sketch
Sketch is not exactly a photo editing tool, it can be used in editing your images with the Mac prototype tool.
The best feature that the tool has is, all the edits which you'll do will not damage the picture. It will not overwrite on the image. Hence you can switch back to the original image. This tool allows you to do basic editing like cropping, colour fill and inverting the image. Its like a bitmap editor. It also allows the users to play around with the features like reduce image size, colour adjustment, one can change the image or replace with a new image on one click, you can work with layers, you can edit vector elements.
3. GIMP
GIMP is a perfect tool for you if you are into photo manipulation then it is the right choice for you. It is free tool available through open sources. This tool is mainly designed for photo manipulation and retouching of images and photo restoration. You can use this tool to create your unique artworks. This is a feature which is provided by almost none and even this feature is present in some software it is hard to create. There are many other features which it provides like creating icons and elements, tools for colour management, multiple file formats, etc.
Cost: Free
4.  Pixelmator Pro
This app allows the user to make  amendments to the image as well allows you to draw in it. It also consists of a machine learning for auto colour adjustment tool which makes it easier to change the colour.   
The best feature that this tool has is it allows you to export the images for web. Hence, you no longer have to get the images done for  website using multiple tools. You can also enjoy features like working with Mac's touch bar, SVG editing and export, preview the changes live to check how the outcome would look like, text editing etc.
5. Pixlr Pro
Pixlr Pro is a tool which can be used online in a browser. You can use all sorts of editing tools for any picture, vector or for text editing. It is very similar to Photoshop you can use multiple brushes,  layer masking, curves and level adjustments, blending modes, effects and filters, etc. Moreover you can use different transforms tools like warp tool, skew tool, etc.
Pixlr Pro has a free version as well. You can access all the tools online itself on the browser and edit the image as per your requirement. It also provides with various templates and fonts along with the features like working on psd and sketch image files, access to 1 million royalty free images, refine edge tool, smart healing tool, etc.

6. PicMonkey
PicMonkey is a renowned online picture editor and good for retouching images. It is segregated into two plans basic and pro pricing plan. If you want to use features like export, save, retouching the image with advanced settings, effects and overlays, fonts, etc.then you'll have to subscribe to a pro plan. The free plan pops up ads. PicMonkey is very handy to edit images for social media. You can use features like filters, overlays, text tools, retouch photos, input watermark and templates, etc.    
I hope this article was useful for you. Please leave your comments below and let us know which app did you like the most.