Net Meter is a software that monitors network traffic through all network connections on the computer it's installed on, and displays real-time graphical and numerical downloading and uploading speeds. Net Meter supports display transfer rates of multiple network connections at the same time. It also logs network traffic and provides daily, weekly, monthly, and traffic reports summary. Start days of week and month are can be customized. What's more?  Net Meter allows one to setup a notification to get an alert when you exceed a certain amount of bandwidth usage and traffic stopwatch enables to test bandwidth speed of connections.
Net Meter 
Features 
Net Meter

monitors traffic of all the network connections installed on the current computer.
It displays real-time graphical and numerical data transfer rates.
Net Meter supports multiple network connections simultaneously.
Bandwidth usage notification is done by playing sound, computer beep, sending email, or running a program.
Log transfer rates provide daily, weekly, monthly, and summary traffic report, and export to .txt, .html, and .csv file.
Net Meter is provided with a traffic stopwatch that checks bandwidth speeds.
Traffic recorder that records transfer rates and saves to plain text or Microsoft Excel CSV file.
Work with most of the network connections including phone modems, DSL, cable modem, LAN, satellite, wireless, VPN, and more.
It is provided with a Rate scale that indicates traffic rates value.
Network connection speeds can be customized.
Shows real-time network traffic graph in system tray.
Traffic graphs are shown in line or column style.
User Interface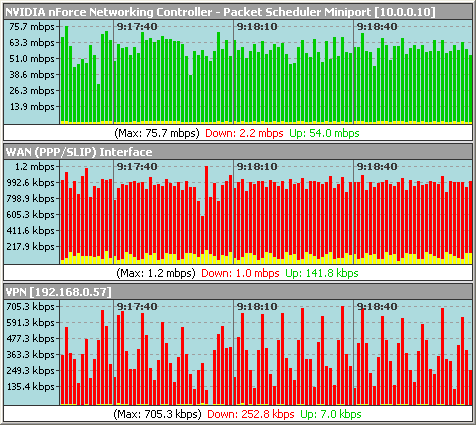 Net Meter has an agreeable user interface. It comes with a semitransparent window showing the current download and upload speeds of current network being used. Speeds are indicated using line graphs or column graphs. Also multiple network traffic can be monitored simultaneously.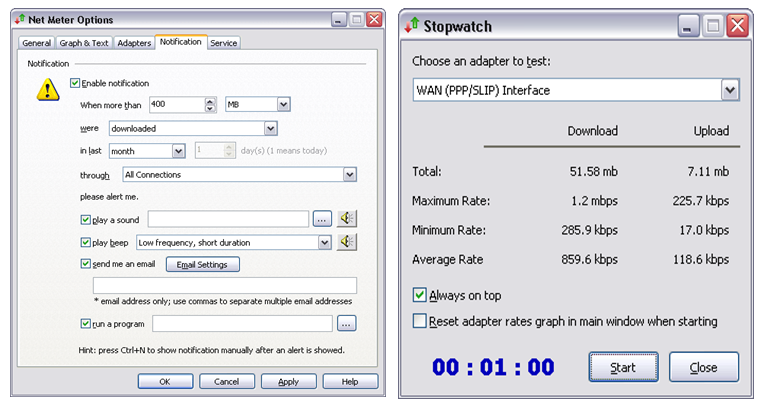 A notification can be ordered to alert the user of exceeding bandwidth usage. This is a really cool function provided by Net Meter. Just by setting the usage level users can get an alert in form of a sound, beep, email or also by running a program. Along with this traffic stopwatch is provided to check speeds and usage for a specified interval of time.
Final thoughts on Net Meter
Net Meter is powerful software to keep track of bandwidth usage of all networks installed on a computer. It comes with various interesting features of which most useful being the "Bandwidth usage notification" keeping its user alerted. Net Meter proves to be a good tool to users using limited bandwidth plans to track and keep their usage within the prescribed plan limits.