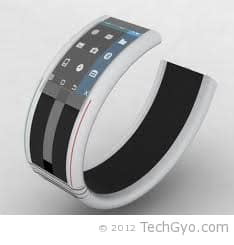 Evolution in technology is mostly felt and appreciated in the mobile industry. Indeed, the milestones that have been covered have been of great magnitude, which further underscores just how fast this evolution is occurring. 2012 has been a year of achievement, as there has been an improvement over what was there before.
Lead in the Display Technology
Starting off with the displays, the conventional sizes have been really stretched. 4" screens used to cut it, but now 4.8" screens have become widely accepted. The Galaxy Note deserves some mention because with its 5.5" screen it has shown that large screen estate has its place in the market. On a related note, the resolution of the screens has also improved, though not as dramatically. HD screens have become a norm in the higher end of the segment. HD SuperAMOLED screens provide some of the best color contrasts that you can find, with the blacks being infinitely deep. Coming to the processing power, quad-core processors have found their place as well. With that much power, there is little smartphones cannot do, handling the most complex mobile applications effortlessly.
Communication Technology
One of the newer technologies in the industry is Near Field Communication, commonly referred to as NFC. It is a wireless technology that enables communication between two devices which are close to each other. Needless to say, it only works on devices that have support for the technology, and that makes its use very limited, as not a lot of devices have support for it. As of now it is a reserve of the high-end phones. Hopefully, as its convenience continues to be appreciated, it will be rolled out in mid-range phones as well. Its application is diverse, with the most common use being data sharing and making payments. On a related note, Bluetooth 4.0 has been released, and it makes for even faster data transfers.
Technology for speed
4G technology has gained greater footing, though it is yet to become as common as 3G and 3.5G. Like NFC, it is still a reserve of the high-end phones, but with 5G being in the horizon, it won't be long before 4G support comes to more affordable handsets. With its high download speeds, it will improve browsing experience, which is good as of now.
Other stunning media features
Phone features have not dramatically changed, though there have been some improvements. 8MP cameras are the standard for most high end smartphones, though we have already witnessed 12MP in the past. Worthy of mention is the PureView, which manages an impressive 41MP. Some argue that it is ahead of its time, something that might be true considering no competitor has even come close to that. Considering the 8MP shooters of this time flawlessly handle still photography, and even HD recording, the market is not asking for much when it comes to this.
What's new for 2013
2013 is set to be a big year with even newer technology being expected. Some of the most anticipated releases will be the SIV from Samsung, and what could be an iPhone 6. With the bar being continually set high, one can hardly imagine what we will have in five years.
Author Bio: Harsha is a Web designer and a passionate blogger who likes writing articles, reviews and latest news on android, iphone, mobile phones , seo , blogging tips, etc. This unique article is researched and written by him. He writes many articles and helps newbies in understanding what is android , gadgets, phone features, mobile phones  and other things.