With the E-commerce empire expanding rapidly, the freight transportation needs have increased by a huge number since the past year. And the growth of the education sector has made it hard to find people who are willing to be truck drivers. Volvo, the world's second-biggest truck producer joined these two statistical statements and created a magical invention with the roots of Artificial Intelligence and some extra-ordinary engineers. Now you don't really need a driver to carry around huge commercial goods in bulk. Volvo has made it's very first Self-Driving Electric Truck without a cab called- Vera!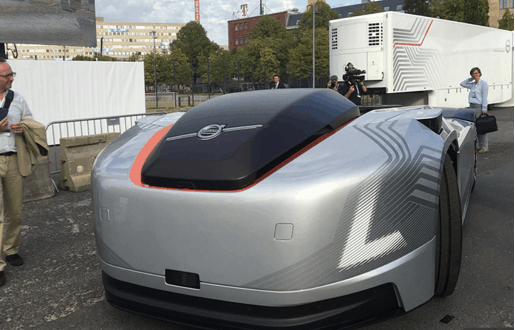 Vera And Its Features:
The origin of the word Vera denotes 'faith' which is a perfect name considering the huge amount of faith that the company is putting into technology and Artificial Intelligence. It is great to see such massive and rapid changes coming about in the way we do day to day activities. Vera, the automatic truck is designed to carry loads weighing up to 32 tons, which can be attached to any standard trailer. The truck will coordinate with a cloud service. The driving of the truck shall be monitored online. The control centre will have constant information about the live location of the truck through GPS tracking features. The monitor will also have other details like the type of goods that the truck is carrying, the maintenance requirements, direction information and much more.
Vera is expected to contain the 185kW electric motor which is also found in their FL truck model. This electric motor is said to produce 174bhp and 425Nm of torque with a 2-speed gearbox. The motor is also equipped with a 100-300kWh lithium-ion battery which will guarantee the smooth functioning of the vehicle. The best feature about this automated truck is going to be the zero-emulsion. It will pacify the increasing damage that's been caused to mother nature. It is also expected to have a much lesser maintenance cost compared to the traditional trucks with a better driving range.
Vera is not going to completely replace the conventional truck anytime soon because it is still in its developmental stages. But it can be initially deployed in places like logistics centres and large ports. Safety is becoming a huge issue with inventions based off of Artificial Intelligence. However, Lars Stenqvist, the chief technology officer of Volvo announced in a recent Berlin conference that Vera will have a driver behind the steering wheel for the foreseeable future until it's known to completely safe. But the future of self-driving vehicles doesn't seem to be too far. UBER Announces 100% "Electric Rides" by 2030!
This truck will be saving a lot of time and the flow of goods and services will become much faster as the need for day-time only workers will diminish and the work can continue round-the-clock be it day or night. This will indeed cut down a lot of stockpile issues and take productivity to the next level.
Here's what Claes Nilsson, the President of Volvo Trucks has to say about the idea behind Vera, "The full potential of the transport industry is yet to be seen. Everything suggests that the global need for transportation will continue to significantly increase in the coming decade. If we are to meet this demand in a sustainable and efficient way, we must find new solutions. In order to secure a smoothly functioning goods flow system we also need to exploit existing infrastructure better than currently. The transport system we are developing can be an important complement to today's solutions and can help meet many of the challenges faced by society, transport companies and transport buyers."
He did make some pretty strong points about meeting the rapidly increasing e-commerce demands but between all these technological advancements, there's a high risk of occupational hazards, because of people being replaced by machines. With every passing day, the need for people to perform repetitive tasks is decreasing. Technology has been disrupting the nature of jobs pushing people to obtain skills which are irreplaceable and non-repetitive. In this world of machine learning, knowledge and education seem to be the only way to survive.
Nonetheless, Vera is definitely going to be a huge step in the e-commerce and heavy equipment transportation industry and will bring about a lot of positive changes in the name of technology. Volvo officially announced that Vera, the all-electric, autonomous, self-driving truck is still under development and they haven't mentioned a particular date when it will be commercially available to the masses. More detailed specifications of Vera are yet to be announced. Till then, we can expect a lot more of these AI-based inventions to surprise us in the near future.