The website development nowadays is a quite popular term, for which, keeping an eye on various quality features is crucial. Hence, the demand of sketching tools for designing has taken a considerable phase, wherein competition is tough, but the opportunities are a lot. Hence, we can see the tree of people interests which is tending towards Sketching tools powered by the latest hypertext markup language called HTML5.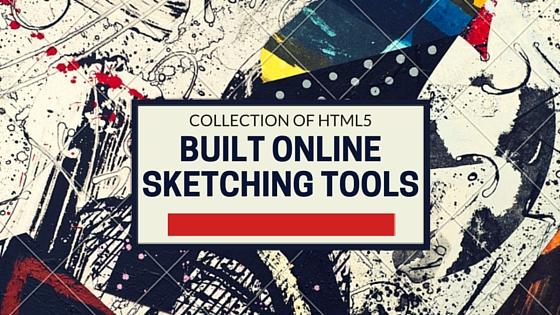 When it comes to the online applications used majorly for executing the designing task, then they have made various time taking tasks simpler for the designers. That is actually an effective approach which compels to adopt an ideal designing tool. Here in the post, we will share some prominent online sketching tools developed with fruitful technology and incorporated with a number of quality features needed less efforts from the users. The innovative feature involvement makes these tools in demand among the designers and webmasters.    
HTML5 Online Sketching Tools & Their Eminence In The Market
HTML5 powered online sketching tools are considered the worthy source. Thus, their fame scale is rising consistently in the web design & development industry in between startups and established organizations. If you find them enriched with easy to use features, then it's perfect for you to judge the effective source that can prove to be productive to produce qualitative results. Therefore, simple but feature-rich tools get more attention despite complex to use. The gist is; sketching tools are beneficial for the business goals' achievement and are available on a wide scale in the industry. So, pick the best and start fabricating your needs soon.
Let's Share HTML5 Sketching Tools in Brief
Have you planned for HTML5 tools or little confused for choosing the one? This post will help you find the expected solution integrated with advanced features as it entails a number of online HTML5 sketching tools.  
This tool utilized with fantastic features and HTML5 technology has made the sketching activities fun of task in a beautiful way because the user is allowed to use its easy-to-manage attributes and create 3D sketches.  
Comes with elegant appearance and high-performance features, Sketchy Structures is an HTML powered tool contained with enormously advanced attributes to implement the complex requisites. Its uniqueness is useful to develop the innovative pages, wherein implementing designing needs is relatively easy for all.  
Along with the drawing features, you will experience the painting options here in this Sketchpad tool developed stunningly by the experts using JavaScript and HTML standard technology. So, if you want the blend of drawing as well as painting app, then go for it only after considering all the factors.
Do you love the variety and want to see it in the tool? Browse Spirograph, an interesting tool consisting several options to draw circles based on different parameters. Even, you find an option to maintain the speed, which means balancing speed according to need is just a single click task with setting options like fast, slow, and medium. In terms of configuration, you can set the parameters such as mobile circle size, color, line thickness and static circle. Besides this, you can enjoy calligraphy pen if needed.   
The most appealing yet incredible example of sketching tool integrated with painting application that provides around 20 ultimate tools and all that work fantastically for artboard painting and styling. I love this online tool which compelled me to try all the available features of it. Truly appreciable.
You cannot ignore simplicity in the presence of appealing collection and Gartic Canvas Sketch tool is one of them, which is a web-based drawing application built with Canvas Tag.
Another productive solution powered by HTML5 purely is in major demand among the designers for meeting diverse site needs. And the interesting thing is; you do not need to install additional apps that usually happens with Flash plugin.  
This drawing tool is cool for those who generally doodle as it enables creating around like using various type of brushes. So, good to adopt this.
Conclusion:
Have you ever thought why the HTML5 drawing tools are replacing others. The reason is simple that this technology is comparatively easier to use and manage the various tasks because it brings elasticity in the approach and allows everyone to utilize it aesthetically. The included flexible coding option makes it substantial and increases its augmentation. Hence, choose the suitable sketching tool from the list afterward get started with the website management, but don't forget to check all their specifications thoroughly.  
About the guest author: David Meyer
The passion of writing and providing knowledgeable content you can experience in the post of David Meyer, who is an experienced HTML5 developer as well as an occasional writer from CSSChopper. He loves writing inspirational blogs & articles.