If you have not considered using HTML5, you might not be familiar with its awesome advantages. HTML5 is equipped with many new features that make it easier to blend graphical content and multimedia. As a result, there is no need to use Flash. This is just one of the multiple benefits of HTML5. With several advantages, HTML5 is touted as the favorite of almost all web developers across the globe. So, what are the characteristics that are making HTML5 a top choice? Let's check them out below.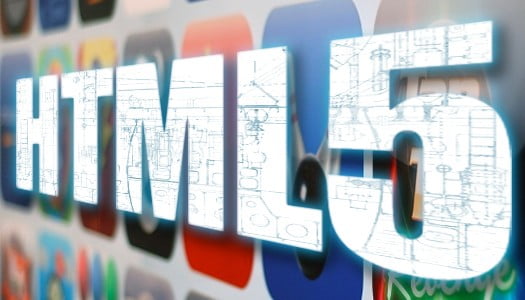 If you are given the task of creating accessible sites, there are two chief reasons why you should use HTML5. The new HTML headlines make sure that screen readers can access content without any difficulty. The presence of new semantic tags ensures that screen readers can scan the HTML document more efficiently and contribute a far more impressive experience for the users. On the other hand, with the help of ARIA, a W3C spec, you can build particular landmarks on a page; for example, header, footer and navigation.
As stated in the introductory paragraph, using Flash Player is no more required. With the new HTML audio and video tags, you can make your audio and videos easily accessible. The tags consider the audio and video files just like images thus, driving away your worries related to the clear visibility and proper functioning of the files. You can adjust the width, height and auto play features alike any other HTML element.
Do you have a knack for clear and simple code? Then, HTML5 is the best option for you. It helps you to perform eloquent coding by separating meaning from content and style.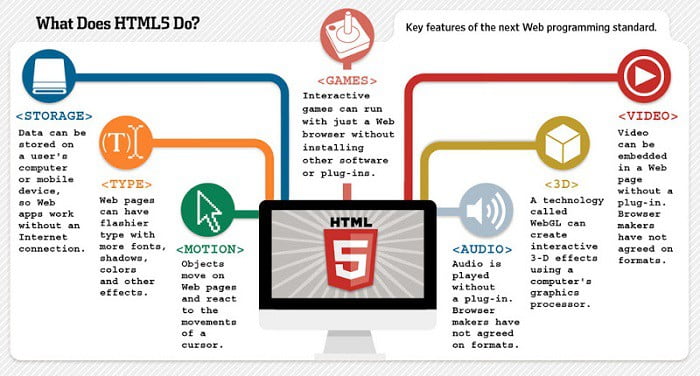 A striking feature of HTML5 is its local storage option. It scores over cookies as it allows storing data in more than one window. In addition to this, it offers higher performance and advanced security and there is no fear of losing data once you close the browser. Since it is a client-side database, you need not worry about users erasing the cookies. Almost all browsers have implemented HTML5. When you have the option to store data in a user's web browser, it becomes easy to develop application features. You can store user data and cache information.
In present times, almost all the popular web browsers have adopted HTML5 doctype. However, older browsers may have problems while adopting some of the new features. In that case, the addition of a JavaScript shiv can make them compatible to the new features.
As a web developer, you will definitely want your site to earn brownie points when it comes to good user experience. HTML5 ensures that your site responds to the users promptly and users do not have any slightest difficulty to interact with the content displayed on the site. You may visit here to build your knowledge base in HTML5.
In your career as a web developer, you may get the opportunity to work on a game development project. The canvas tag of HTML5 can help you immensely to create a game that is high on entertainment quotient and very much mobile-friendly.
It is hard to find anyone today who is not accessing Internet from mobile or tablet devices. So, it has become somehow mandatory to build mobile-friendly sites to ensure high website traffic and positive user experience. As mobile browsers have completely embraced HTML5, you cannot really split responsive design and HTML5. Selecting viewport widths and developing home screen icons are no more a complex task with the use of HTML5.
These are some of the essential benefits of HTML that can give your web development career a boost.
Author Bio – Daniel Thomson is a veteran web developer and loves to write about various web development tools. His articles are published on leading online magazines.