Did you know that you can easily "Customize the Notification LED Behavior" on your Android device? Although this may look like a very simple and underrated addition to the but it also is the one that users prefer to the maximum. Follow a few simple steps and fully customize the working of your smartphone's LED. In simple words, just enable the push LED notification and install the below-mentioned LED control app to let your phone communicate all the important information within seconds even if the screen is off.
 STEP 1 

ENABLE PULSE NOTIFICATION
The LED notification light is a little and convenient way to alert you of your pending notifications. But before coming to the point of customization, you will need to first enable it. Follow this path to turn the LED on for any android device: Settings > Sound & notification > Pulse notification light.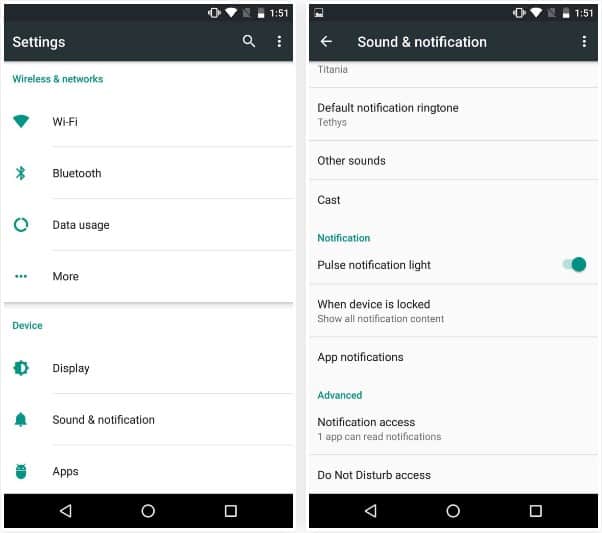 For Android Nougat follow this path: Settings > Notifications > Press the settings cog button > enable pulse notification light.
Note: After you turn on the LED notification light, install third party applications like Light Flow, Light manager and more to fully customize your LED behavior.
 STEP 2 

 INSTALL LIGHT MANAGER APP (ROOT)
Light Manager App configures the LED color and also its flashing frequency regarding the following:
Miss call, SMS, MMS, Emails, Calendar Events, Hangouts Message. This application also notifies you for all your social media channels including Facebook, Facebook Messenger, Twitter, WhatsApp, BBM, LINE and many more. Not only these but you are also alerted about other 3rd party apps too. The LED is truly a multi-purpose addition. Apart from the above-mentioned cases, you are also informed in cases of Battery charging, Low battery and Battery charged. The functions just don't seem to end here. No signal, Roaming, No mobile data, No Wifi, Airplane Mode On are also the things on the list. And how can the developers forget Sound Profiles (Silent Mode, Vibration, and Ringer)

The devices running on Android 4.1 and 4.2 require ROOTING for the app to take effect and customize LED for those social media platforms mentioned above. But rooting is not required on devices running on Android 4.3 onwards.
 STEP 3 

 ALLOW NOTIFICATION ACCESS FOR LIGHT MANAGER
After launching the app, let it gain the required permissions. Click on ALLOW and move forward.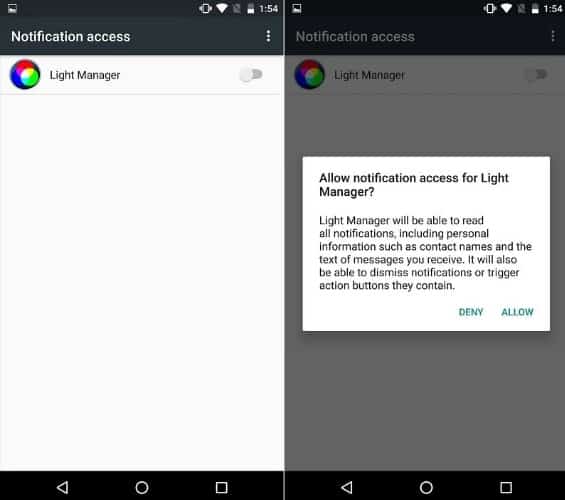 STEP 4 

 CUSTOMIZE THE SETTINGS FOR NOTIFICATIONS
It is from within the application that you have to modify the settings of your LED for different notifications. You can simply change the color of for each of the notifications by selecting the one you want to and assign a new color to that particular notification (as shown in the image) a new color.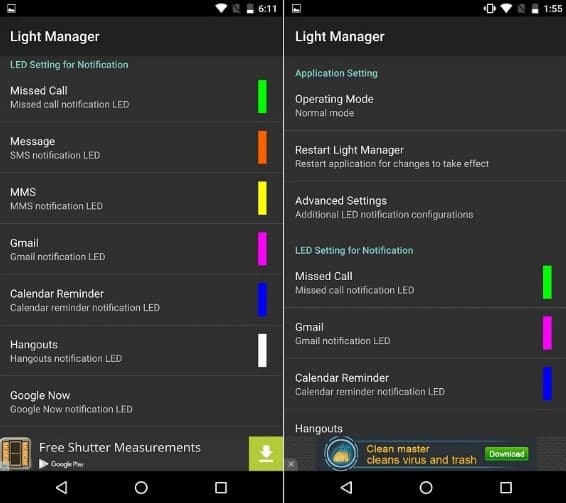 Additionally, you can also add new types of notifications by scrolling down & pressing Add an application option.
And before the new notification colors work, the app must be restarted for which you have an option in the app itself. Press the option Restart Light Manager and you are good to go.
Please read "How To Set Custom LED Notification Behavior on your Android Phone – PART – II" to know about the complete tutorial.