Gone are the days where people would print out hundreds of cards to invite their friends and family to a wedding or a birthday party and personally travel to everyone's homes to distribute them. Everything these days has become digital. So have invitations!While deciding which social channel to choose to send invitations, the answer is pretty clear. WhatsApp. I do not know one person in my life who does not own WhatsApp on their phones. It's a must-have for everyone. Plus, it has expanded its scope to a lot more than just some regular app you use to send messages to people. It is used to form social groups, share pictures and videos, broadcast messages, post picture stories, track location, send money, sell stuff and muchmore. So when it comes to sending out invitations digitally what better channel of choice than WhatsApp.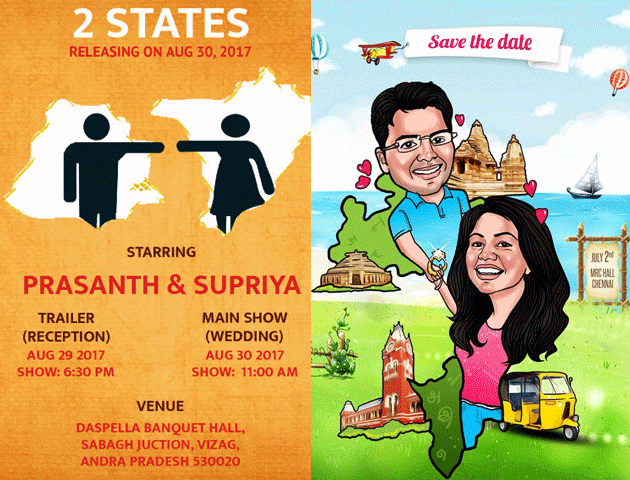 There are a lot of ways to do it, of course sending a boring old textual broadcast message is the obvious way. But we will be entering the side of e-cards and all the ways you can create some interesting and attractive invitation cards and also the different channels of sending them out!
Invitation Maker Applications
Our number one pick would be to find an application which will help you design a custom invitation card on your phone! There are tons of editing apps out there, both on iOS and Android which have a vast majority of templates of all sorts which you can modify according to your needs. After modifying and arranging all the images and text as you want, you can save it as a jpeg file in your gallery and forward it to your WhatsApp contacts.
a custom the greatest and the easiest apps out there for this is Canva. You can sorts which in iOS, Android or even on the web. Their interface is, and they have an array of templates not just for invitation cards but also for social banners, menus, resumes, etc. Within the category of Invitations, it will give you a lot of options like birthdays, engagements, weddings, etc.
2. Creating Fun Videos on PC
Another option is video-editing softwares. Videos can often be more eye-catchy and you can put in a lot of information in the video without it looking too cluttered. So if you want to make your invite a little fancier, you can create a video. There are options like Powtoon which provide you animated templates which you can use and create a video within no time. Once you are done creating, just share it with your WhatsApp contacts. WhatsApp does decrease the quality so that the download speed increases, but you can choose to send it in the form of a document to avoid that from happening.
3. Creating videos on your phone
If you are short of time, you can even create really amazing videos on your phone as well. It's way less complicated and easy to put together. You can upload pictures from your gallery and make it into a small slideshow, or you can have a text-based video. There are even more options to customize it, like different fonts, special effects, stickers, music, etc. Some of the nice apps out there are, VideoShow, Viva Video, and Quik. So start exploring your options and get to work!
4. Sending a PDF
If you want to go digital but still stick to the traditional format of the invitation card, pdf is a great option for you. In Asia specifically, the cards are pretty long, with detailed information about each event if it is a wedding. In this case, you can just scan your actual hard copy of the invitation card and turn it into a pdf format. There are a lot of apps that do that. CamScanner is an app I would personally suggest because it takes pictures and turns the text more readable and then converts it to the pdf.
5. Create cards online from the web
If you prefer quick fixes and on the go work, you can use web apps to create invitations, just type in 'online invitation creators' and you'll have tons of options to choose from. One of the options you can go for is 'Youvivid.net' It has a lot of invitation templates for every occasion. Just select a theme and fill the other text details. You can even add interactive elements here like maps, reminders, etc.
Creating digital invitations is actually quite easy, and you can choose any of these ways to do it. If you have to send the invite to a lot of people, you can just use the broadcast option on WhatsApp, and send it to everyone at once. It is better than sending it in groups, because this way, each contact will receive the invite personally. Now your invitations are sorted! You can take care of other important stuff and get ready for that special occasion in your life.