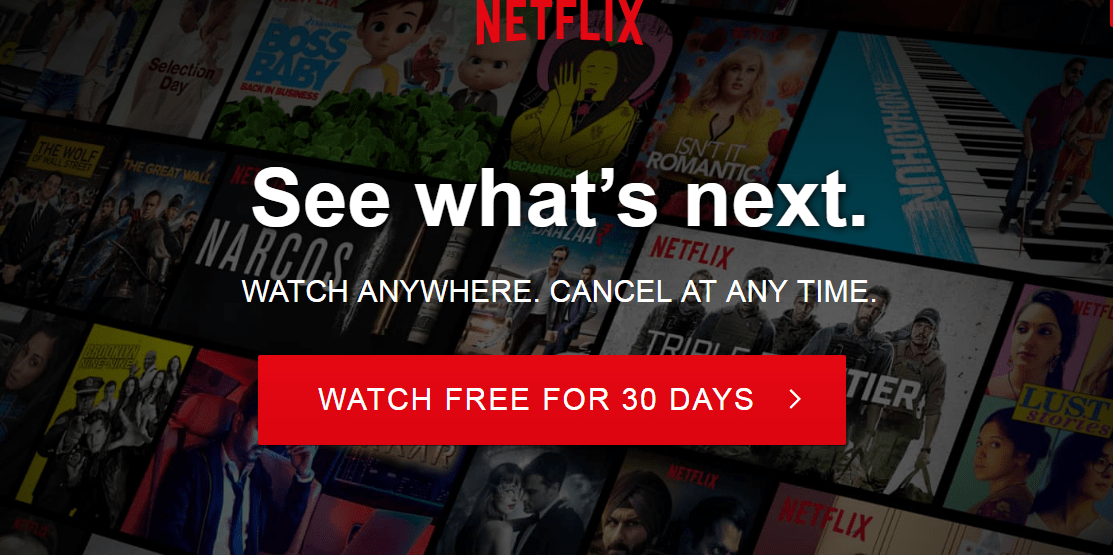 Netflix is a brilliant online streaming service that allows you to watch popular series, shows, documentaries and movies over the internet. With over 100 million active members, the demand for this platform is undeniable. You get to have a free trial of the platform for a month before Netflix charges you for further usage. However, even to start the free trial period, you have to provide your credit card or PayPal details. You are allowed to cancel your subscription anytime during this trial period, but as soon as the trial expires, you will be charged for the next month subscription. Even though will get constant reminders from Netflix when you are nearing the end of your free trial, but it would a safer option to set up a reminder in your phone as well.
You might have tried Netflix for free to check out the features and may not want to pay to continue streaming past the one-month free subscription or you may just want to get rid of the service altogether if you aren't enjoying it. We understand that with the recent price hike, Netflix can dig a hole in your pocket. Well, cancelling the Netflix trial is pretty easy but it comes with some consequences, so it is advised to think first before making the decision.
Make sure to make a list of your watch list before you cancel Netflix so that you can catch the things left with another streaming service. This is totally up to you if you have plans to continue with your favourite shows and movies.
Here is a step-by-step guide to cancel your Netflix Free Trial:
To cancel your Netflix Free Trial, start by logging in to your Account.
Go to the upper right-hand corner on the Netflix home page where you will be able to see a link to "Account " Click on the link.
After clicking on the link, you will be taken to a new page with all your Account Information
One this page, you will get the link for " Cancel Membership"

Once you click on this link, you will be directed to the terms of cancellation.
After going through the terms, tick the box which implies that you agree with the terms and conditions.
To complete the process, click on " Complete Cancellation"
Post this you will get an email from Netflix to confirm that you have cancelled the subscription successfully.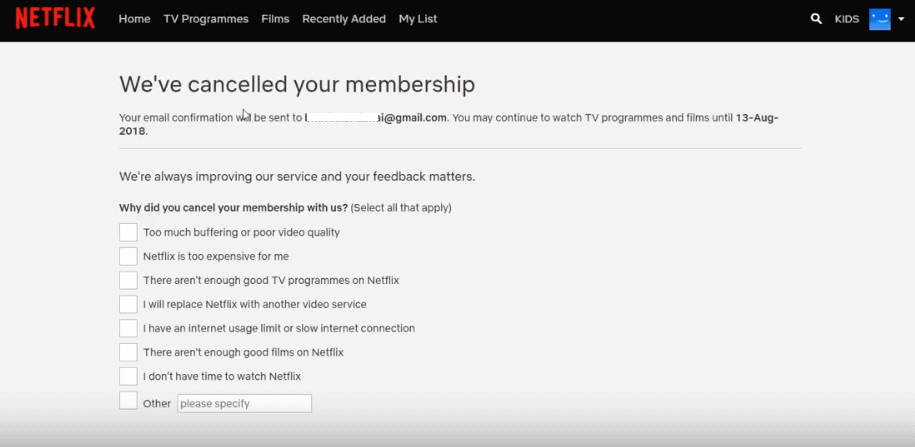 This will end your Netflix membership.

Alternatively, you can also cancel the Netflix trial by contacting the Administrators. You just have to log in to your account and scroll down to the bottom of the page where you will find the "Contact Us" option. Once you click on the same, you will get the contact numbers for Netflix Customer support that can help you in cancelling your free trial. You can rectify the same problem for Spotify. Read: How to Cancel Spotify Subscription and Delete Spotify account.
If you want to delete your profile from Netflix; go to your account and select "Manage Profiles". This will take you to your profile icon with a pencil symbol on the bottom left corner. Click on the symbol which will take you to the "Delete Profile" option. This will delete your profile and the viewing history. You should know that your cancelled account will be automatically deleted after 10 months by Netflix. However, if you want to delete your account immediately, then send an email to [email protected] from your registered email address by typing "Delete my account" in the subject line.
We hope this guide was helpful in Cancelling Netflix Free Trial. For any queries, please leave a comment in the section below.