Most of you familiar with Nokia devices might probably know the popular map app called HERE. Nokia has released a new version of its HERE app which brings a lot of exiting news for all of use who use maps for drive navigation.
The new version of HERE comes with a new improved traffic information display with "FIND MY CAR" feature and a lot more useful additions to improve navigation.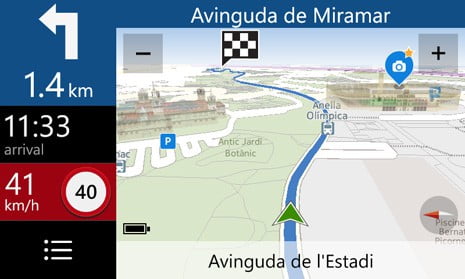 In the earlier version which had the Traffic information only under the My Commute section was aimed at optimizing journey times for predefined daily routes. But in the new version, the traffic information is overlayed on the map display screen which much better view of the traffic with colored lines to show the live traffic on your way.
Below is the latest video by HERE which shows the brilliance of their app developers and a new Map Experience for users.

HERE collects traffic data from billions of GPS points in real time from satellites and smartphones and other sources to give you a quick glance of the live traffic feed of cities and countries anywhere in the world.
With this new update, traffic congestion is marked in red and moderate traffic in yellow, green for clear roads with no traffic congestion. This helps the driver get a quick glance about the route he is driving and help make decisions early avoid traffic with alternative routes.
Along with the other new features, now there's a new option get a simple text-based overview of a planned route (list of turn-by-turn instructions), complementing the existing map-based overview.
This overview, is available from the initial navigation screen just after you specify a destination.
HERE offers everyday mobility and connected driving for regular commuters and explorers alike. Since it offers 2D and 3D maps, you can feel a real like experience of the fresh live maps data.