Do you like fruity phones or do you want a Droid army? The war over whether Apple or Android is the best operating system will probably never end. There's no clear winner because a lot of what makes an operating system a "winner" is based on user preferences. Not everyone buys a smartphone or mobile device for the same reasons. That's why it's important to understand what each company has to offer so you can find the right product – for you.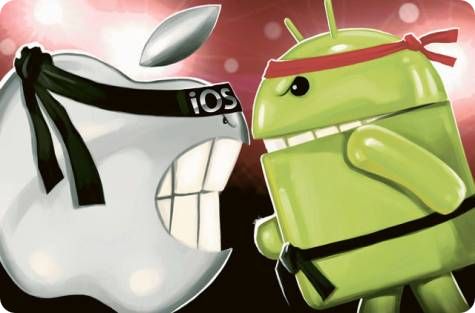 Quick Settings
While some users have gotten fed up waiting for Apple for release an update of its IOS, opting to sell their phone on this website, the patient have been rewarded with an overhauled user experience. iOS7 introduced Control Centre, which allows users to toggle between common settings, adjust the brightness of the phone, and control music without having to thumb through the settings app.
Android, on the other hand, has had this feature for a while. The big difference is that its control centre drops down from the top whereas Apple's slides up from the bottom. Apple's version is a little more comprehensive and looks a little more polished than Android's, however.
MultiTasking
One feature that Android pioneered was how you switch between apps. With Android, you double tap the "home" button, which brings up a vertical list of apps. There's a preview of all apps that you can flip through before choosing one.
Apple's version sets up the apps left-to-right. This way, you can preview a lot more screen real estate. To quit an application, you just flick the app's thumbnail image up and away to the top of the screen. Bam. Closed.
Both mobile operating systems have a few glitches when selecting apps from the app-switching menu. Highlighted text can be de-selected and pages can be force-reloaded, causing problems if you were in the middle of something.
Notifications
Android's strength is that it has always had a rich notification system, pulling down the notification drawer gives you the latest missed calls, tweets, calendar items and whatever else you might want to know. Apple's notifications have been a bit lacking for years, but it's gotten a refresh with the latest iOS.
The Camera
The camera for both devices is actually quite amazing for a mobile phone. For Apple, the camera has always been a strong selling point – the latest devices have only upped the ante. The native camera app is clean, intuitive, and versatile.
You can even shoot in slow-motion. Apple's built-in photo management is also pretty easy to navigate and has powerful, yet simple, editing features.
Android still takes great shots, but there's nothing deeply rooted in the OS like Apple's offering.
Social Networking
If you want to share your files with different apps, back them up to a service of your choosing, and move them around more like a desktop OS, then you want Android. Apple's new AirDrop feature, however, allows you to send images to contacts that are near you (who must also have an Apple device). Apple also deeply integrates Facebook and Twitter into the iOS, making sharing seamless.
Security
Apple's seems way ahead of the pack on security with its new iPhone 5s – but that's only because of its enhanced and refined fingerprint technology. Hold your finger over the home button and "poof" your phone unlocks. No need for a pass code. Of course, iPhone also comes with "Find My iPhone," which can find stolen phones and help you recover your expensive mobile device.
Android also recently received this kind of functionality too, with Android Device Manager service.
So, which is right for you? Well, if you want to plug into the Apple ecosystem, and you don't mind ignoring the rest of the world when it comes to updates, choose Apple. Users who like to tinker with their phones, want unlimited customization options, and just don't like the Apple brand, choose Android.
Mason Williamson is a technology aficionado. He often writes about the basics of software and innovations on tech blogs.