Google-Drive is most useful and much awaited service from Google that offers 5GB of online storage for free. By using Google-Drive you can access your files from anywhere and on the range of devices including PC, Mac, iPhone, iPad and Android powered devices. Google Drive is more than just cloud storage as it offers vivid features. It doesn't only bring mobility to your work but also adds the touch of security and collaboration to your files. Storing and syncing files by Google Drive is as simple as saving a file to a hard disk of computer. Google-Drive keeps you in touch with your work in your home, at office or on the fly.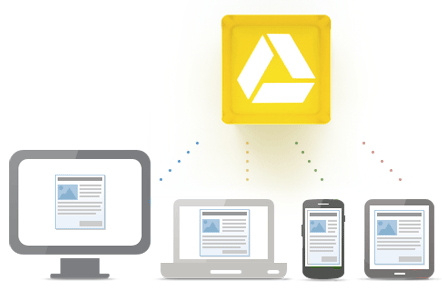 Possibilities of Google-Drive
Google has imparted new possibilities of cloud storage through Google-Drive which makes us think beyond cloud storage.
By using Google Drive we can easily store our files in cloud storage and feel secured. So we can just sync files back to another device and start working when our own device gets stuck in the middle.
Google Drive can be installed on the range of devices including PC, Mac, iPhone, iPad and Android devices (Google Drive is not yet available on iPhone and iPad).
Google-Drive offers easy yet advanced collaborative workflow which allows us to create new documents, spreadsheets and presentations and work with your team at the same time, on the same file. Along with this you can also comment on files which you are editing for feedback purposes.
Google Drive keeps track of changes made to the file and stores the saved version as the new file therefore it becomes easy to revert back to previous versions of file when we want to undo changes.
Google Drive supports more than 30 file types including Adobe Illustrator, Adobe Photoshop and videos. Your system doesn't require to have these software, Google-Drive can handles them by own!
Google-Drive can be extended to use various file types by installing available apps and of course you can send link of your file from Google Drive to your Gmail recipient instead of attaching it to save the time.
How to Install Google-Drive For PC?
Once your 
Google Drive
gets ready for your account, you will be informed with an email by Google. To install Google-Drive client for PC just follow the steps given below-
Go through the link in your email by clicking "Take me to Google-Drive"
A welcome message will be displayed over here, just click on "install Google Drive for PC"
Then accept the terms of services of Google by clicking "Accept & Install"
Finally download Google-Drive client and sign-in with your gmail account.. That's it..
Conclusion
Though Google-Drive is a great cloud service, it has some drawbacks which make us think "Google team should work even more on this service". The reason behind to say the above line is that a file created using Microsoft Office can't be edited using Google Docs in Google Drive. To do this the file must be exported as "Google document" under "File" menu. But overall Google Drive is the great service especially for the team who wants to work together no matter wherever they are.