Google today announced that it is bringing Twitter cards to mobile search results page. Starting today, you might find Twitter results along with the traditional web results when you Google search on mobile.
Mobile search will show up real-time results from Twitter, like a separate news content using Google's familiar card-based format.
This move makes more sense, since Twitter creates lots of quick news content in short 140 characters which is more effective in gathering latest information during nataural disaster like the Earthquake which happened in Nepal last week or score updates of any sports event like Cricket.
Tweets via search isn't surprising; in February, Twitter CEO Dick Costolo hinted at a partnership with Google in helping tweets search more easier.
With this new twitter search integration, users searching for a celebrity or publicfigure might find recent tweets from those celebrities. You can also search hashtags for the recent trends and related tweets. You may find most popular tweets about the hashtag and links to real-time tweets on Twitter. Results can be viewed on Google search in-app or on the mobile web version of Twitter.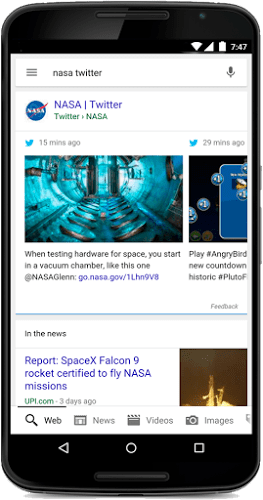 For now Twitter result is launched in English for the iOS and Android, with support for more languages and mobile browsers rolling out gradually. Google promises desktop version in the near future.