I have spent this holiday watching Christmas movies with my family. A very good software is needed to convert your videos on your computer to DVD format, and directly burn to DVD disc.
I did a small research on several AVI to DVD burning softwares, and found that ConvertXtoDVD was the most suitable for me. It is a multifunctional software that converts any video format to .vob format (which is a DVD format) with high quality output and no errors. Moreover, it accepts subtitles to be embedded with the movie in case you want to watch your movie with subtitles. You can also add an auto-run menu for your DVD which starts as soon as your run your DVD. ConvertXtoDVD supports you with many features, where you can customize your videos with a capacity to choose NTSC or PAL; this gives a professional output.
ConvertXtoDVD, which is famous for AVI to DVD burner software. supports many video formats (AVI, MPEG, MOV, WMV, MKV, OGM, etc) with no need for external codecs. The converting, burning process is relatively fast. And you can burn the converted video directly to DVD or just save your project and burn later.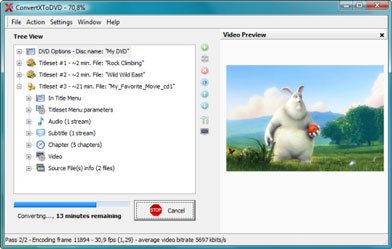 So, in case you have movies, or videos on your hard drive, I suggest that you free your computer and burn your favorite movies to DVD discs. You can also backup important videos on your computer to DVDs.
In summary, everything is done in just a few clicks, you drag and drop movies to the software interface, modify any settings in case you want to change the default one such as choosing the chapters, auto run menu, burning speed, etc. Then, click the convert button, and finally you add an empty DVD disc, or save your project for later burning. Using this software I have converted around five movies and watched with friends, family during this holiday. In case you want to watch your videos on standard home DVD player, start using ConvertXtoDVD burner software.
Video Tutorial