How many chat apps have you found on the web since you have first started using your computer? I'm sure you have tried a lot. But , here we  are introducing new chat app for the websites and blogs. This chat app allows website owners to add a chat box to any website and let users take charge of the rest.
This is  versatile chat app which gives the users to connect globally and improves website's overall user engagement and traffic. Chatbox is seen very helpful in educational websites where people come to get help each other from the other community. Chatwing.com has focused on the development of real-time communication in the platform. The developers understand that information must travel fast in every website, forum, or blog.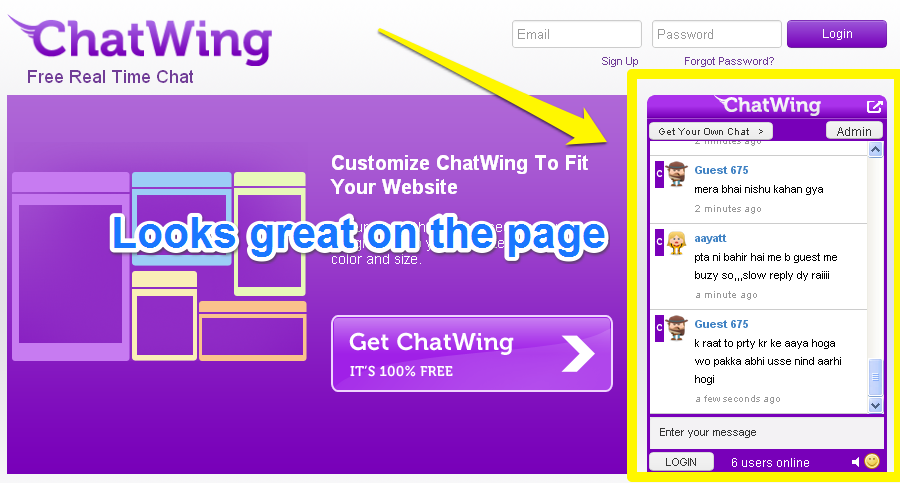 Excellent designed Chatwing chatbox gives the flexibility to fully customize it with  size, color width, height, font, background image and much more, that helps you make it look blending to your website's color scheme. This is the main highlight of Chatwing over other similar tools which offers very least customizing branding options.
Features that Chatwing offers:
User Engagement: Engage your Visitors with Chatwing, Chatwing provides you the facility that makes you engage more visitors. By embedding the chatwing in your website, increase more chances to communicate with the visitors and groups.Which prove to be ideal platform to exchange useful ideas and build strong online relationships.
Lets you embed on any website: ChatWing is available as an embedded widget or pop out button.
Complete customization : There are plenty of variable you can  customize like size, color, widget name, background color changing flexibility according to your website.
Social Sharing with the Chatwing : Users can login with their Facebook, or twitter  accounts and share content on social networks with their friends.
Direct Reply : Chatwing users can maintain a professional and wholesome discussion made possible by its word filter option that can be activated any time and get instant reply directly.
Its Free: Chatwing services are free to use.
How to get Chatwing on your page
Step 1. When you login, you see the basic options in which you can do basic customization  like chatbox color, background image, font, audio and other styles. Under each tab you will get more options further customization according to your needs.
Step 2 : Here you can pick your chatbox alias which will be the url to your chatbox
and additional chatbox options like chatnox name, moderators filters, login methods and blacklist.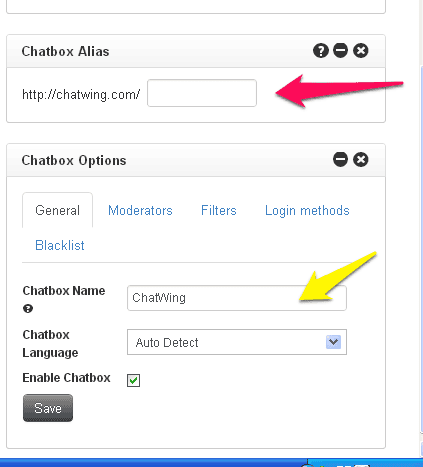 Step 3 : Below is the preview for the chat wing.
Step: 2  Once you are satisfied tweaking the appearance and settings, you can save the settings and click on "Use Chatbox" button, and in the next page you can get your embed code and direct link to your chatbox to share with your friends of team or organization to get started and use chatbox.

If you wish to use it on your website, just pick the embed code, set the preferred width and height of the chatbox and copy paste the code to your website, where you want it to appear. You are good to go and enjoy chatting and collaborating with people.
ChatWing is absolutely great and free  tool to use, get it at http://chatwing.com/. Hope you like the post, let us know if you already use chatwing and how you find it helpful. Drop your comments below.