Bosch Power Tools India launches its new range of High Pressure Washers, the Universal and Advanced Aquatak series. The new models Easy Aquatak 120, Universal Aquatak 125, Universal Aquatak 130, Universal Aquatak 135, Advanced Aquatak 150 and Advanced Aquatak 160. These models, which differ based on water output pressure and other features, are to serve different sort of cleaning which includes both domestic and industrial usages.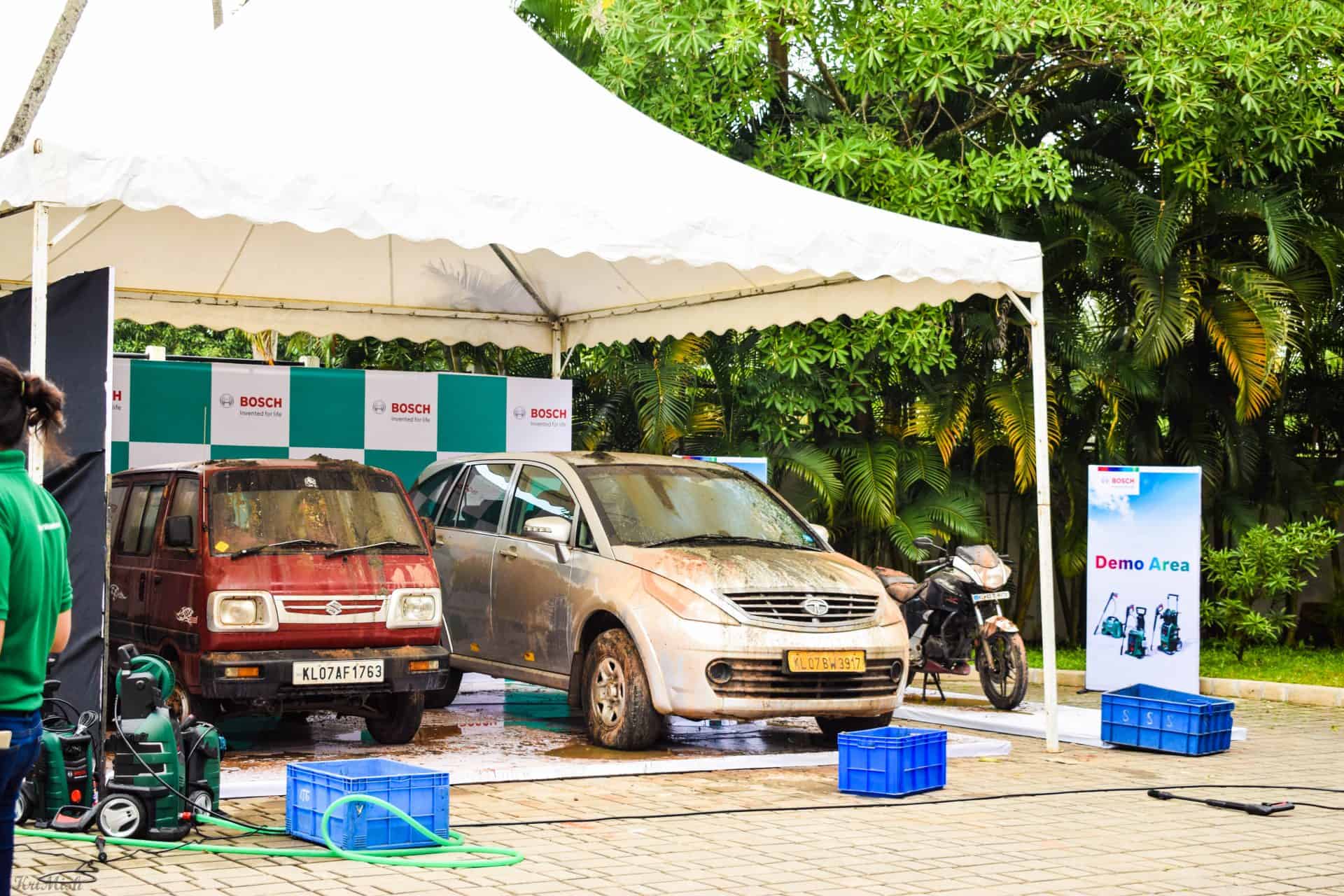 The Aquatak Series from Bosch is designed to replace the cumbersome cleaning methods we follow with industrial grade cleaning system. Each washer in the Bosch Aquatak series features a powerful pump which flushes out water in high pressure, giving you best cleaning experience right at the comfort of your home. The washers are designed to use less amount of water compared to any other traditional cleaning methods. In a nutshell, the whole process of cleaning has made fast, saving you both time and water.
Commenting on the launch, Panish PK, regional sales director and business head – India and SAARC – Bosch power tools said,
"Bosch power tools is committed to providing innovative products and technologies that help our customers get the job done more efficiently. Our user-driven problem solving approach generates innovative products with features that deliver a better user experience, besides greater product UP-TIME and improved performance." He added, "We have invested in expanding the product range and our high-pressure washers have been developed with the aim of removing stubborn dirt under tough working conditions."
Bosch Universal Aquatak Series
The Universal Aquatak series from Bosch is a perfect solution for everyday cleaning at your home. This includes washers with water flow rate of 350 to 410 liters/hour, as well as maximum pressures from 120 to 135 bar. These new washers come with redesigned 3 in 1 spray system which includes high pressure pencil jet, 90-degree nozzle and high pressure detergent nozzle. These nozzles are designed to clean even the most stubborn dirt out of the surface. The new high pressure detergent nozzle is the one which stands out from the rest, this nozzle is capable of producing foam evenly on the surface and thereby making the cleaning efficient and effortless.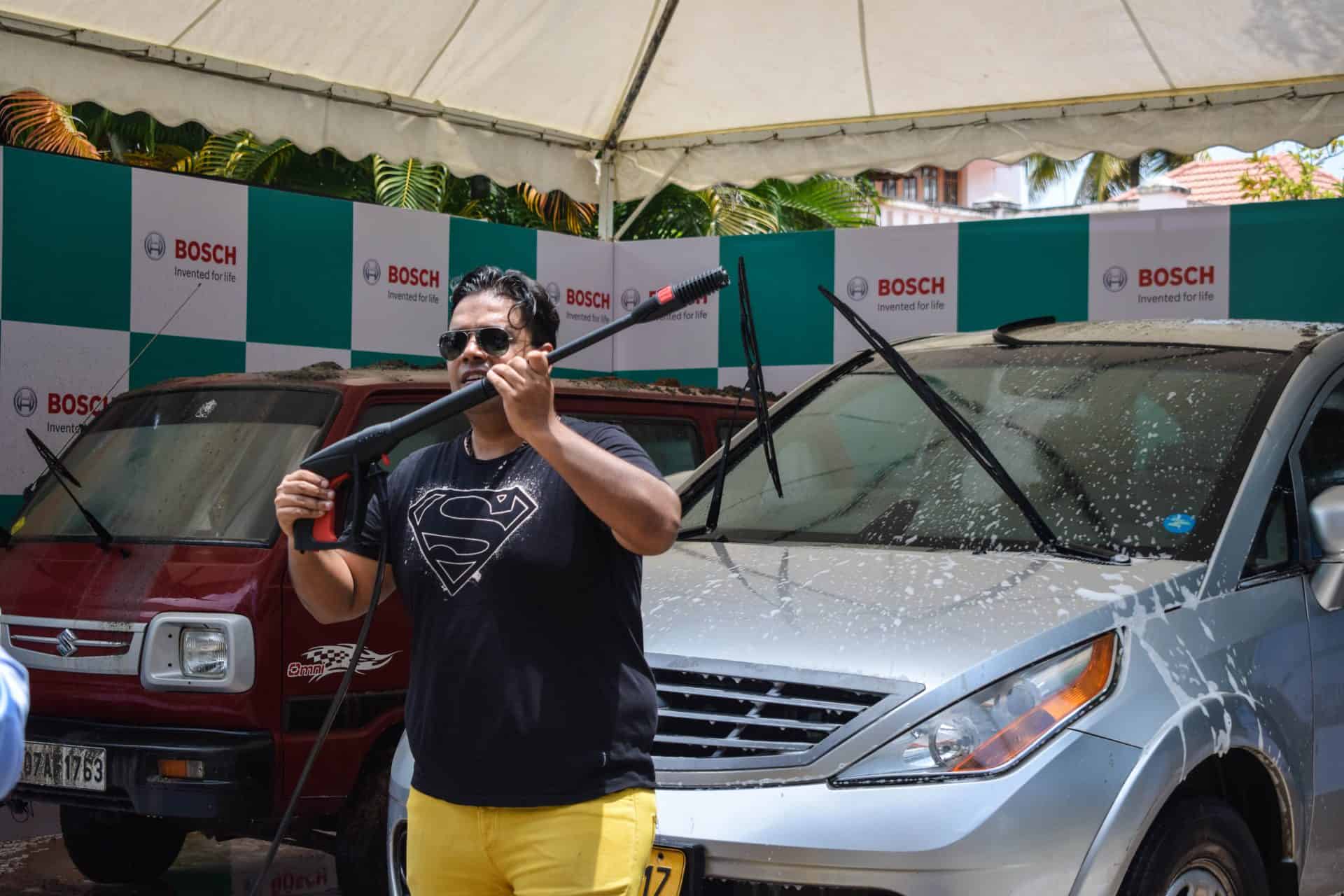 The new range of washers are 10% more efficient and operates much quieter compared to the predecessors. The addition of extended handles, larger wheels and additional handles in the front made the handling of the product quite easy especially, to move it around while cleaning. Because of the SDS click connection system used, the accessories like lance, cleaning gun, hose etc. can be easily attached and detached from the main unit.
The other accessories include; rotary nozzle, suction nozzle, patio cleaning head deluxe, wash brush, high pressure hose, extension hose, drain cleaner, water filter, adapter for Aquatak accessories.
Easy Aquatak 120
Easy Aquatak 120 is the entry level high pressure washer from Bosch. This washer has a max power output of 120 bar, max flow rate of 350 liters of water per hour, a 1500 W motor, max flow temperature of 40degree and weights as light as 5KG.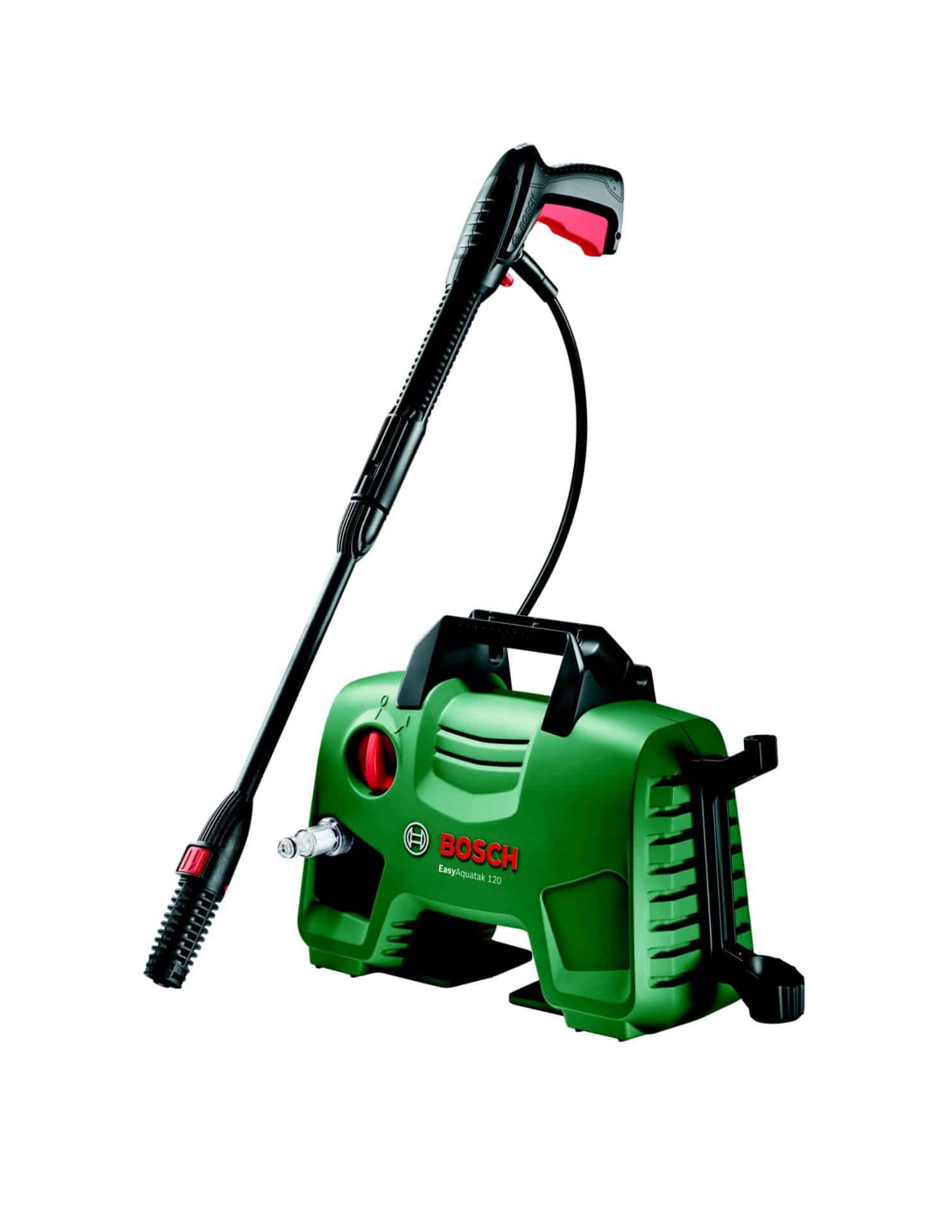 There is no folding handle for this washer. The Aquatak 120 is a best choice for washing and removing heavy dirt from small cars. It is also a perfect solution for washing the driveways.
Universal Aquatak 125, 130, 135
Bosch Easy Aquatak 125, 130 and 135 looks similar in terms of design, all three has foldable handle and a maximum water flow temperature of 40 degree Celsius. The 125 weights 6.8KG whereas 130 and 135 weights around 7.8KG and 7.9KG resp.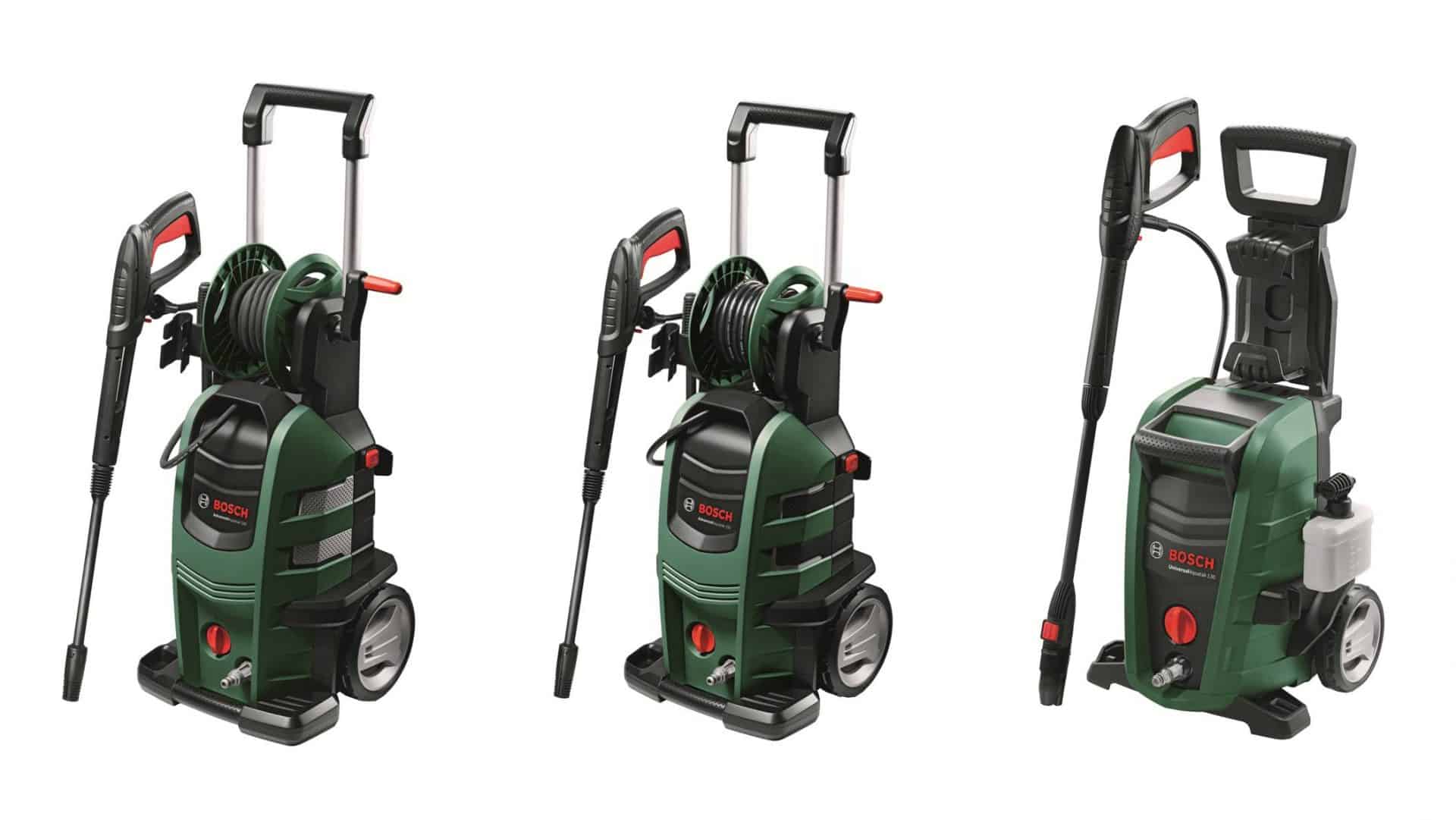 The Aquatak 125 comes with the 1500 W motor, the same one we have seen in Aquatak 120. The 130 and 135 comes with rather powerful motor with a peak power of 1700 W and 1900 W.
Advanced Aquatak 150 and 160
Aquatak 150 and 160, the most powerful on the Bosch Aquatak series, is a multi-purpose industrial level high pressure washer. With a flow rate of 410liters/hour and 500liters/hour these washers offer best in class cleaning. This is a perfect fit for cleaning heavy vehicles like mini truck, lorry. The manual cleaning in this case, since the surface area to cover is too big, will take hours and water wastage will also be too much.
As a matter of fact, these high-performance washers can be used to clean your garage as well. A small-scale industry like garages, where the floor will be of grease and other sticky materials, will be hard to clean using manual cleaning process and need lot of effort and water. With Advanced Aquatak series 150 and 160 from Bosch, max pressure output of 150 and 160 respectively, you can easily get the job done.
The motor power in this case is 2200 W and 2600 W. Also, these two models feature four cylinder 'Quad' pump which is optimized for efficiency, high performance and features a compact design resulting in better ergonomics. To handle the pressure, the Aquatak 160 features a metal body for high pressure gun and cleaning lances. The high-pressure hose is coated with steel makes it extremely robust.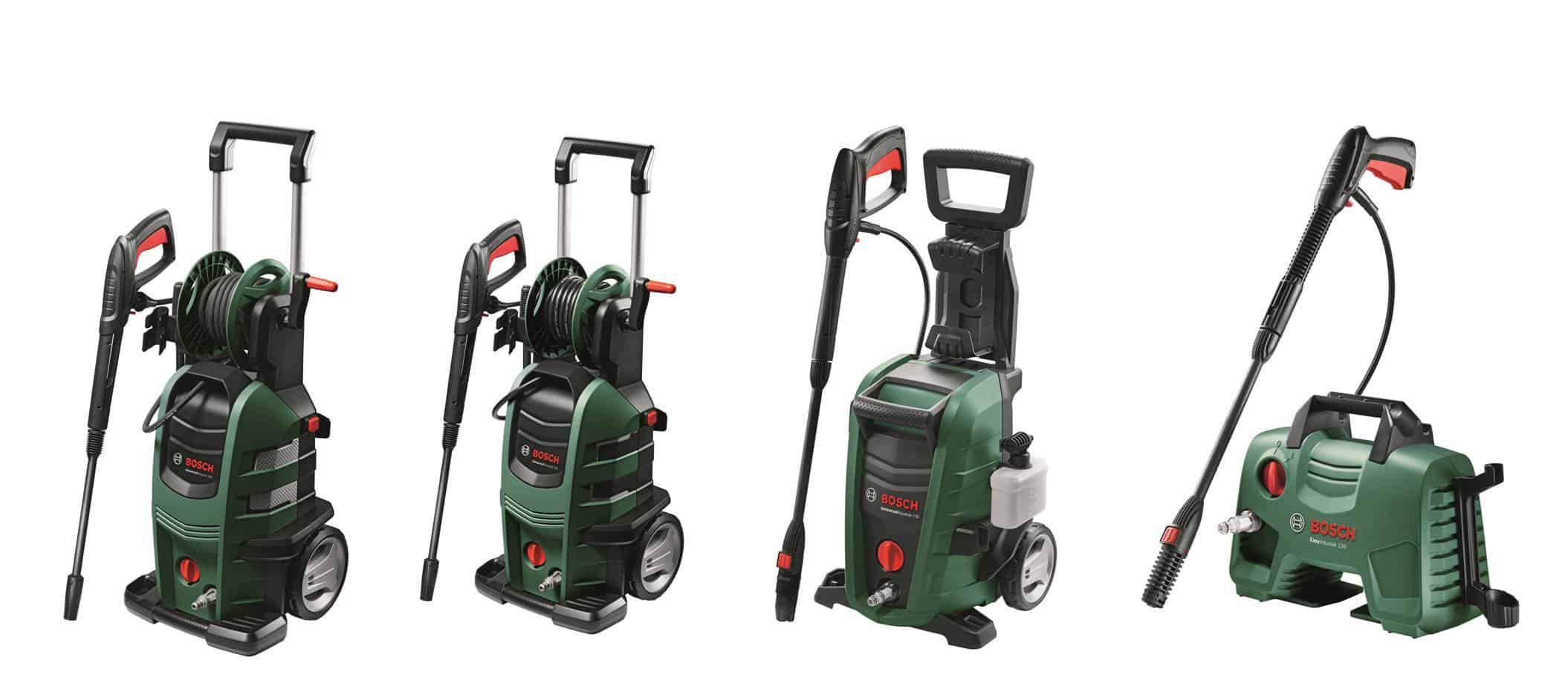 All the models listed in Aquatak series is readily available across India. With a price tag ranging from INR 7600 to INR 35000, these high-pressure washers will serve as a great addition to your cleaning tools.