Well its finally here, the Apple iTunes music and video store is now available for Indian users. All the iOS users that is the iPhone, iPod, iPad users in India can finally purchase Bollywood and regional music, movies and books from the iTunes store, with Apple launching the popular service in the India.

The iTunes Store has now also been launched in 55 other countries, including Russia, Turkey, and South Africa where the users can now buy stuff of their regions and also the international content. This should bring up huge sales on content for Apple as they had the iTunes Store in 119 countries already and with the addition of 55 more countries, we can all expect Apple to rake in lots more revenues from the iTunes Store.
On its India debut the iTunes Store is offering a selected range of Indian music and movies for purchase with prices in Indian rupees. Individual songs are available for purchase for Rs 12 and albums are available at prices ranging from Rs 72 to Rs 150. Bollywood movies are also available for rent and purchase. Movies can be rented for Rs 80 to Rs 120 and purchased for Rs 190 to Rs 490. Some movies are available in standard as well as high definition.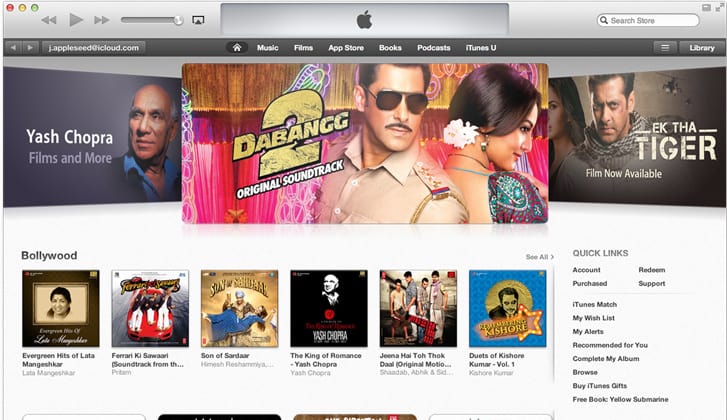 The latest Salman Khan movie Ek Tha Tiger, for instance, can be bought for Rs 290 or rented for Rs 80 on the iTunes store for the SD version while the HD one will cost you Rs 490 to buy the movie and Rs 120 for rent. Individual songs from new movie Dabang2 can be bought for Rs 12 a piece.
In addition to local Indian content, Indian users can also buy international movies and music from the iTunes Store. The Indian movies and music collection on iTunes is currently limited and it is expected that Apple will widen its offering soon.
The iTunes Match service which lets you match your music collection to the cloud has also been launched here at Rs. 1200.
Although all are not going to be impressed with the offerings from Apple since its surely pricey than what you will get from the competition. Flyte offers individual song download for Rs 6 and the full album at Rs 72 while iTunes offers it at Rs 96.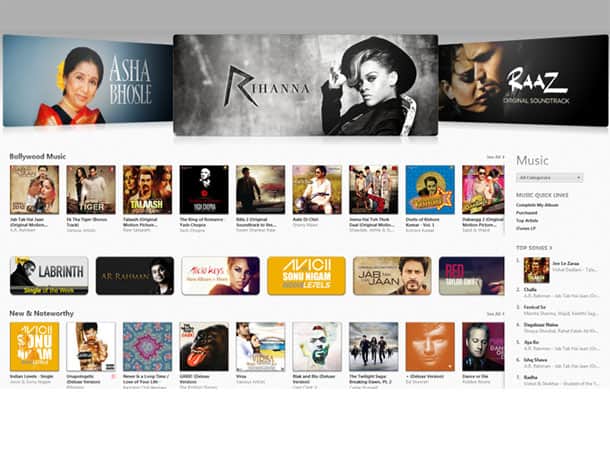 Another competitor is the Nokia offering, the Nokia Music which offers over 4.5 million songs from its store . The service costs Rs 50 for seven days, Rs 99 for 30 days, and Rs 250 for 90 days. New handsets come with free subscriptions for up to a year. Also, Nokia Music gives users the ability to download any song from its library—it's not restricted to the ones you have. According to Nokia, 1.4 million songs get downloaded from its music store by the users.
Music companies such as Sony Music expect a bump in sales as well as an accompanying reduction in piracy from the iTunes launch.
"Stores like iTunes and Flyte come as a boon in this scenario where we all are working towards banishing music piracy," said Shridhar Subramaniam, president (India and the Middle East) at Sony Music.
"This launch is going to change the way we purchase music in India, and will see the start of consumer paid download services outside the operator ecosystem. The company is offering 500,000 songs from its catalogue, including Bollywood, international and Tamil film songs," he said. "We expect a great response."
Apple does not yet offer TV shows or books from its iTunes Store although copyright-free books are available but we hope Apple brings these too as they would surely add great value to the iTunes Store against its competitors.