The ECG app on the Apple watch series 5, recently saved Mr.R.Rajhan's life. Read the details below.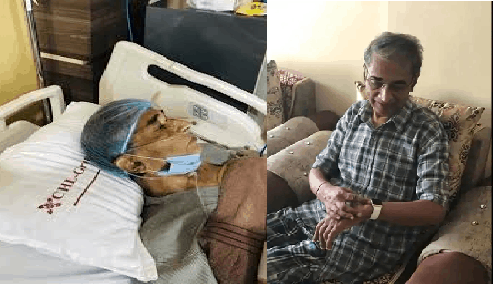 R. Rajhan, is a 61-year-old retired pharmaceutical professional, living in Indore. Like any other 50+ year old, Rajhan is known to be suffering from hypertension. But apart from that, he appeared totally fit and fine. However, in March, he realized signs of some unwellness. Owing to the pandemic situations and the stay at home difficulties, Rajhan decided to take the ECG on the Apple watch, that was gifted to him last year by his son Siddharth, who is a student at the Harward University is a WWDC scholar.
Siddharth Rajhan has a history of work with a few Silicon Valley companies in the past including a stint with Apple in Cupertino and Singapore. He has also been an iOS and watchOS developer. No wonders, he decided to gift the Apple Watch Series 5, that launched last year, to his father.
Know more about the ECG app on Apple Watch!
Now, Apple Watch has helped many people around the world and has touched the lives of several Apple customers. With the release of the ECG heart features, Apple Watch has leaped to take the next step in empowering people with more information about their health.
Apple Watch Series 4 or later, signifies a direct-to-consumer product, with advanced features like the ECG app and irregular heart rhythm notifications, which enable customers to take an electrocardiogram right from their wrist. Thereby, capturing heart rhythm in a moment when they experience symptoms of irregular rhythm like a rapid or skipped heartbeat.
The reports are professional and immediate, helping to provide critical data to physicians. The feature is now available in India. And such a life-saving case via an Apple watch is the first of its kind in India.
Siddharth's father Rajhan, had been, in many instances, notified by the Apple Watch, regarding the irregular heartbeats. Arrhythmia, as this irregular heartbeat is called, was experienced by Rajhan, even in the middle of the night, which prompted him to monitor his heartbeat regularly, with the built-in ECG function on the Apple Watch. The persistence of the tachycardia condition(high heart rate) led the family to force Rajhan for a cardiologist consultation.
Well, all thanks to the ECG feature in the Apple Watch, Rajhan was diagnosed with the early case of mitral regurgitation due to valve failure, which by the records, is a primary cause of cardiac arrests and other heart-related fatalities.
Rajhan had to undergo open-heart surgery and is now safe and recovering.
Siddharth said, "My dad underwent a Mitral Valve replacement surgery and it was his Apple Watch that helped detect the irregular heart rhythm prior to the Valve failure Echo-cardiograph."
To bid a thankyou to the ECG feature in Apple Watch, Siddharth connected Craig Federighi, Apple's senior vice president of Software Engineering, followed by Apple CEO Tim Cook.
Siddharth wrote to Cook and Lisa Jackson, Apple's vice president of Environment, Policy, and Social Initiatives saying, "Hi Tim & Lisa, I want to congratulate you on the new iPhone 12 line up and the event. It was really great! It has been a pleasure to have been associated with Apple over the years in various ways and I always cherish meeting Tim at WWDC 2016 in person.
I wanted to share that my father, Mr. R. Rajhan underwent open-heart surgery recently. He had a Mitral Regurgitation or Mitral Valve failure that was detected in time, thanks to the ECG feature of the Apple Watch. It would have been next to impossible to do this during the ongoing pandemic and the ECG was instrumental in determining A-Fib and arrhythmia in his case, which led to the further diagnosis. So, thank you for all that you do!"
Tim Cook replied to Siddharth and wished a fast recovery to Siddharth's dad, R. Rajhana, and mentioned that the team will soon connect with him for further details.
Siddharth further added that the idea of having a device like Apple Watch is to strike a balance between using tech and medical awareness in order to take charge of our parent's lives. The Watch saved his dad's life and he considered it a life-changing product. Siddharth has taken the ECG app as a blessing and so did the many people who experienced the same life-saving notifications and easy timely diagnosis due to the app.