In the latest presentation, Apple revealed the slew of new products like Apple Watches series 6, Apple Watch SE, iPad Air, and Apple One in the 12.10-minute video. They explained the features, price, and availability of each one. What held our attention the most is the bundle of Apple services called Apple One.
This might be Apple's steps to transform its strategy to think for the bundle battle instead of promoting individual services. Apple grabs the best opportunity to release Apple One amid COVID-19 when there is the maximum utilization of music, gaming, and video.
Customers already using one or two Apple services can think to try Apple One, which is more cost-effective than the individual service subscriptions. Check out their newly launched Apple Watch Series 6 unveiled: Check out the prices, features, and a lot more.
What is Apple One?
Apple One gives you and your family all the essential services in one single plan. It includes services like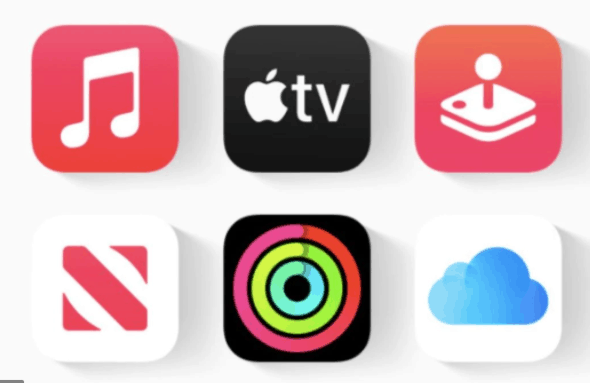 Apple Music: It has a massive collection of 70 million songs, a creative feature of time-synced lyrics, access to the innovative Apple Music radio, and more than a thousand playlist readily available.
Apple News Buzz: It offers access to prime newspapers and hundreds of magazines on different categories like business, sports, entertainment, politics, etc.
Apple TV+: It comprises the fantastic collection of original series and films with 18 Emmy nominations and hundreds of awards in the first year.
Apple Fitness +: You can enjoy a new kind of outstanding work-out experience with top trainers powered by Apple Watch.
Apple Arcade: You can play more than 100 mind-blowing fun games across Apple devices from anywhere, without any interruption of Adds and in-app purchases.
iCloud: You can safely store personnel photos, videos, and files and access them from anywhere.
All these services are readily available in a single subscription. You may get to enjoy more your Apple devices with Apple One's services available at incredible prices.
Features of Apple One
You can access Apple One from all the devices where the services are available. Including web, smart TVs, and third- party streaming devices.
You can buy additional iCloud storage to supplement the existing storage of Apple One.
It is simple to manage and has a straightforward sign-up process.
You can invite five family members to join the family plan. All members can get personnel recommendations once signed in.
You get a one-month free service for all the services not used before.
Even if you opt for an individual plan, you can share videos and games through Apple TV+ and Apple Arcade.
Pricing and Availability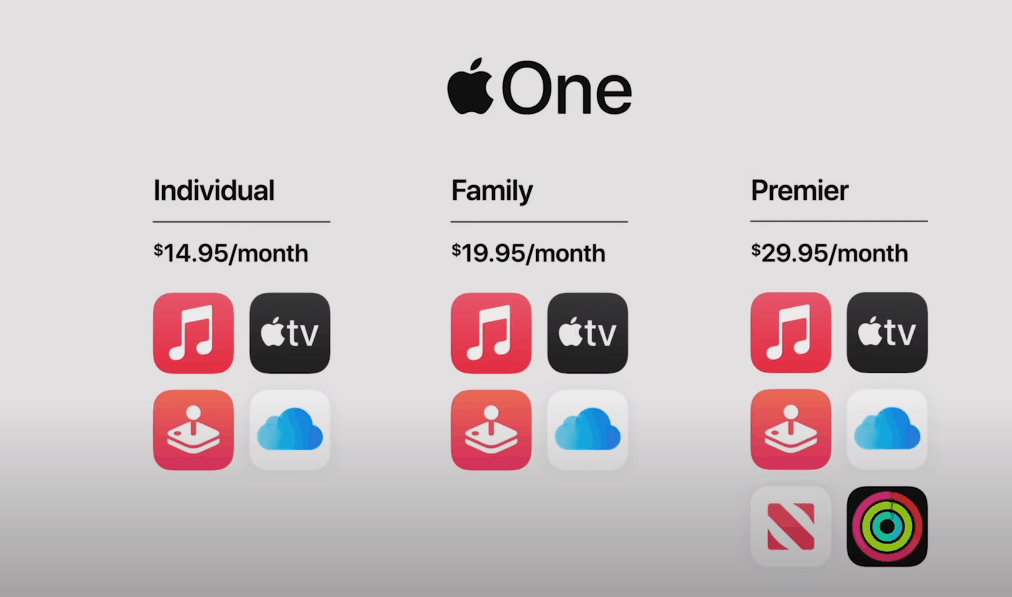 Coming this year, Apple One will be available in more than 100 countries and regions.
It has two types of plan Individual and Family plans.

Individual Plan: It offers four services Apple TV+, Apple Arcade, Apple Music, and iCloud in $14.95 per month. By this plan, you can save $6 every month.
Family Plan: It offers the same four services as an individual plan, in $19.95 per month. You can save up to $8 every month by this plan.
Premier Plan: This plan will be available in four countries US, UK, Canada, and Australia. Apart from thee four services it will have an additional two services, Apple NewzBuzz and Apple Fitness+. It offers savings of $25 per month.

If you subscribe using an Apple card, then you receive perks of 3% cashback.
Apple took the opportunity to cross-promote its services by the release of Apple One. Along with customers, Apple also has a huge scope to add its recurring revenue.