Mobile apps are making the life easier, flipkart, amazon, snapdeal and other shopping apps let you buy products from your handheld with some cool features such as price compare and filtering options, you can also add your favorite products to wish list to purchase later, all this is possible with your mobile or tablet. Online shopping is too mainstream, now it's time of online food ordering.
Now you can also order your favorite food from your nearest restaurant right from your mobile, so now if you are hunger but busy with your work then you should really check out these android apps. Here we have listed some best android apps to order food online so that you can enjoy hot, spicy and delicious food in the comforts of your home.
Best Android Apps to Order Food Online
FoodPanda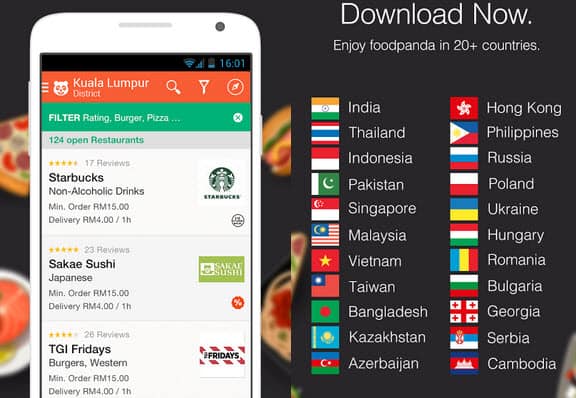 FoodPanda is a well know online food ordering website and their well designed android app makes it even easier to order food from your android device. Foodpanda is offered in more than 100 cities across india. To use foodpanda, all you need is to turn on your GPS, foodpanda app automatically detects your current location and suggests the nearest restaurants. Then you can pick the menu from the restaurant and order the food you wish. Foodpanda partners with Papa Johns, Hello Curry, Leaping Caravan, Subway, Box 8, Happy Hakka, Hazzel Ice Cream Café, Faasos, Abhiruchi Hotel, Olive Kitchen, Mast Kalandar, Pizza Hut and Dominos.
The ordered food reaches to you within minutes. You can pay online or go for cash on delivery. You can also order with foodpanda website. Download Foodpanda app.
TastyKhana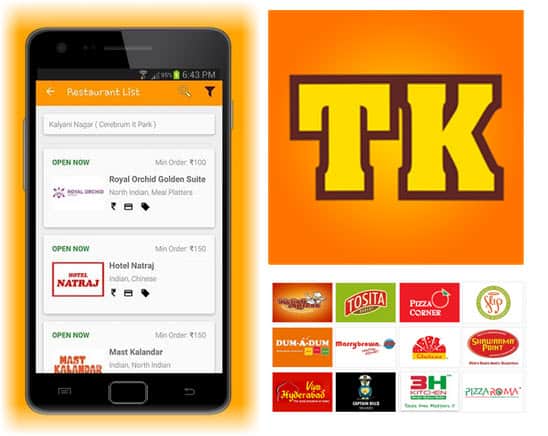 TastyKhana is the similar app to Foodpanda which allows you to order food from more than 9000 restaurants in 20+ cities in India. TastyKhana let you order your favorite food from the popular food outlets namely Domino's, Mast Kalandar, MainLand China, U.S. Pizza and Pizza Corner etc. Download TastyKhana App and enjoy the delicious food.Tastykhana is now acquired by Foodpanda.
Just Eat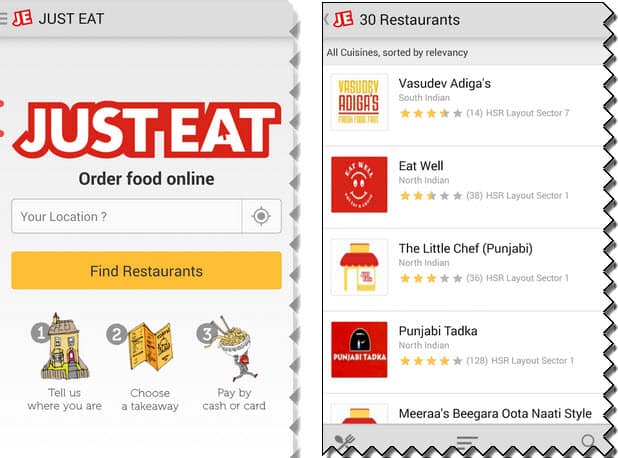 Just Eat is another popular online food ordering android app with easy to use user interface and it also offers some good deals. Just Eat can deliver the food from Pizza Hut, Subway, U.S.Pizza and Chicago Pizza etc. Just Eat accepts both online payment and cash on delivery payment methods. Download Just Eat android app.
TinyOwl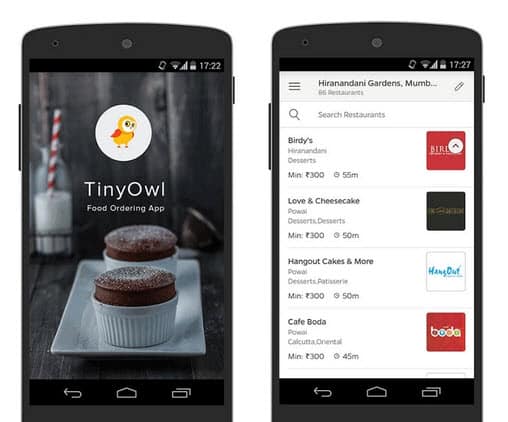 TinyOwl currently delivers the food to Mumbai city in India. Just like other android apps listed here TinyOwl shows the restaurants from surrounding location near you. TinyOwl offers some good deals. It allows you to pay with card or cash on delivery. Download TinyOwl app.
Hellofood
Hellofood let you have the tasty food around you by sitting in your home, it makes it quite easy to order the hot food from the nearing restaurant. Hellofood is available in more than 20 countries. Download hellofood android app.