Apple iphone 6 drew multiple standing ovations and a highly overwhelmed response from the audience in all parts of the world. This was given a stiff competition from the Samsung Galaxy S series Smartphone. But Samsung's new Note Edge created a revolution in the same range of Apple iPhone 6.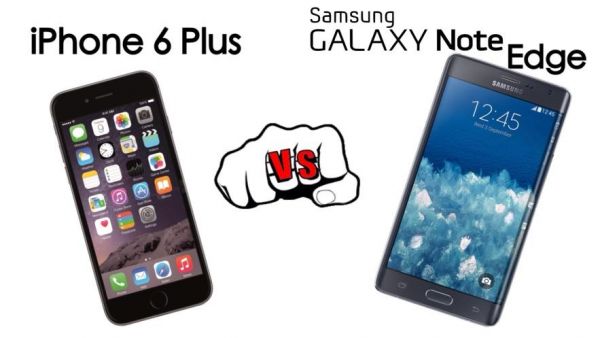 Some of the major differences between Samsung Galaxy Note Edge and iPhone 6 are as follows-
Note edge vs iphone 6



Curvy Displays
Samsung Note Edge has some curves and its tapered glass gives a pretty face. The edge has two separate LCDs, a 2,560 x 1,140 (525 ppi) main screen and a second panel that's 2,560 x 160 pixels. All the notification are moved to smaller areas which frees up the main screen for content like clock, calendars etc.
Apple has once again made the screen bigger. The 4.7-inch panel of the iPhone 6 has a resolution of 1,334 x 750 pixels, which translates to a Retina-caliber 326 pixels-per-inch. The iPhone 6 Plus features a 5.5-inch screen with full-HD 1920 x 1080 pixels (401 ppi). The glass is curved at the edges to melt perfectly into the aluminum case.



Powerful processor and Faster RAM
Samsung Note Edge comes with a 2.7GHz quad-core Qualcomm Snapdragon 805 processor. This allows you to do multitasking, play games and run multiple applications at a time. It also provides a faster switching over applications. It comes with a 3GB RAM, providing an ultimate experience of high quality 3D games and HD videos.
The iPhone 6 has a Dual-core 1.4 GHz Cyclone (ARM v8-based) processor with a PowerVR GX6450 (quad-core graphics) GPU, making it a powerful and advanced over all other processors. It comes with a 1GB RAM, but highly effective and efficient in playing 3D games and watching HD videos.



Operating System
Samsung Galaxy Note Edge comes with an Android KitKat 4.4 operating system. Edge can split the screen between two apps and float a third one on top. It also includes a stylus and some very nice software to go with it.
The iPhone 6 has iOS 8 which is upgradable to iOS 8.1.3. It makes experience bigger and better. It is the most advanced OS that Apple has developed till now.



Display
Samsung Galaxy Note Edge comes with a 5.6 inches Super AMOLED capacitive touch screen with a resolution of 1600 x 2560 pixels (~ 524 ppi pixel densities) and Corning Gorilla Glass 3.
The iPhone6 comes with a 4.7 inches LED-backlit IPS LCD and capacitive touch screen with a resolution of 750 x 1334 pixels (~326 ppi pixel density). The screen is covered with a shatter proof glass and oleophobic coating.
If you see the comparison between Galaxy Note edge vs iphone 6 you will find that there is a vast difference in the technology which is used in both. Apple has always used what they have developed, in its devices whether it is an iOS, processor or iTunes.