The pace at which artificial intelligence is progressing is bound to bring a major transformation in the way we live and work today. The technology is helping solve several real-world problems and is thus making its way into almost every area of our lives. And the prime element behind the AI is the AI chipset which helps make intelligent decisions without the need of humans to process any AI task. They involve machine learning and deep learning algorithms to perform computations to provide information about various things such as company, products, people, current updates, and others. AI chips exist in various forms including Central Processing Unit (CPU), Graphical Processing Unit (GPU), Field-Programmable Gate Array (FPGA), an Application-Specific Integrated Circuit (ASIC).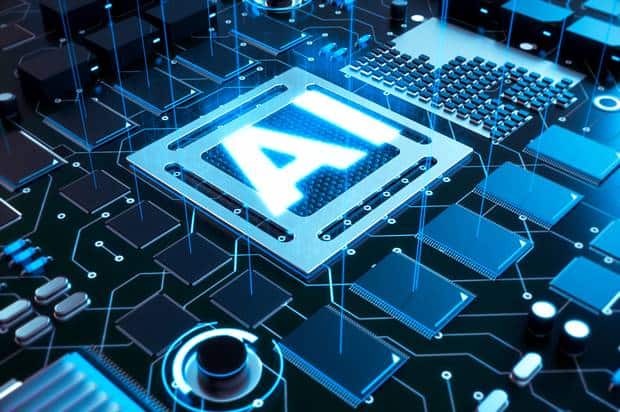 The AI chip market is growing at a rapid pace and offers significant growth opportunities for the companies in the space. Driving the market are factors such as growing demand for smart homes worldwide, development of smart cities, the emergence of quantum computing, and growing investments in AI startups. Moreover, a rise in adoption of AI chips in the developing regions and the development of smaller robots present great opportunities for the market players. According to Allied Market Research's report on AI chip market, the industry was pegged at $4,515 million in 2017 and is estimated to accrue a sum of $91,185 million by 2025, growing at a CAGR of 45.4% during the forecast period, 2018 – 2025.
Also Read: This AI Instantly Marks Down Local COVID-19 Outbreaks; No Doubling!
Players in the AI chip space focus on innovations to meet the growing demands of consumers. Recently, a series of launches took place in the space. At the Consumer Electronics Show (CES) 2019, Intel, a US-based semiconductor company and Facebook, the social networking giant, announced their plans to introduce a new AI chip in the second half of 2019 in order to accelerate inference for AI users. In January 2019, Huawei, the China-based telecommunications equipment company, released a new data centre switch which comes with an AI chip and 400 GE line card with the aim of helping service providers evolve to the autonomous driving network. AlphaICs, a semiconductor developer based in California, introduced an AI-powered platform known as the alpha edge for L2+ driverless cars and autonomous systems. In December '18, Qualcomm, an American multinational semiconductor and telecommunications equipment company, unveiled the new Snapdragon 855 mobile platform which sports a fourth-generation artificial intelligence (AI) engine.
Intel and Facebook Announces the Launch of AI Chip
Intel and Facebook are collaborating on a new AI chipset that helps organizations manage high workload demands by accelerating inference for them. The chip, known as Intel Nervana Neural Network Processor for Inference (NNP-I), is 10 nm and built on Intel's new Ice Lake CPU microarchitecture. Said to help Facebook and others deploy machine learning more efficiently and cheaply, the chip is expected to go to production this year. Intel said that the chip would be useful for several new inference applications such as image recognition and image classification. According to Navin Shenoy, executive vice president of Intel's data centre group, the launch of the new processor is a big deal for them as it helps them expand their position in artificial intelligence.
Huawei Unveils First Data Center Switch
Huawei's first data centre switch was announced at the company's network product launch show for Spring 2019 themed "A CloudEngine Built for the AI Era". The CloudEngine 16800 features an embedded AI chip, a 48-port 400 GE line card per slot, an upgraded hardware switching platform, orthogonal architecture, and the capability to evolve to the autonomous driving network. The technology makes use of the power of a high-performance AI chip and the innovative iLossless algorithm to carry out auto-sensing and auto-optimization of the traffic model and overcomes several issues like high-speed signal transmission, heat dissipation, and power supply. With its local intelligence and centralized network analyzer FabricInsight, the architecture of the switch figures out the faults quickly, thus speeding up the working of the autonomous driving network.
AlphaICs New AI Platform Revealed
AlphaEdge released by AlphaICs is run by Real AI Processor (RAP) inference chip. The solution is said to be available in several variants – from 8 TOPs / 8 Watt to 60 TOPs / 40-Watt solution. Featuring a complete set of software tools that supports all the AI frameworks, the platform is designed with eight camera inputs, automotive interface, PCIe x 16, HDMI, USB3.0 interfaces and more features to run various applications for driverless cars (L2+), robotics, and much more.
Qualcomm's New Flagship Snapdragon 855 Mobile Platform
Qualcomm Technologies Inc. released the latest generation in the 8 Mobile Platform series – the Qualcomm Snapdragon 855 Mobile Platform. It comes with the fourth-generation multi-core Qualcomm AI engine which provides a capacity of over 7 trillion operations per second (7 TOPs). Its processor comes with a Hexagon Tensor Accelerator (HTA) and four Hexagon Vector eXtensions (HVX) and more features that offer a powerful and dedicated AI acceleration. Its Adreno GPU hardware has been enhanced to accelerate AI performance. The enhancements include an addition of a greater number of arithmetic logic units and new instructions to the Kryo 485 CPU.